These 5 stocks had a rough August, but one in the bunch looks like its ready to return to its former glory.
August was a rough month for stocks as markets were roiled amid rising trade tensions between the U.S. and China, and the inverting yield curve that sent shudders down the spine of every investor.
Some of last month's worst performers were one-time market leaders. Citigroup (NYSE: C), Facebook (NASDAQ: FB), General Electric (NYSE: GE), Under Armour (NYSE: UAA), and Union Pacific (NYSE: UNP) all took a big fall last month after soaring higher January through July.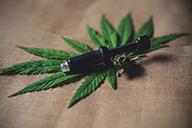 Secure Your CBD Pre-IPO Shares for Just $1.25
One tiny cannabis company is 100% LEGAL in America. It's getting ready to IPO within 90 days --- and you do NOT want to miss out. Grab your Pre-IPO shares right now – before the stock price surges. My report reveals why this stock could surge 460% when it goes public. Click here to get urgent details on this Pre-IPO. [ad]
GE shares were down -20% in August in part due to the whistleblower who took down Bernie Madoff issuing a report claiming the conglomerate is "a bigger fraud than Enron."
Citigroup, along with other major bank stocks, took a big when the yield curve between the 2- and 10-year Treasury notes inverted in mid-August.
Under Armour was one of the worst performers during earnings season, and dropped more than -20% in less than a week, after investors were disappointed with the athletic apparel and footwear maker's U.S. sales.
But of these four, Piper Jaffray's Craig Johnson says one looks ready to begin heading higher again.
"The stock that stands out to me is Facebook," Johnson, Piper Jaffray's managing director, said to CNBC. "There's a lot of fundamental overhang on the shares, [but] I would point out that the stock has been starting to put in a series of higher highs and higher lows, and you can see that the uptrend off of those January lows still remains intact at this point in time."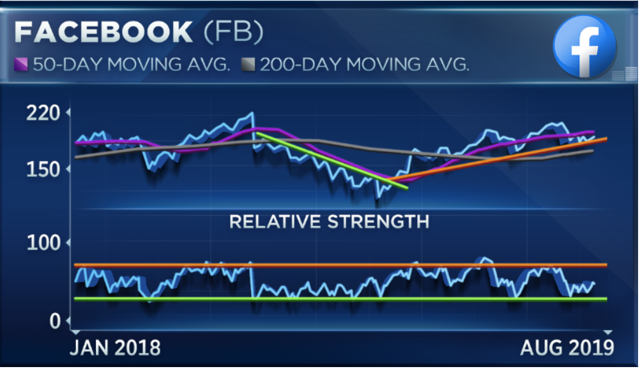 "If the stock can continue to push ahead, they are setting [us] up for a retest back to those old highs at about $219," Johnson continued. "That's a little less than 20% upside from here. That's something that I would be trading at this point."
Facebook shares were up roughly 2% Thursday after the social medial giant announced the launch of its new Facebook Dating feature.
In a blog post, Facebook said the new feature gives users the ability to "start meaningful relationships" through things like common interests, events, and groups. "It takes the work out of creating a dating profile and gives you a more authentic look at who someone is," the post said.
Facebook's new dating feature could give Match Group, which owns the popular dating app tinder, and other dating app makers a run for their money, and gives users another reason to stay within the Facebook family of apps.
Shares hit a record high in July 2018 before concerns about regulation and privacy scandals sent the stock tumbling.
Steve Chiavarone, Federated Investors' portfolio manager, agrees that, of the bunch, Facebook has the best potential for more upside.
"We think growth still works here, and when you look at Facebook, you've got double-digit… growth that looks to continue," Chiavarone said.
"You've got regulatory overhang, but as you look forward, you've got the advertising spending that's coming with the 2020 election, you've got 5G and its still the place to be with over 2 billion users in terms of your advertising spend," Chiavarone said.