Is FL Good Value, Or Big Risk Right Now?
Please Note: Blog posts are not selected, edited or screened by Seeking Alpha editors.
Seeking Alpha Analyst Since 2018
TradersPro is a trading system used to implement the concepts of trend following. TradersPro is a systematic trading application that searches for qualified, high-ranking stocks, gives traders specific trade entry and exit signals, and provides traders with insight and strategy to confidently trade stocks, and ETFs. It has been proven that traders gain a much higher probability of having successful, profitable trades when trading in the same direction of the market, and when using a fixed set of rules.
Summary
FL's free cash flow is very robust, at $787 over the last twelve months and which translates to a Free Cash Flow Yield of 22.98%.
This number also marks a big improvement over late-2019 numbers, when Free Cash Flow was $527 million.
there are a lot of ways to measure how much a stock should be worth; but I like to worth with a combination of Price/Book and Price/Cash Flow analysis.
Stock Picking Secrets - Now you can buy the best stocks at the best time in under 30 mins a day. See How
In the world of COVID-19, it's been interesting to see not only how corporations have evolved to survive and get by, but also how consumer behaviors and trends have adjusted as well. Broad-based shutdowns that shuttered businesses all over the U.S. at the beginning of the pandemic sent people home for an indefinite period of time, which forced much of corporate America to shift to remote, work-from-home operating models. On a consumer level, it also prompted families to start stocking up on basic household goods and food storage.
---
If you're a stock investor who wants to retire early, check out this free training and learn how! Click Here
---
Another effect of shutdowns that still have yet to be completely lifted – nor do they seem likely to be lifted on a permanent basis in the wake of increasing infection rates in multiple parts of the country – is a shift towards health, wellness and fitness. The emphasis on health and wellness isn't surprising, given the non-stop focus around cleanliness to limit virus spread and demographic information about those most susceptible to COVID's most dangerous effects. That should normally prompt people to focus more on what they can each do to boost their own immune systems to stay healthy.
I think the fitness aspect of the shift is also interesting from an investor standpoint. For most of us, exercise usually means going to the gym where we can find all of the equipment needed to pick and choose what to do in any given day. The pandemic shuttered gyms all over the country along with everything else, and even now those gyms that are open continue to operate on an extremely restricted basis – in some cases, enough to encourage even the hardiest of workout warriors to rethink the way they approach their fitness. That means more and more, people are working out at home, and going outside to run, walk or ride. Some of this shift is being seen in the sales numbers in the last few months for many apparel and shoe manufacturers, and even in sales at retailers, including big-box stores and specialty shops like Foot Locker (FL).
That doesn't mean that these businesses are out of the woods – foot traffic at most of these locations generally remains significantly below pre-pandemic levels, which has put a lot of emphasis on these company's ability to rely on omnichannel marketing and distribution systems. That especially means e-commerce. Prior to the pandemic, e-commerce was one of a few different headwinds FL was dealing with, along with a general push among its biggest suppliers like Nike Inc. (NKE) to drive direct-to-consumer relationships over traditional retail partners. FL has seen positive growth in e-commerce, but according to industry analysts digital penetration continues to run about 16% below the retail average; also, competition is increasing from its suppliers; NKE for example ended its relationship with amazon.com (AMZN) to focus instead of direct consumer relationships. Along with these challenges is the impact of COVID; FL is highly dependent on enclosed mall traffic – which continue to be impaired and some of much may not reopen at all. These are headwinds that fly directly in the face of some interesting fundamental indications of strength; does that mean FL is a smart bet for a contrarian-minded investor, or an unwarranted risk under current conditions?
Fundamental and Value Profile
Foot Locker, Inc. is a retailer of shoes and apparel. The Company operates through two segments: Athletic Stores and Direct-to-Customers. The Company is an athletic footwear and apparel retailer, which include businesses, such as include Foot Locker, Kids Foot Locker, Lady Foot Locker, Champs Sports, Footaction, Runners Point, Sidestep and SIX:02. The Direct-to-Customers segment is multi-branded and sells directly to customers through Internet and mobile sites and catalogs. The Direct-to-Customers segment operates the Websites for eastbay.com, final-score.com, eastbayteamsales.com and sp24.com. Additionally, this segment includes the Websites, both desktop and mobile, aligned with the brand names of its store banners (footlocker.com, ladyfootlocker.com, six02.com kidsfootlocker.com, champssports.com, footaction.com, footlocker.ca, footlocker.eu, runnerspoint.com and sidestep-shoes.com). FL has a current market cap of about $3.3 billion.
Earnings and Sales Growth: Over the last twelve months, earnings increased about 7.5%, while revenues rose a little more than 17%. In the last quarter, earnings were much higher, increasing nearly 206%, while sales rose nearly 77%. The company's margin profile is very narrow; Net Income as a percentage of Revenues over the last twelve months was 2.62%, and 2.17% in the last quarter. Their margin numbers are significantly below pre-pandemic levels, which isn't that surprising given the challenges retailers have faced throughout the year; I take the positive earnings and sales patterns as an indication that the company's investments in digital channels could be starting to bear fruit.
Free Cash Flow: FL's free cash flow is very robust, at $787 over the last twelve months and which translates to a Free Cash Flow Yield of 22.98%. This number also marks a big improvement over late-2019 numbers, when Free Cash Flow was $527 million.
Debt to Equity: FL's debt/equity ratio is .05, which is very low and marks a conservative approach to leverage. The balance sheet shows $124 in long-term debt in the last quarter, which is significantly below the more than $2.8 billion they reported for the last quarter of 2019. Cash and liquid assets are very healthy, at $1.37 billion. Their robust balance sheet, with very low debt is a big indication of strength and marks a very interesting, positive shift under current market and economic conditions.
Dividend: FL's annual divided is $.60 per share, which translates to a yield of 1.85% at the stock's current price. It is worth noting that FL cut their dividend earlier this year from $1.52 per share in an effort to help preserve cash and boost their balance sheet; but the fact they are still paying a dividend where many companies have eliminated it altogether is also a sign of strength.
Price/Book Ratio: there are a lot of ways to measure how much a stock should be worth; but I like to worth with a combination of Price/Book and Price/Cash Flow analysis. Together, these measurements provide a long-term target at about $52 per share. That suggests the stock offers a very tempting discount, being undervalued by about 64% right now.
Technical Profile
Here's a look at the stock's latest technical chart.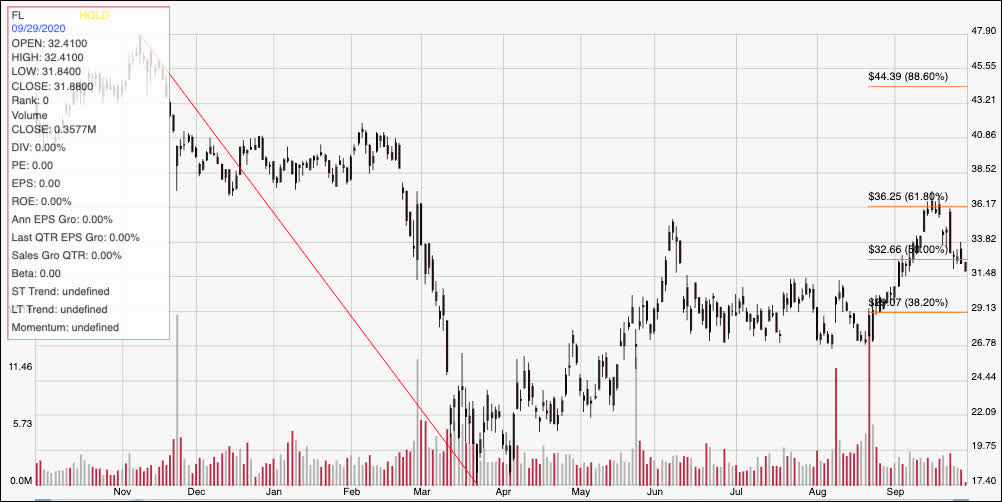 Current Price Action/Trends and Pivots: The chart above displays FL's price performance over the last yeas. The diagonal red line traces the stock's decline from November of last year to its bear market low in March at around $17.50, and also serves as the baseline for the Fibonacci retracement lines on the right side of the chart. From that low point, the stock has formed an upward trend, with a trough running from June to late August. At that point, the stock pushed above the 38.2% and 50% retracement lines to peak at around $36 where the 61.8% line sits in the middle of this month. From that point, the stock has dropped back below the 50% line, with immediately support around $31.50 per share. A drop below that level should see the stock test next support around 38.2% retracement line at around $29, with additional downside at around $27 back on the stock support level in the June-to-August trough. Immediate resistance is back at the stock's recent peak at $36; a break above that point should give the stock good momentum to test its pre-pandemic peak around $41.
Near-term Keys: FL has a lot of interesting elements working in its favor as a potential value play, which means that as a long-term opportunity it could be hard to ignore. I think there is a risk the stock could see some near-term volatility, with potential downside if the market's broad momentum continues to be bearish – but if you're willing to be patient, this could be a compelling long-term opportunity. I think the company's fundamental metrics are a good indication that, while headwinds and challenges persist, FL is dealing with them better than many analysts predicted and seem to continue to believe. If you prefer to work with short-term trading strategies, you could use a push higher off of support around $31.50 as a signal to buy the stock or work with call options with an eye on $36 as a bullish target. If the stock drops below $31.50, consider shorting the stock or buying put options, with an eye on next support in the $27 to $29 range for an exit point on a bearish trade.
Seeking Alpha's Disclosure: Past performance is no guarantee of future results. No recommendation or advice is being given as to whether any investment is suitable for a particular investor. Any views or opinions expressed above may not reflect those of Seeking Alpha as a whole. Seeking Alpha is not a licensed securities dealer, broker or US investment adviser or investment bank. Our analysts are third party authors that include both professional investors and individual investors who may not be licensed or certified by any institute or regulatory body.