"Only when the tide goes out do you discover who's been swimming naked." - Warren Buffett
The markets have just gone through a bout of volatility with big losses in August and through most of September before staging the best monthly rally in several years in October with the major indices being up roughly eight percent for the month.
One constant through this stretch and throughout 2015 is the huge amount of M&A activity going on. Last week with saw a potential mega deal between Allergan (NYSE:AGN) and Pfizer (PFE), which if culminated would result in a $300 billion plus behemoth. Today we find out Visa (NYSE:V) is buying Visa Europe for over $20 billion and Shire (NASDAQ:SHPG) is acquiring Dyax (NASDAQ:DVAX) for almost $6 billion in cash as the acquisition spree in the biotech & pharma sectors continues.
2015 is on track to surpassed 2007's peak levels of worldwide mergers of some $4.3 trillion in overall deal volume. There are myriad reasons behind this robust level of purchase activity. Financing rates remain very low on a historical basis and the credit markets are awash in liquidity. In addition, growth is very hard to come by right now as global growth readings are at their lowest levels since 2009 when we were just starting to emerge from the financial crisis.
You can see this tepid demand in the punk manufacturing numbers out of Europe and China this morning. Corporations remain hesitant to invest in new plants or add new capacity to generate organic growth so they are using M&A to achieve growth objectives. In addition, given the United States has the highest corporate tax rates in the developed world; cross border transactions are becoming all the more common as a way to lower the overall tax rate of an enterprise. This is especially true in the pharma & biotech sectors of the market and is one key reason I expect activity in these areas to remain at heightened levels over the next six to 12 months. I recently packaged that analysis into a free 30 page report a few days before the Allergan/Pfizer news hit.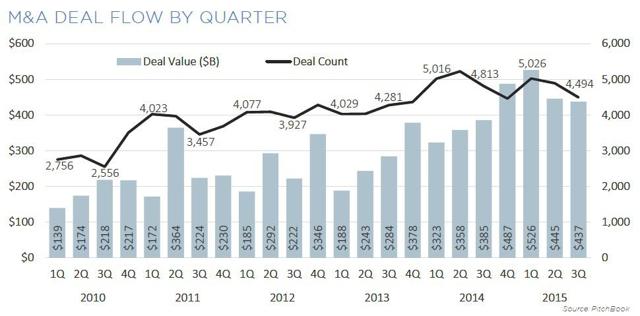 While robust M&A activity is one key growth factor in stocks this year - which are basically flat outside the NASDAQ that has posted better than six percent gain so far in 2015 - these levels also should be a cause for concern as well. If corporations cannot achieve organic growth in basically a zero interest rate environment, what happens when the Fed starts to raise rates - provided that happens in my lifetime?
More importantly for market historians, peak M&A levels do not occur at the bottom or even the middle of market cycles. They almost always happen near the very top of bull markets. This was certainly the case in previous peaks like 1999 and 2007. 1987 was a very robust year for M&A before the market crashed that October and gave up more than 20% in one day.
The size of these tie-ups are also rising which is troubling when one remembers the huge acquisitions and LBO's that happened in 2007 just in front of the downturn like Hilton.
I offer that up as cautious food for thought before the first trading day of November.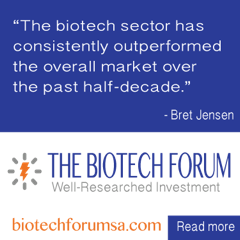 Thank You & Happy Hunting
Bret Jensen
Editor/Manager, Biotech Forum
Disclosure: I/we have no positions in any stocks mentioned, and no plans to initiate any positions within the next 72 hours.