"America is my country and Paris is my hometown." - Getrude Stein
Some horrid and heinous events have occurred in Paris late Friday. There are no words to express my sadness for this tragedy. Unfortunately I have seen the face of terrorism first hand being across from the towers as they fell on September 11th. In addition, I have spent many wonderful Decembers in the City of Light. My heart and my prayers go out to France and the French people in this tragic hour.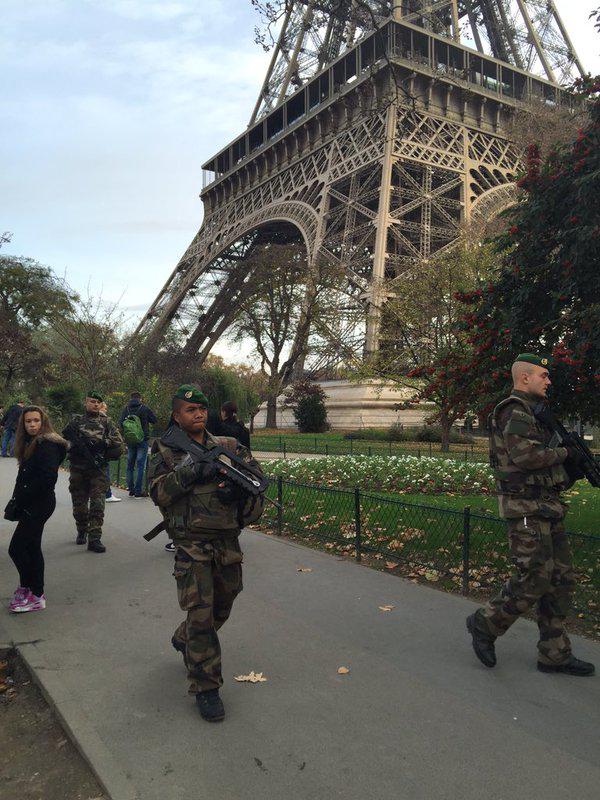 Not important in the light of those events, but still relevant to investors are the likely impacts to our markets on Monday. Some will be predictable, some cannot be known at the moment. Here are the likely "knowns".
Don't surprised if we get a "flight to quality" on Monday. This will push the ten year treasury yields down. This will be bad for the financials and they will quite likely underperform the overall market Monday. High yield sectors like real estate investment trusts (REITs) are likely to outperform.
The dollar should also be stronger on Monday, especially against the Euro. This will be a headwind for both the stock and commodities markets. Oil could very well broach $40 a barrel this week which will put additional pressure on the already moribund energy sector. I continue to be deeply underweight both the commodities and energy sectors. Continued dollar strength will also continue to a big drag for S&P 500 profits which look like they could post their third straight quarter of year-over-year declines in the upcoming fourth quarter.
In addition, this event could end up lowering the already tepid growth forecast for the European Union. France has imposed a curfew in Paris for the first time in 1944 and is in the process of closing its borders. This is a going to be a huge escalation point in the migration debate just as Europe is dealing with the largest migration wave since WWII. This can't be good for the economy or the political tension on the continent.
Finally, and most importantly from a longer term investing standpoint; this may be one more reason that the Federal Reserve does not raise interest rates as expected right now in December. Although we did have a very strong Jobs Report in October, I am not yet in the camp the Federal Reserve will even raise rates when they meet in December. I have seen just too many false starts during this weakest post war recovery on record to believe the central bank will raise rates when the global economy is posting the worst growth levels since 2009 and the domestic economy is decelerating from strong growth in the second quarter.
Second, even as an interest rate hike in December is not set in stone, it is most likely to be a "one and done" scenario especially in front of a first quarter that has been consistently weak and often contractionary over the past half-decade. In addition, the ADP monthly jobs reading on November 5th did not confirm the strength in the Labor Department's Jobs Report on November 7th, nor were prior month's readings revised up. Both of these events would be expected to occur had this not been a "one off" number.
In addition, recent Durable Goods Reports have come in weaker than expected and the initial third quarter GDP reading came in at just 1.5%. Outside of auto production, the industrial economy is the edge of contraction and might even be there based on the comments I heard from big industrial names this third quarter.
Outside of Amazon (NASDAQ:AMZN); the retail environment is also very punk right now which could be seen in the dismal results at Macys (NYSE:M) and Nordstrom (NYSE:JWN) last week as well as a more than disappointing back to school season that have left inventory levels high across the retail space as we head to the all-important Black Friday sales period.
Expect to hear some commentary later in the week about the events in Paris as a possible additional driver for the Fed to "kick the can" down the road once again into 2016. This obviously could trigger a rally towards the end of the week.
Trying to end on a brighter note at least from an investment perspective, the possible continuation of the recent pullback on Monday could be a good longer term buying opportunity for investors who still have "dry powder" in their portfolios to deploy. I particularly like some of the large cap biotech names that reported stellar results in the third quarter and are attractively valued. These would include Gilead Sciences (NASDAQ:GILD), Amgen (NASDAQ:AMGN) and AbbVie (NYSE:ABBV).
These stocks are some of the few large cap growth concerns in the market that can churn out revenue and earnings growth even in a challenging global environment and that still have reasonable if not attractive valuations. The biotech sector in general has been weak since late July, but its time will come again and possibly quite soon.
That is my take on market Monday after Friday's tragic and horrific events in Paris and once again my thoughts and prayers to the French people during this unmanageable terrorist event.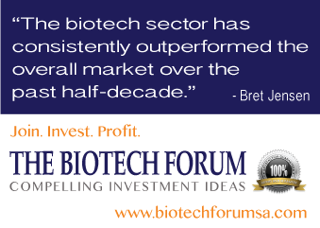 Thank you & Happy Hunting
Bret Jensen
Editor/Manager, Biotech Forum
Disclosure: I am/we are long ABBV, AMGN, GILD.