One of the first things I do in the morning - other than march down to the local Starbucks for my morning coffee like a compliant slave - is to pop up TipRanks.com to see what new ratings top ranked analysts are providing on the myriad equities within the stock market. This is a good way to see what large cap concerns are gaining momentum in the analyst community. More importantly, it is a good way to see some small cap names one might not be currently aware of but could have upside potential and that have been positively tagged by analysts.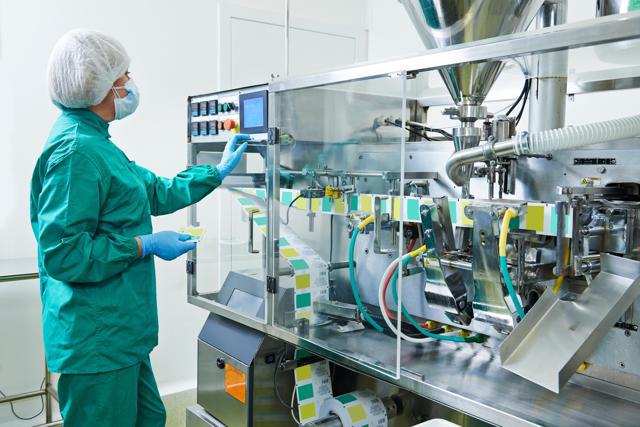 This morning a ranking by a Top 25 Analyst (out of nearly 4,000 financial analysts ranked on the service) from Wedbush caught my eye. The analyst reiterated a Buy rating and $9.00 a price target on a Cambridge MA based biotech called Cerulean Pharma (CERU). This stock currently just goes for just $3.00 a share after being above $10.00 earlier in the year.
Wedbush did take down their price target from $16.00 a share but the snippet in analyst David Nierengarten's notes caught my eye " The company ended the quarter with $77.6 million in cash and cash equivalents, which the company believes to be sufficient to fund ongoing operations through 2017". Given the stock currently has a just over $80 million market capitalization, you are basically getting Cerulean Pharma for the cash on the balance sheet at these levels. Interestingly, a lesser ranked analyst from Canaccord Genuity maintained his Buy rating and $15.00 a share price target on Cerulean yesterday as well.
It was enough for me to take a deeper dive on the investment case on Cerulean Pharma. The company is too small and early stage at this point to push out any of the optimized 20 positions in The Biotech Forum, but intriguing enough for me to pick up some shares when the market opens today. Cerulean Pharma has an interesting drug development platform and two early stage drug candidates in the pipeline.
Development Platform:
Cerulean's Dynamic Tumor Targeting™ Platform creates it calls NDCs (Nano-particle drug conjugates) which are designed to provide safer and more effective cancer treatments. The company believes these compounds concentrate their anti-cancer payloads inside tumors while sparing normal tissue because they are small enough to pass through the "leaky" vasculature present in tumors, but are too large to pass through the pores of healthy blood vessels. The theory is that once inside tumors, these NDCs will be actively taken up into tumor cells where they will slowly release their anti-cancer payload, providing a durable inhibition of their targets. An NDC consists of an anti-cancer payload that is chemically conjugated to a polymer backbone with a linker.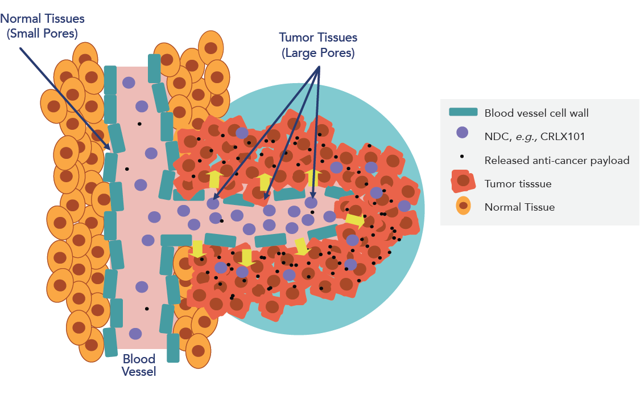 Pipeline:
The company has a couple of drug compounds using this technology in Phase I & II testing.

CRLX101
The company's most advanced candidate is called CRLX101. This is an NDC with a camptothecin payload. Camptothecin is a potent topoisomerase 1 inhibitor that was too toxic to develop; however, Cerulean has created CRLX101 in the hope this reduces the toxicities associated with this highly active agent, while increasing the payload concentration in tumors. If successful, the marketplace would welcome a better tolerated and more active topoisomerase 1 inhibitor than the current marketed topoisomerase 1 inhibitors. It is believe these inhibitors block the litigation step of the cell cycle, generating single and double stranded breaks that harm the integrity of the genome. Introduction of these breaks subsequently leads to apoptosis and cell death. In addition to inhibiting topoisomerase 1, a commercially validated cancer target, CRLX101 also inhibits HIF-1α, a cancer target for which there are no marketed products that provide durable inhibition. As can be seen from the chart above, this is in the process of several Phase II trials for different types of cancer.
This morning it was announced the company AstraZeneca (AZN) and the National Cancer Institute (NCI) have agreed to collaborate on a clinical study assessing the combination of CRLX101 and LYNPARZA (olaparib) in 55 patients with small cell lung cancer. The Phase 1/2 study, expected to commence in the first half of 2016, will be funded and conducted by the NCI with the companies supplying the products.
CRLX301
CRLX301 is the other NDC candidate in Cerulean's pipeline at the moment. This NDC has a docetaxel payload. Docetaxel is a commercially successful oncology drug that suffers from a poor safety profile that limits its clinical utility. Cerulean is betting that CRLX301 will be differentiated from docetaxel because it is designed to concentrate more docetaxel in tumor cells and spare healthy tissue. This compound is currently in a Phase 1 trial in solid tumor malignancies.
In preclinical studies, CRLX301 delivers up to 10 times more docetaxel into tumors, compared to an equivalent milligram dose of commercially available docetaxel and CRLX301 was superior to docetaxel in seven of seven animal models, with a statistically significant survival benefit seen in five of those seven models. In addition, preclinical data show that CRLX301 had lower toxicity than has been reported with docetaxel in preclinical studies.
Outlook:
The company came public in April 2014 as can be seen below has seen higher levels in the market. One year after coming public it did a secondary offering at about twice the current level of the stock. I never buy IPOs unless my broker can give me an allocation on a hot issue prior to coming public - which happens as often as the Cubs go to the World Series.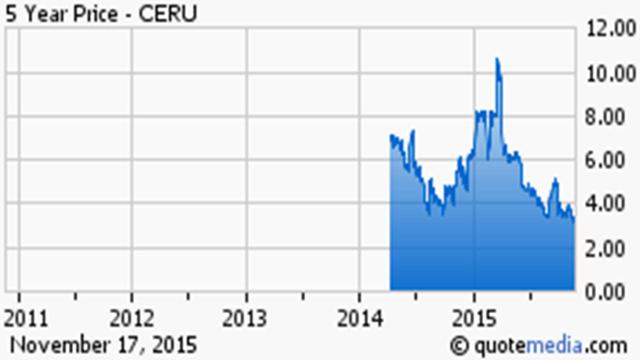 I do like to come back 12-18 months after a company has come public once the hyperbole and lockup expirations have come and gone. Often you get the same company for 30% to 50% of what it was selling for soon after the IPO, which is the case for Cerulean. Usually, little about the underlying company has changed over that timeframe only the sentiment on it by the market.
I have score many successes this with this strategy including a six-bagger with ZELTIQ Aesthetics (ZLTQ) which I tagged in 2012 here on SeekingAlpha. Given Cerulean's underlying drug development technology, evolving pipeline, cash on the balance sheet and previous highs when sentiment wasn't as dismal at it is now on the small biotech sector; I think Cerulean at $3.00 a share is worthy of serious look by aggressive investors. SPECULATIVE BUY
Thank You & Happy Hunting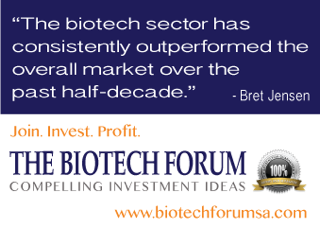 Bret Jensen
For my free 30 page report on why M&A activity in the biotech space will remain strong in 2016, please click here