"Scandal is gossip made tedious by morality." - Oscar Wilde

Today, we look at a name I recently purchased a few shares in due to their favorable risk/reward profile.
Company Overview
Karyopharm Therapeutics (NASDAQ:KPTI) is a Newton Centre, Massachusetts based clinical-stage pharmaceutical company focused on discovering, developing and commercializing novel first-in-class drugs directed against nuclear transport and related targets for the treatment of cancer and other major diseases. Karyopharm Therapeutics has a market capitalization around $469 million and transacts in the secondary market for around $10 a share.
The company's scientific expertise of understanding the regulation of intracellular communication, between the nucleus and the cytoplasm, has led to the discovery and development of SINE. SINE stands for selective inhibitor of nuclear export. SINE compounds are a new class of drug candidates with a novel mechanism of action that inhibits the nuclear export protein XPO1. XPO1 mediates the export of over 220 different cargo proteins, which includes the majority of tumor suppressor proteins. There currently isn't a drug on the market that selectively targets the restoration and increase in the levels of multiple tumor suppressor proteins in the nucleus.
The company's main focuses can be broken down into 4 areas of therapy: hematological malignancies, solid tumors, additional oncology programs, and an "others" category. The company's lead drug candidate is Selinexor, which is currently in 4 trials for hematological malignancies and 3 trials for solid tumors.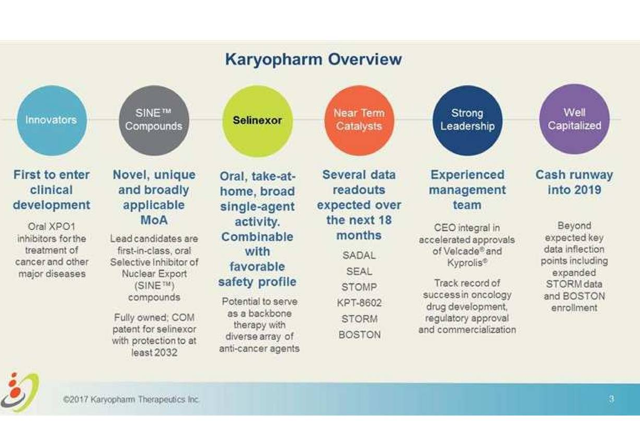 Pipeline:
Selinexor is the company's lead drug candidate, which comprises the lion's share of the overall pipeline. Selinexor, also referred to as KPT-330, is an XPO1 inhibitor being evaluated in multiple late stage clinical trials in patients with relapsed and/or refractory hematological and solid tumor malignancies. 
Essentially, Selinexor works to transiently bind to XPO1 transporter proteins, so that tumor suppressor proteins can remain in the nucleus of a cell. Malignant cells over produce XPO1 which results in tumor suppressor proteins, as well as other beneficial proteins, being transported out of the nucleus. It's essential that tumor suppressor proteins stay in the nucleus because their function is highly dependent upon their location within the cell. Tumor suppressor proteins are an integral part of the body's natural defense mechanism in identifying and preventing cancer.
XPO1 inhibitors have been studied for over 10 years and has generated some interesting data. Leptomycin B, a naturally occurring XPO1 inhibitor, has shown potent anti-cancer activity, but was not advanced further due to its toxicities in animals and humans. The company believes that toxicity relating to leptomycin B is the result of the inhibitor irreversible binding to the XPO1 cell. Karyopharm Therapeutics Selinexor only binds transiently. Thus, the drug's toxicity is acceptable and the transient binding gives enough time for tumor suppressor proteins to accumulate in the nucleus.
Selinexor's areas of therapy can be broken down in multiple myeloma, diffuse large B-cell lymphoma, and solid tumors. On the myeloma front, the lead indication for Selinexor, continues to progress with their ongoing Phase 2b STORM study and the Phase 1b/2 STOMP study. Top-line response data for the STORM study is on track to be released in early 2018. The company, provided the data is positive, will then submit a new drug application in 2018 with a request for accelerated approval for oral Selinexor as a new treatment for patients with heavily-pretreated refractory multiple myeloma. Furthermore, the company announced on June 7th of this year that they have dosed their first patient in their pivotal phase 3 BOSTON study evaluating Selinexor in patients with relapsed/refractory multiple myeloma. In the area of diffuse large B-cell lymphoma, the second lead indication for Selinexor, the company intends to have data from their SADAL study in 2018. In April of 2017, at the American Association for Cancer Research annual meeting the company reported a 28.6% overall response rate observed in the ongoing Phase 2b SADAL study. Provided that the data is positive, the company will seek a NDA submission in 2018. Lastly, solid tumors is the third leading indication for Selinexor. In March of 2017, the company completed enrollment in the Phase 2 portion of the randomized Phase 2/3 SEAL study evaluating Selinexor versus placebo in patients with advanced liposarcoma after at least one prior therapy. The company will report the top-line data from the Phase 2 portion of this study in mid-2017.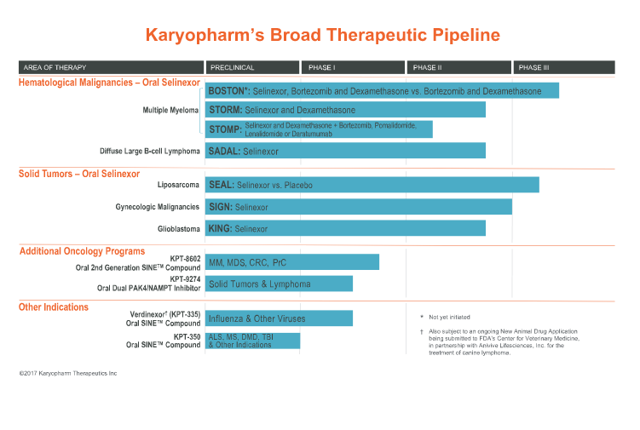 Has Your Portfolio Returned Over 40% During The Last Year?
That is exactly what the model Insiders Forum portfolio has done since its launch of June 30th of last year. As of Monday's market close, the Insiders Forum portfolio has delivered a total return of 41.33%. This has easily outdistanced the return from the Russell 2000 (17.04%) which serves as the portfolio's benchmark over the same time period. Investing in attractive small and mid-cap stocks insiders are buying has been a rock solid investment strategy to this point.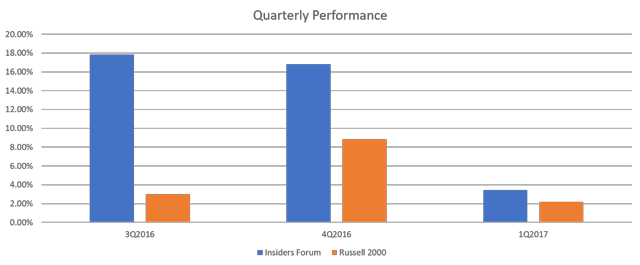 2 Days Left!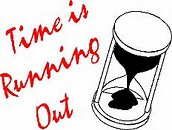 We will be raising our rock bottom rates slightly to $299/annually or $35 monthly as we add Live Chat and additional exclusive content to Insiders Forum offering starting July 1st. However, all those that sign up before July 1st can lock in today's low prices of $239/annually or $30 monthly for the life of the product. To make the decision even easier, I am enabling free two week trials into the Insiders Forum from now until midnight EST June 30th. To take advantage of this offer, just click HERE.

Analyst Commentary and Balance Sheet:
As of March 31, 2017, Karyopharm Therapeutics had cash and cash equivalents of $150.6 million. However, the company raised $52.2 million in net proceeds via equity financing in April. $14.5 million via an ATM facility and $37.8 million via an underwritten public offering. Also, the company stated that they expect to burn $85 to $90 million in 2017. Overall, the company thinks that their financial runway should get them into 2019.
Wall Street seems to have a positive view on KPTI's prospects with 7 buy ratings, 0 hold ratings, and 0 sell recommendations. The consensus price target currently sits at just over $15.00 a share, which represents an upside of approximately 50%. The latest recommendation comes via Cantor Fitzgerald on May 15th, 2017. The firm reiterated their overweight rating and kept their price target at $18. Cantor stated that they think the presentation at the European Hematology Association could bring about support for KPTI's DLBCL program. On April 7th, 2017, Jefferies reiterated a buy rating on the stock and kept their price target at $17.
"Sometimes I think the human animal doesn't really need food or water to survive, only gossip." ― Steve Toltz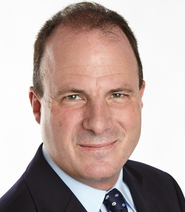 Thank You and Happy Hunting
Bret Jensen
Founder, Biotech Forum & Insiders Forum
Disclosure: I am/we are long KPTI.