All men make mistakes, but a good man yields when he knows his course is wrong, and repairs the evil. The only crime is pride." - Sophocles
This instablog post comes from Tim Plaehn, expert on income investing and a friend & colleague of mine at Investors Alley as well as a contributor here on SeekingAlpha. Tim runs the Dividend Hunter newsletter which offers a solid & diverse selection of attractive high yield plays. The service is now over 5,500 active subscribers and can be had HERE for the rock bottom price of $49 (It usually is $99) for the first year.  There are few better bargains around.
Through pride we are ever deceiving ourselves. But deep down below the surface of the average conscience a still, small voice says to us, something is out of tune. " - C.C. Jung

By Tim Plaehn,
The stock market is a two-sided beast on investor emotions. Investors feel positive and smart when the shares they own are going up in value. On the flip side, a sustained or sharp drop in share prices brings out the fear, which is an emotion that can produce irrational behavior. The truth is that all stocks at some point in time will experience significant share price declines. Panic selling to lock in losses does not produce very attractive stock market returns.
Stock market investors should plan in advance how they will manage their stock accounts when share prices decline. Timing sales and purchases can be a strategy. This involves selling after a small loss with the plan of buying back the shares when they get cheaper. This approach most likely relies on technical analysis to find buy and sell and buy points on the stock chart. If you are a follower of this strategy and are steadily building wealth, you don't need my approach.
What I see are stock prices that drop quickly on unexpected news items, either related to the individual company or other companies in the same business. In many cases the news is not a valid threat to the company's business or is later proven to be mistaken. We operate in a stock market were traders are quick to punish share prices on any piece of real, suspect, or fake news. With years of market research, I have not found a consistent system that allows me to buy and sell on share price swings and produce a steadily growing investment portfolio. Those years of study have lead me towards investment strategies focused on building a dividend income stream. The basis is that dividends are more predictable than share prices.
A stock will have a high-yield because the market believes the dividend payments have some risk of reduction or elimination. These stocks have a binary possible outcome. One is that the perceived risk is valid and at some point the dividend does get reduced, which can lead to an unrecoverable drop in the share price. The other possible scenario is that the dividend is secure and will continue to be paid. These are the undervalued, higher-yield stocks you want to dig out of the pack and own. To find such stocks, an investor must understand the business, analyze the cash flow generated to pay the dividends, and monitor the financial reports to make sure the business is operating and generating free cash flow as predicted.
If you own the good type of high-yield stocks, you understand the effects of the news items that cause share price tumbles. You will know that in most cases what the traders believe (at least for a few days) is invalid and that the share price will eventually recover.
Instead of going into a panic when one of your stocks hits a steep downdraft, you calmly analyze the situation. If your forecasts about the business are still intact, you can ride out the down draft and continue to earn those nice dividend payments, or even add to your holdings to boost your dividend income stream. This is a strategy that works to steadily build wealth over time.
There are always stocks getting hit by "here today, gone tomorrow" news events. Here are three stocks with prices that are down, secure dividends and attractive futures: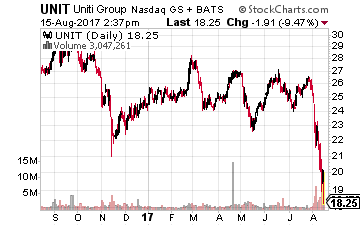 Uniti Group Inc (NASDAQ: UNIT) is a real estate investment trust (REIT) that owns telecommunications infrastructure asset, such as fiber lines and cell phone towers. UNIT was spun-off by Windstream Holdings, Inc. (NASDAQ: WIN), and the WIN contract currently produces 70% of the UNIT revenues. WIN recently suspended its dividend and UNIT declined by 25% and now yields almost 12%. This analysis report excerpt from Raymond James tells the real story: "We are adding Uniti Group to the Analyst Current Favorites® list following its solid 1Q results, positive YTD M&A announcements, and our continued belief that Uniti will further diversify away from its primary Windstream exposure over the next 12 months. Our thesis on Uniti remains unchanged, that continued diversification through M&A and portfolio growth will drive a higher multiple and lower-yield closer to triple net lease peers. We also note the acquisitions Windstream made to improve its FCF is not currently fully factored into Street estimates."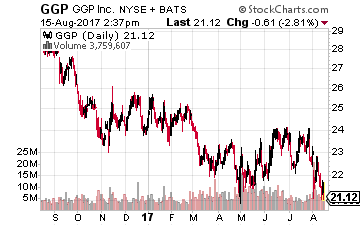 GGP Inc. (NYSE: GGP) is a Class A shopping center REIT that is down 8.5% in the last two weeks, and 28% below the 52-week high. The shopping center REITs have been hurt on the mostly fake news that online retailers will take most of the business away from brick-and-mortar retailers. The truth is retailers know they need a combination of in store and online sales. Great shopping centers such as the ones that GGP owns produce strong and growing retail sales. GGP has doubled its dividend in the last five years, and the quarterly payments will continue to grow by about 10% per year. GGP is a dividend stock on sale, and yields 4.0%.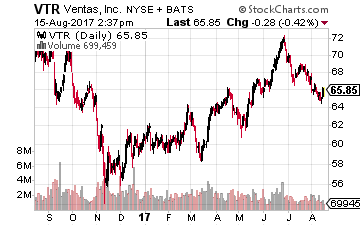 Political uncertainty has led to a sell-off in the healthcare sector REITs. There will be problems for some of the less financially secure REITs in the group. To fish for value, investors should stick with the best managed companies. Ventas, Inc. (NYSE: VTR) has proven year after year that it is the class of healthcare REITs. The VTR share price is down 8% over the last six weeks and the yield is up to 4.7%. This would be a good catch for income focused value fishermen.
"Being different is a revolving door in your life where secure people enter and insecure exit." - Shannon L. Adler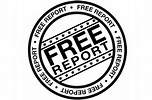 Tim recently put out a 10 page free report on five of his favorite current high yield stocks across multiple industries. It is a great place to start for those wanting to build a diversified income portfolio. To download that free analysis, just click HERE.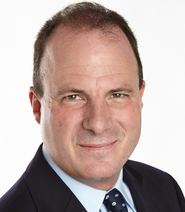 Thank You and Happy Hunting
Bret Jensen
Founder, Biotech Forum & Insiders Forum