I don't know what it is about the french language, it seems to be scared of coming out of the mouth so it comes out the nose instead." - P.D.Q. Bach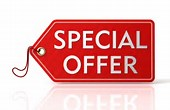 This instablog post comes from Tim Plaehn, expert on income investing and a friend & colleague of mine at Investors Alley as well as a contributor here on SeekingAlpha. Tim runs the Dividend Hunter newsletter which offers a solid & diverse selection of attractive high yield plays. The service is now over 5,500 active subscribers and can be had HERE for the rock bottom price of $49 (It usually is $99) for the first year.  There are few better bargains around. 
I did not want to be taken for a fool – the typical French reason for performing the worst of deeds without remorse." ― Jules Barbey d'Aurevilly, The Crimson Curtain
One potential aspect of the new tax law working its way through the US Congress is that renewable energy companies will lose some preferential tax treatment. This has caused some worries for investors owning renewable energy stocks. The good news is that renewables are at a point that the companies can compete with traditional energy sources. The bad news is they may no longer have an extra edge of tax credits. Going forward investors need to evaluate renewable energy companies just as they would a fossil fuels energy provider.
With this new way of looking at renewables, which is the old way of evaluating any dividend paying stock, here are two. One may be a danger in your portfolio and the other should be an above average performer.
Hannon Armstrong Sustainable Infrastructure Capital (NYSE: HASI) is a favorite with investors who like an income stock with a clean energy focus. The company owns assets or provides services in three areas of clean energy as shown in this graphic: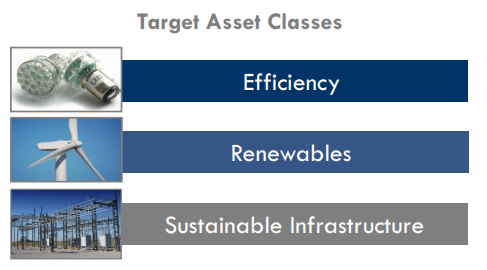 The efficiency sector is the one that puts HASI's cash flow at risk. With this business the company makes loans that are used to increase the energy efficiency of buildings. Most of the clients are government agencies, which are financially encouraged to make the efficiency upgrades. This sector makes up 22% of the HASI assets. Any slowdown would hurt growth expectations. This company also has high costs in relation to revenues.
For the 2017 third quarter the company reported investment income and other investment revenue of $33.3 million. Interest and administration expenses totaled $25.3 million, or 76% of revenue. This is not a financially efficient company and any dip in revenue will be magnified at the core earnings level. For the first three quarters those core earnings were $0.96 per share, while the dividends paid were $0.99 per share. This is a company living on the financial edge and not one that deserves a 5.7% yield. The tight finances point to a stock that is much more likely to go down instead of continuing the recent share price gains.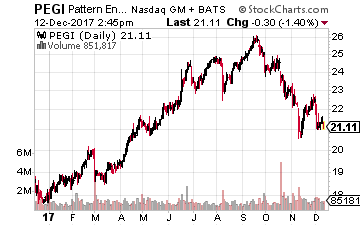 Pattern Energy Group (Nasdaq: PEGI) owns and operates renewable energy facilities which presently consist of wind farms. The company includes solar facilities in future plans. The company currently has a portfolio of 20 renewable energy facilities, including one project it has agreed to acquire, with a total owned interest of 2,736 MW in the United States, Canada and Chile. The company has secured exclusive access to 10 GW of projects and while they may not all get developed there will be enough to sustain an attractive growth trajectory. Pattern Energy acquires an asset after it has been completed and is generating power and revenue.

Tim is about to put out another free report.  That will be out within his next post.  This means this is the last chance to get his 10 page free report with a more in depth look at five of his favorite current high yield stocks across multiple industries that has been out for awhile now. To download that free analysis, just click HERE.
Purchase prices are set to assure accretive cash flow per share growth. The company has increased the dividend every quarter since its October 2013 IPO. With the tax fears, the PEGI share price is down 18% from its September high and currently yields 7.9%. This is the better clean energy dividend stock.
What do the French do with the rest of the frog?" - Anthony T. Hincks


Note: We continue to put out a couple of free in depth reports on small biotech, biopharma and medical device stocks every month.  We will also be putting out a 30 minute video on six small and midcap biotech stocks I think make likely takeout targets in 2018.  This will be released a few days after Biotech Forum subscribers get their exclusive 'first look'.  To register to get this free video when it is out and/or to get our past free reports, just click HERE.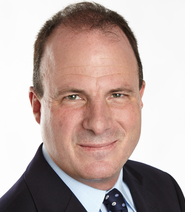 Thank You & Happy Hunting,
Bret Jensen
Founder, The Biotech Forum, The Busted IPO Forum & The Insiders Forum