If there are no dogs in Heaven, then when I die I want to go where they went." ― Will Rogers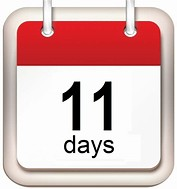 As of the market close Friday, The Insiders Forum 20-stock model portfolio has generated an impressive 55.27% overall return since its launch on 06/30/2016.  That is more than twice the return of the Russell 2000 (26.29%) over that time frame.   We also adding more exclusive and some video content to the offering in 2018.  We are having a small price hike after December 31st to provide for the additional research and bring our low membership fees in line with other top services available via SeekingAlpha's Marketplace.  To activate this risk-free offer and lock in today's low rates forever, just click HERE. Our latest recommendation will go out next week.
The only creatures that are evolved enough to convey pure love are dogs and infants." ― Johnny Depp
It was announced yesterday that Synergy Pharmaceuticals (SGYP) CEO was resigning even though he will remain Chairman of the Board for the time being.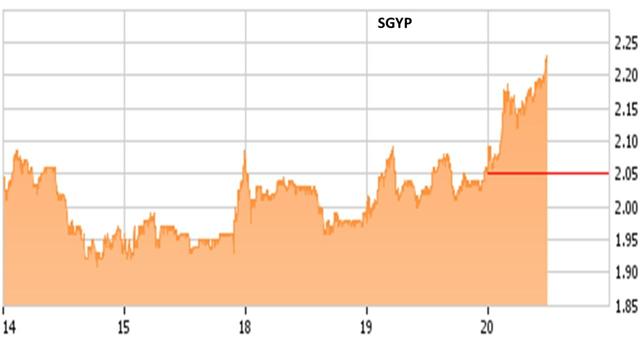 Given the atrocious job he has done running the company since its primary drug candidate Trulance was approved for chronic idiopathic constipation in January and those impacts to the stock price, it is easy to see why.
In retrospect, Synergy's management should have sold the company for $8 to $10 a share in January after Trulance was approved by the FDA.  Transitioning from a Tier 4 to Tier 3 concern is always harder than expected.  This is especially true when one does not have an existing sales force and the approved drug is targeting a mass market like the GI space.  Unfortunately, this is not the first case of 'hubris' among management in the small cap biotech/biopharma arena; and it won't be the last.
The second mistake the company made was announcing a $300 million debt facility that seemed to mitigate all funding concerns, while omitting or glossing over the fact that the company would need to do another another secondary offering in order to comply with the conditions of the debt facility.  When the secondary offering was announced, the stock tanked.  I detailed the folly of Synergy's management in detail in an article at the time.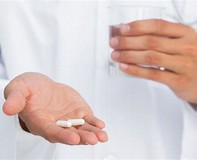 The stock could see some momentum now with the management change and the upcoming PDUFA date for Trulance.  On January 24th, the drug should be approved for IBS-C which should increase its potential market by approximately a third.  That being said, the warrants issued within the recent secondary offering could provide a headwind for a while.
I am modeling $70 million to $85 million in Trulance sales in FY2018 which is pretty much in the middle of relatively wide range of analyst estimates at the moment.  The compound is targeting a growing market, is best in class and is gaining market share.  Peak sales could eventually easily top $500 million in the right hands.
I think the company could see considerable takeover interest given its low valuation versus peak sales.  This could come from Takeda or a variety of other GI concerns.  I also would not rule out a 'hostile bid' driven by an activist and/or PE firm.  The environment certainly seems ripe for that sort of attempt early in 2018.  Synergy's longer term aggrieved shareholders who once might have held out for $9 to $10 a share, at this point would happily take $4 to $5 a share and call it a day.
If nothing else, it is nice to see the stock head into year end with some sort of improved sentiment to close out what has been a challenging 2017.
If a dog will not come to you after having looked you in the face, you should go home and examine your conscience." ― Woodrow Wilson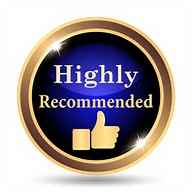 I use basic option strategies (buy-write's, covered calls, and bull put spreads) within my personal biotech portfolio, but I am certainly no expert in this field. For those that want to learn about more advanced option strategies to put in their investor 'toolbox', I highly recommend the free 30 minute report and 7 minute video my Investors Alley's colleague Jay Soloff has recently put together. Jay has been teaching about and using option strategies successfully for two decades. The free video and report can be downloaded HERE.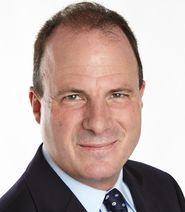 Thank You & Happy Hunting,
Bret Jensen
Founder, The Biotech Forum, The Busted IPO Forum & The Insiders Forum