Being challenged in life is inevitable, being defeated is optional." 
― Roger Crawford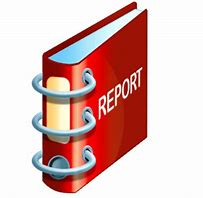 Note: We continue to put out a couple of free in depth reports on small biotech, biopharma and medical device stocks every month.  We were in the 'recording studio' this weekend putting a video together on new leadership at the FDA, what it means to investors and three small cap biotech stocks that should benefit in 2018. To register to get this free video a few days after it has gone out to Forum subscribers and/or to get our past free reports, just click HERE. 
I am an optimist. Anyone interested in the future has to be otherwise he would simply shoot himself." ― Arthur C. Clarke
We have seen a lot of 'worst to first' trading action in the first few days of 2018.  Several of the stocks in the Busted IPO Forum are up 15% to 20% in opening month of the New Year.  The 'January Effect' seems to be actually happening in January for a change this year.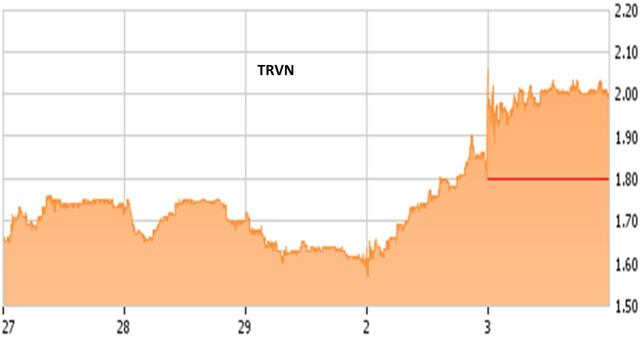 One beaten down small biopharma stock that has made a major move early in 2018 is Trevena (TRVN).  After crushing shareholders in 2017, the opening of the New Year has brought some renewed hope as can be seen from the chart above.
The stock had a good day on Tuesday and rose nearly 12% Wednesday.  It was announced before the market was open yesterday that the FDA has accepted the company's NDA seeking approval for its primary compound 'OLINVO'  injection for the management of moderate-to-severe acute pain.  OLINVO is the first G protein biased ligand of the mu opioid receptor and has Breakthrough Therapy designation from the FDA.  In late stage studies it was found "colorectal surgery patients who received OLINVO showed return of bowel function 28 hours faster than similar patients treated with conventional opioids".  The product, if approved, has the potential to improve pain management or reduce opioid addiction.
At the close of the third quarter, Trevena had just over $75 million in cash and marketable securities on hand.  Management has guided this is sufficient for the next 12 months of operations.  
The stock hit a high early in 2017 of $8.00 a share but was trading close to its 52 week low of $1.35 to close out the year.  The recent rally is a testament to how absolutely abysmal sentiment had become on the stock, and the shares were probably held down by tax loss selling late in the year as well.
Analyst Commentary & Outlook:
In November, Oppenheimer ($5 price target), Needham ($7 price target) and H.C. Wainwright ($7 price target) all reissued Buy ratings on Trevena.  I think Needham's analyst captured the view on the company's prospects accurately
Trevena provided a 3Q17 update in a conference call today. Company announced submission of Olinvo NDA on 11/2/17. Given Breakthrough Therapy designation, priority review is a possibility. We nevertheless assume PDUFA date in early Nov 2018 (Jul 2018 if priority review). Mgmt expects an AdCom mtg. Trevena announced a restructuring in Oct 2017 to conserve cash for Onlinvo launch. Cash constraints are still a concern, however, and we have adjusted our model to reflect a slower sales ramp. Discussions w/ potential U.S. and ex-U.S. partners are underway, but we have conservatively shifted out our collaboration revenue estimates. Although we are lowering our price target to $7 (was $9), we continue to believe Olinvo stock is undervalued. BUY."
Verdict:
The stock finally seems to be seeing some momentum returning to its shares.  With a market cap of approximately $125 million and some $75 million of cash in its coffers, even with the recent rally the equity seems underpriced.  While not adding to my core holdings, I am a bit more optimistic on Trevena that I was through the back half of 2017.
Half of being a soldier is being able to sleep anywhere." ― Pierce Brown, Morning Star
They say a picture is worth a thousand words.  If so, the following shows why the Insiders Forum's investment theory that finding attractive small and mid-cap stocks insiders are buying is a solid way to outperform the market is paying off in spades.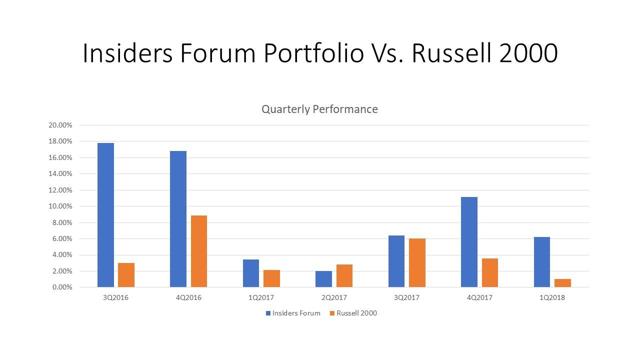 As you can see not only has the model-20 stock portfolio produced a positive return in all six quarters of existence but has beat its benchmark, The Russell 2000 in five of those quarters.  The portfolio is off to a hot start in 2018 as well.  As of yesterday's close, the model portfolio is now up 63.97% compared to a return of just 27.83% for the Russell 2000.
We are still enabling 14 day free trials to this offering that now sports 700 members in the community.  To activate your risk-free two trial into The Insiders Forum, just click HERE.  Our next recommendation will be out soon!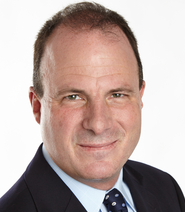 Thank You & Happy Hunting,
Bret Jensen
Founder, The Biotech Forum, The Busted IPO Forum & The Insiders Forum
Disclosure: I/we have no positions in any stocks mentioned, but may initiate a long position in mnk over the next 72 hours.
Disclosure: I am/we are long TRVN.