I think much of a writer's life is figuring out how much coffee is needed to fuel madness & creativity while avoiding having to pee." ― Jennifer Worrell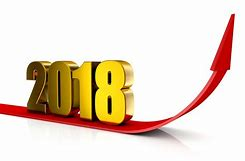 Looking for new investment ideas in 2018?  The second annual online SeekingAlpha Investor Summit is just around the corner.  Over the course of a 45 to 60 minute interview I will be laying out my views on the market, which sectors should be outperformers in the New Year and some of my top stock picks for 2018. Brad Thomas, Chris Demuth and more than 15 other top contributors here on SeekingAlpha will be doing the same. This event was very well-received last year.  Early registration is encouraged and can be done quickly by clicking HERE. 
I don't know where my ideas come from. I will admit, however, that one key ingredient is caffeine. I get a couple cups of coffee into me and weird things just start to happen." ― Gary Larson
Genetic testing concern Invitae (NVTA) dropped 15% in trading on Friday.  This knee-jerk sell-off provides an actionable opportunity to add a few shares by buying this dip, which is likely to be temporary.  Let's revisit this fast-growing small cap concern below.
Invitae (NYSE:NVTA) a San Francisco based genetic information company. The company provides a diagnostic service comprising hundreds of genes for various genetic disorders associated with oncology, cardiology, neurology, pediatrics, and other rare disease areas. The company aims to drive down the costs of testing for inherited genetic conditions by aggregated genetic testing.  This is a far growing niche in the market.  Genetic testing should hit $10 billion in annual sales in five to seven years.  The stock has current market capitalization of approximately $400 million.
The Trigger:
What cause the decline on Friday was an update on 2017 revenue and conservative guidance from the company for 2018.  Management stated it expected to post organic revenue of $59 million for FY2017.  This was in the midpoint of the previous range leadership has previously given of $55 million to $65 million.  This also does not include the $8 million of sales that two recent acquisitions had in 2017.  The company processed 134,000 samples in 2017 above previous guidance of 120,000 to 130,000 samples for FY2017.  This represents sales and sample growth of over 125% year-over-year compared with 2016.
Then the company said it 'only' would grow nearly 80% at the floor of its guidance for FY2018.  In the bottom end of range offered the company should process a quarter million samples and delivered revenue of $120 million.  Don't you wish all the companies you have stock in could post that sort of 'abysmal' annual growth?  I think that the dip caused by this guidance should be actioned by those that believe in Invitae's long term growth story.  It also is quite likely the company just put in a 'low bar' that it will able to step over in the year ahead.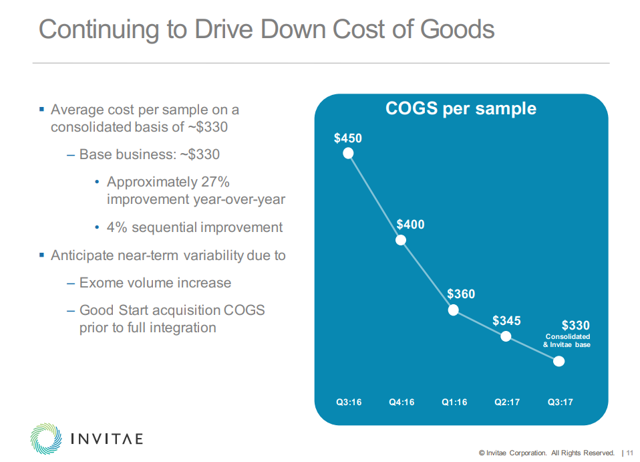 Verdict:
Also remember the company posted sales of just $25 million in FY2016.  Basically quintupling revenues in just two years is hardly anything to sneeze at.  Also the law of 'large numbers' almost always comes into play for growth stories as it is much easier to double revenues from $25 million than from $60 million.  As volume continues ramp up, the cost per sample (see above) will continue to fall.  It is my opinion that nothing has changed about the Invitae's long term prospects.  I added a few shares to my core holdings on this decline as I expect this to be an advantageous entry point when we look back on NVTA a year from now.
"Don't ever let anyone tell you that fairy tales aren't real. I drink a potion made from magic beans every day, and it brings me back to life." ― Nanea Hoffman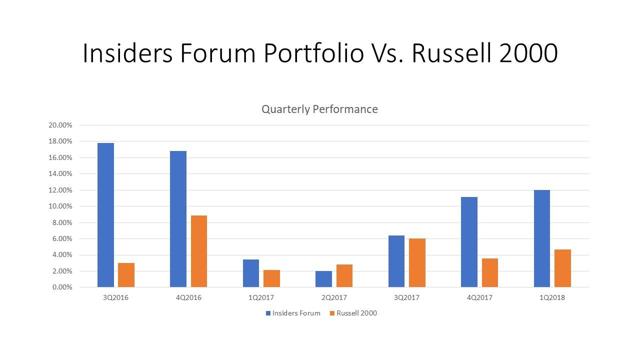 The Insiders Forum has been 'en fuego' so far in 2018. As you can see not only has the model-20 stock portfolio produced a positive return in all six quarters of existence but has beat its benchmark, The Russell 2000 in five of those quarters.  The portfolio is off to a very hot start in 2018 as well.  As of yesterday's close, the model portfolio is now up 69.68% more than double the return of just 31.19% for the Russell 2000.
We are still enabling 14 day free trials to this offering that now sports over 700 members in the community.  To activate your risk-free two trial into The Insiders Forum, just click HERE.  Our latest recommendation came out Friday!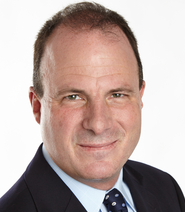 Thank You & Happy Hunting,
Bret Jensen
Founder, The Biotech Forum, The Busted IPO Forum & The Insiders Forum
Disclosure: I am/we are long nvta.