The collection of taxes which are not absolutely required, which do not beyond reasonable doubt contribute to the public welfare, is only a species of legalized larceny." ― Calvin Coolidge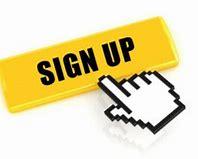 If you want to get our '4 Hot Analyst Reads' before every market open and our preview of the important events (trial milestones, conference presentations, FDA action dates) for the upcoming week across the biotech industry 'Biotech:The Week Ahead', just go to our new blogsite 'The Biotech Nation' and click on the + Follow button in the upper right hand corner of the site. That's it. It is that simple. Both are free publications.
He's spending a year dead for tax reasons." ― Douglas Adams, The Hitchhiker's Guide to the Galaxy
In today's instablog post we revisit a small biotech 'rocket' whose stock has surged in recent months.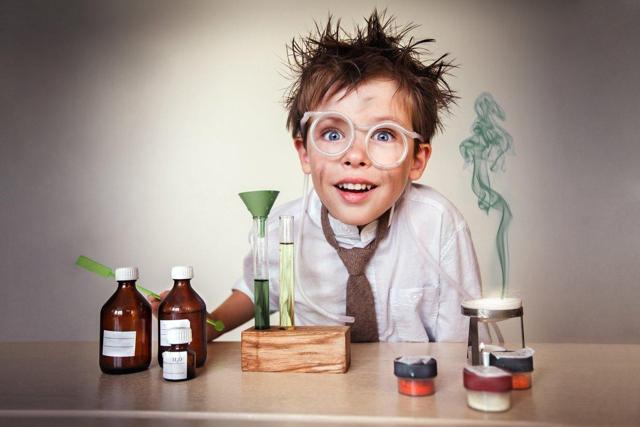 Company Overview:
Viking Therapeutics (VKTX) is a California based clinical-stage biotech that was founded in 2012. The company is focused on developing best-in class therapeutics for metabolic and endocrine disorders. The stock has surged since we advocated to make a small purchase in its shares late last year when they traded at the ~$2.50 level. The shares now go for close to $10.00 apiece and the company sports a half a billion dollar market capitalization.

Recent Events & Pipeline:
Viking Therapeutics has worldwide rights to five therapeutic programs that spans both clinical and pre-clinical. The programs are based on small molecules licensed from Ligand Pharmaceuticals. The company is focused on their selective androgen receptor modulator known as VK521, which is in development for treatment and prevention of lean body mass loss in patients who have undergone hip fracture surgery. Also, the company has a program focused on developing small molecule agonist of thyroid beta receptors, which includes VK2809. VK2809 is being evaluated in patients with non-alcoholic fatty liver disease. Lastly, the company is focused on developing novel and selective agonist of the thyroid beta receptor for glucose storage disease and X-ALD, diabetes, metabolic disease and anemia. 
Recently, some major positive news was released which impacts Viking's VK2809 drug candidate. Madrigal Pharmaceuticals (MDGL) announced successful 36-week results from a Phase 2 study of their NASH candidate MGL-3196, which is a thyroid receptor-beat agonist. The news propelled Viking higher as the company's VK2809 has the same mechanism of action as Madrigal's MGL-3196.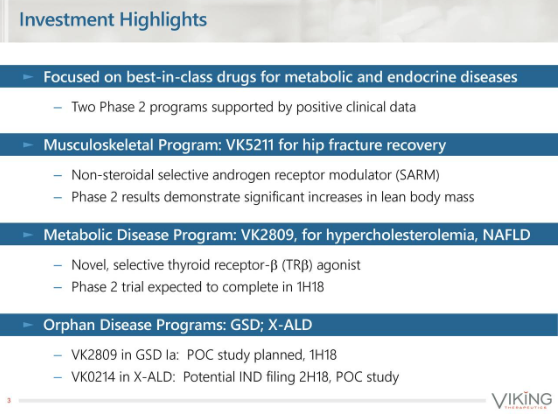 Source: Company Presentation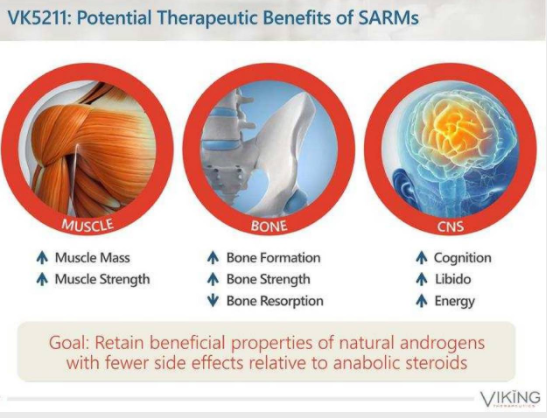 Source: Company Presentation
VK5211 (Hip Fracture)
The company's lead product candidate is VK5211, an orally available, non-steroidal selective androgen receptor modular, or SARM for short. VK5211 is intended to work by producing the therapeutic benefits of testosterone in muscle and bone, but with a superior safety, tolerability and patient acceptance. VK5211 is aimed at patients recovering from non-elective hip fracture surgery.
Hip fractures represent a significant medical challenge, need and hence opportunity. Over 300,000 individuals are hospitalized for hip fractures in the U.S. annually. The rate of hip rate fractures and age, unsurprisingly, has a strong correlation. In fact, the rate of hip fractures doubles every 5 to 6 years after the age of 60. As stated before, there is a large opportunity to be had in this market because there's currently not an approved therapeutic in the U.S. for restoration and preservation of lean body mass, bone mineral density or function in patients who have suffered a hip fracture.
In phase 1 clinical trials, VK5211 demonstrated statistically significant increase in lean body mass following 21 days of treatment. Also, the drug was well tolerated at all doses with adverse rates comparable to placebo. However, it should be noted that the only dose that met statistical significance was the highest dose, which squeaked by with a p-value of 0.047. Furthermore, in pre-clinical models the drug showed improvements in bone strength, density, and mineral content. The phase 1 data has since been bolstered by the addition of Phase 2 data that came out back in November of 2017. VK5211 showed a statistically significant, dose dependent increase in lean mass following the 12 weeks of treatment. Furthermore, the study also hit valuable secondary endpoints showing such things as a statistically significant increase in appendicular lean body mass and total body mass. Furthermore, its important to note that the drug continues to demonstrate a favorable safety and tolerability profile. The company intends to present additional results from the Phase 2 at upcoming conferences. Looking ahead, the company will be in talks with the FDA as they evaluate their next steps and they will continue exploring partnering and licensing opportunities.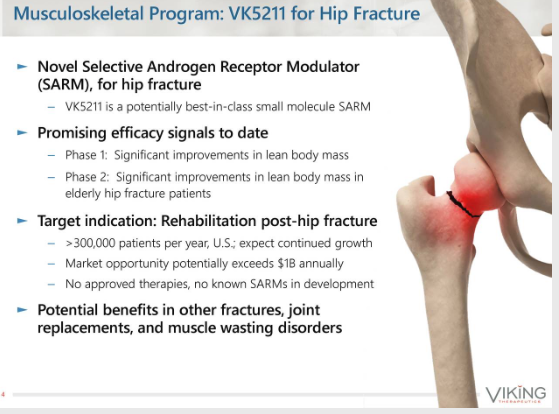 Source: Company Presentation
VK2809 (hypercholesterolemia and non-alcoholic fatty liver disease)
VK2809 is a novel, orally available small molecule thyroid receptor agonist that is selective for liver tissue as well as the beta receptor subtype. The liver targeting properties of the drug is designed to reduce or eliminate altogether the negative effects of extra-hepatic thyroid receptor activation. Hypercholesterolemia affects over 100 million patients in the United States alone. Furthermore, a little more than 70 million have high LDL cholesterol in America.
In a Phase 1b study, subjects with mild hypercholesterolemia saw a significant reduction in not only LDL-cholesterol and triglycerides but also lipoprotein A and apolipoprotein B. lipoprotein A and apolipoprotein B are both proteins that are associated with an increased risk for cardiovascular disease. In June of 2017 the company announced data from a study of VK2809 in an animal model of diet induced NASH, which adds to the growing body of evidence that supports the drug's efficacy and mechanism of action. Furthermore, on September 11, 2017, the company announced positive results from a gene expression analysis, which was conducted as part of the recently completed in vivo model.
Currently, the drug is in a Phase 2 trial in patient with fatty liver disease and hypercholesterolemia. The trial is a randomized double-blind placebo controlled parallel group study designed to assess the efficacy, safety, and tolerability of VK2809 in patients with elevated LDL-cholesterol and non-alcoholic fatty liver disease. Enrollment in the study is nearing completion and management expects to announce the results in the second half of 2018.
Source: Company Presentation
Analyst Commentary & Balance Sheet:
At the end of the first quarter, Viking Therapeutics had cash, cash equivalents, and investments of $77 million. R&D costs for the first quarter of 2018 were $3 million, compared to $3.5 million for the same period in 2017. General and administrative expenses were $1.7 million, compared to $1.4 million for the same period in 2017. In Q1 of 2018, the company raised nearly $63 million in gross proceeds through issue stock. Overall, the company lost $3.6 million in Q1 of 2018, which is $1.6 million less than the same period last year. Viking just announced a secondary offering that should add almost $70 million to the company coffers while addressing all near and medium-term funding issues.
Multiple firms were quick to come out and show support for Viking with various reaffirmations and target price raises. Roth Capital, Laidlaw, and HC Wainwright all came out on the first to boost their price target. In order, Roth raised from $7.50 to $13, Laidlaw raised from $10 to $15, and HC Wainwright raised their target from $11 to $15. The analyst over at HC Wainwright views Madrigal's data as a "big win" for validating a thyroid receptor B approach. Furthermore, an analyst from Maxim Group echoed the same sentiment stating that, "The Madrigal data, in our view, suggests that this class of drug may be successful as a treatment for NASH. We have reduced the risk factor in our model from 90%, to 50%, as well as made some other minor adjustments."
Verdict:
Obviously we liked the risk/reward on Viking better at ~$2.50 in October than nearly $10.00 a share now.  However, the company has multiple 'shots on goals' aiming at potentially lucrative niches in the market.  Funding issues have been resolved and its approach seems validated by Madrigal's recent results.  On a longer term basis, slow accumulation to acquire a small stake in Viking within a well-diversified biotech portfolio still seems warranted.
Option Strategy:

An alternative way to accumulate an initial stake or to increase exposure to VKTX is via a Buy-Write order. Using the November $10 call strikes, fashion a Buy-Write order with a net debit of between $6.00 to $6.20 a share range (net stock price - option premium). This mitigates some downside risk and sets up a more than solid potential return for its five month 'hold' period. Premiums are very large and quite liquid on Viking, so this is how I would structure any new positions.
It is easier to seize wealth than to produce it, and as long as the State makes the seizure of wealth a matter of legalized privilege, so long will the squabble for that privilege go on." ― Albert Jay Nock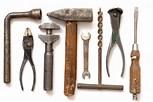 I feel like options are where ETFs were a decade ago and in the coming years will be used by more and more investors. For those that want to learn about more advanced option strategies to put in their investor 'toolbox', I highly recommend the free 30 minute report and 7 minute video "How to Collect Fast Cash Payments Selling Call Options" my Investors Alley's colleague Jay Soloff has put together. Jay has been teaching about and using option strategies successfully for two decades. The free video and report can be downloaded HERE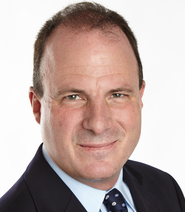 Thank You & Happy Hunting,
Bret Jensen
Founder, The Biotech Forum, The Busted IPO Forum & The Insiders Forum