Let the past be content with itself, for man needs forgetfulness as well as memory" ― James Stephens, Irish Fairy Tales

This instablog post comes from Tim Plaehn, expert on income investing and a friend & colleague of mine at Investors Alley as well as a contributor here on SeekingAlpha. Tim runs the Dividend Hunter newsletter which offers a solid & diverse selection of attractive high yield plays. The service now has over 7,000 active subscribers and can be had HERE for the rock bottom price of $49 (It usually is $99) for the first year. There are few better bargains around for those looking for solid income plays to balance their high beta holdings.
Beauty exists not in what is seen and remembered, but in what is felt and never forgotten." ― Johnathan Jena

By Tim Plaehn,
Recently, as part of my ongoing research in the high-yield investment world, a newswire release crossed my screen that had me scratching my head. One reason to invest in a fund-type of product is to diversify and reduce risk. However, this exchange traded note (NYSE:ETN) that I found seems to be structured in a way that increases the level of risk, rather than reducing risk through diversification. If you own shares in this particular high-yield ETN with hopes that the 10% dividend is secure, think again.
An exchange traded note is like an exchange traded fund (ETF) with one big difference. While an ETF is shares in a portfolio of securities, an ETN is an unsecured debt obligation of the issuer.
These notes are not backed by a portfolio of securities. Fund issuers use the ETN structure when there would be structural or tax problems in the construction of an actual securities portfolio. An ETN will track a specified index without actually owning the components of the index. Since an ETN is an unsecured debt obligation of the issuer there is a small, but real risk that the issuer could just fold one of these notes with investors receiving nothing for their shares.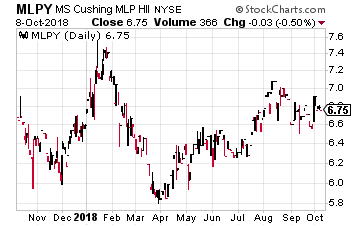 The Morgan Stanley Cushing MLP High Income Index ETN (MLPY) tracks the performance of an index composed of higher-yielding publicly traded midstream energy infrastructure companies, including master limited partnerships (NYSEARCA:MLPS) and non-MLP energy midstream corporations.
The index includes 30 stocks, ranking them by yield. The 10 highest yield stocks get a 5% weight in the index. The next 10 for yield are at 3.5% each, and the bottom 10 as measured by current yield are at 1.5%. What a concept.
The highest yield, meaning the 10 stocks most likely to cut dividend rates make up 50% of the index and the lowest yielding, indicating safety and dividend growth potential, account for 15% of the fund. That is a mathematical recipe for losing money.
To illustrate, here are the latest quarterly dividend coverage ratios of the ten stocks with 5% weightings in the index:
Golar LNG Partners LP (Nasdaq: GMLP) covered 56% of its dividend.
Buckeye Partners LP (NYSE: BPL) had 87% coverage.
NGL Energy Partners LP (NYSE: NGL) covered 44%.
USA Compression Partners LP (NYSE: USAC) had 109% coverage. This is the coverage you want from a high-yield stock.
Enbridge Energy Partners LP (NYSE: EEP) will be absorbed by its sponsor and the 12.3% yield will be slashed.
Sunoco LP (NYSE: SUN) had 120% coverage but is also in danger of being rolled up by its sponsor, reducing the dividend income to SUN investors.
Alliance Resource Partners, LP (Nasdaq: ARLP) has great dividend coverage, but the baggage of being a coal producing MLP.
Energy Transfer Partners, LP (NYSE: ETP) will experience an effective dividend yield reduction of 20% when the merger with its sponsor goes through.
SemGroup Corporation (NYSE: SEMG) provided solid 140% dividend coverage. This is a solid, high-yield income stock.
You can see this is not a list of 10 stocks to make up 50% of a high-yield portfolio. Eight of them are at risk or in the process if dividend cuts. The 10% yield of the MLPY ETN is a value trap and to be avoided.
I know now that what is tragic isn't the moment. It is the memory." ― Jacqueline Woodson, Another Brooklyn
Free Report Available: My colleagues at Investors Alley have published a free report entitled '10 Simple Rules To Trade Options Like A Pro' for those that want to learn more about profitably adding options strategies to their investing 'toolbox'. It is now available free via download HERE.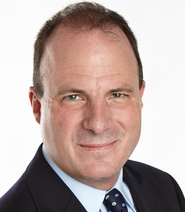 Thank You & Happy Hunting,
Bret Jensen
Founder, The Biotech Forum, The Busted IPO Forum & The Insiders Forum