Unquestionably, there is progress. The average American now pays twice as much in taxes as he formerly got in wages." - H.L. Mencken
Today, we revisit a promising 'Busted IPO' we have not discussed in a couple of months. We revisit this name and talk about some recent events and upcoming potential catalysts in the paragraphs below.
Company Overview:
Karyopharm Therapeutics (KPTI) is a Massachusetts based clinical stage  or 'Tier 4' pharmaceutical company.  The firm is focused on creating novel, first-in-class drugs directed against nuclear transport and related targets for the treatment of cancer and other diseases. KPTI currently has a market capitalization of approximately $520 million and trades just for around $8.50 a share.
The company's primary asset and most advanced drug candidate is Selinexor which is an oral, first-in-class, reversible, potent, selective inhibitor of nuclear export (SINE) that specifically blocks XPO1. This compound has been granted Orphan Drug Designation in both the United States and the European Union in multiple myeloma and fast track designation by the FDA for the treatment of patients with multiple myeloma who have received at least three prior lines of therapy
Recent Events & Upcoming Catalysts:
In early December, the company presented updated data from a Phase 1/2 study for selinexor to treat multiple myeloma at the big  American Society of Hematology (ASH) conference in San Diego.  This trial  evaluating selinexor in combination with dexamethasone, combined with standard-of-care treatment with Pomalyst or Darzalex produced an overall response response rate of 26.2% (n=32/122), including two complete responders.
In early January, the company submitted a marketing application to the European Medicines Agency seeking conditional approval to use selinexor to treat patients with relapsed/refractory multiple myeloma who have received at least three prior lines of therapy.  Selinexor has accelerated assessment status in Europe which means a decision should be rendered at the end of the first half of this year.  Selinexor has priority review status in the United States with a scheduled PDUFA date of April 6th.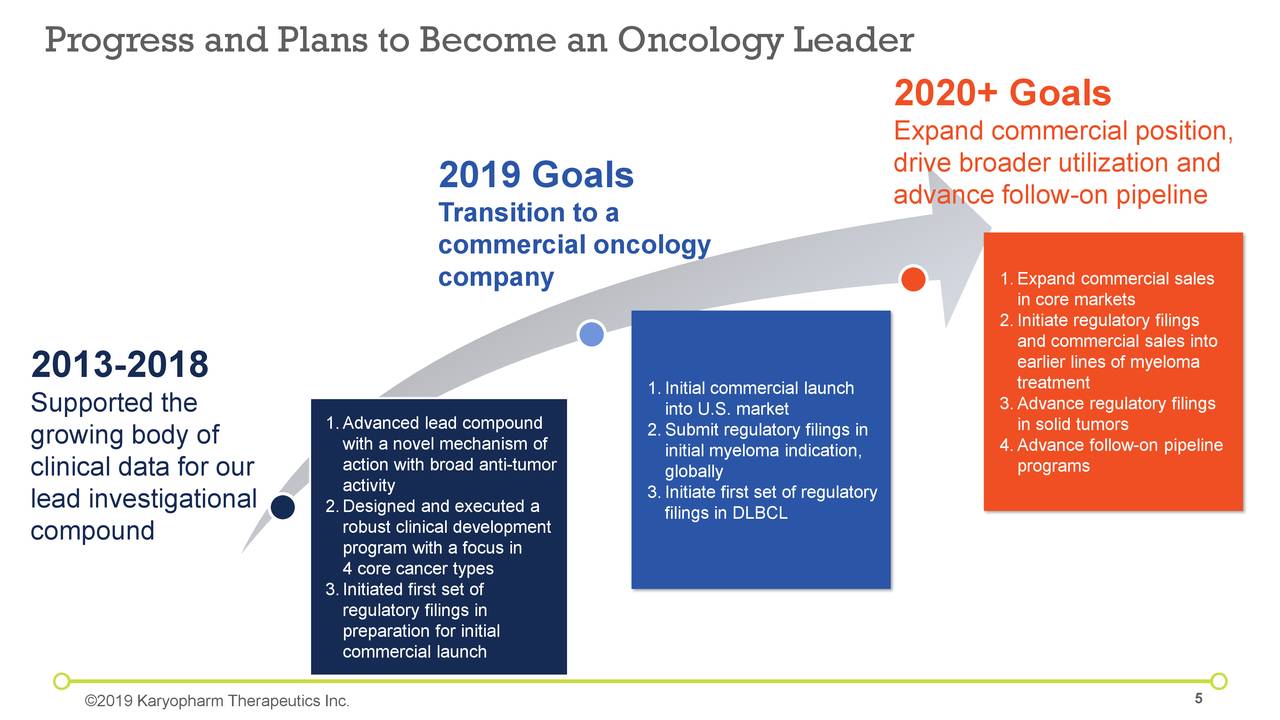 Source: Investment Presentation
Finally, a few days after its market application was submitted to Europe, Karyopharm presented at the huge JP Morgan Healthcare Conference out in San Francisco.  The company went over recent trial results and also outlined its high level goals for the next two years to investors (above).
For those that want to put simple option strategies like 'Buy-Writes' in their investor 'toolbox' to enhance returns and mitigate risk, you can now pick up a free report entitled '10 Simple Rules To Trade Options Like A Pro' . It is now available free via download HERE
Analyst Commentary & Balance Sheet:
Analysts are largely sanguine around Karyopharm's prospects.  The median analyst price target currently is north of $20.00.  In recent commentary, Merrill Lynch upgraded KPTI to a Neutral rating and $15 price target on January 3rd and expects Selinexor to be granted FDA approval in April.  H.C. Wainwright was a bit more generous on January 9th when it maintained its Buy rating and $24 price target.
The company ended the third quarter with just over $210 million in cash on hand. It raised just north of $165 million via convertible debt offering on October 26th. Management has guided funding is now in place through the first half of 2020.
Verdict:

Despite solid progress over the past few months, the shares of Karyopharm are down over the past six months, although they do seem to be trying to form a bottom in recent months.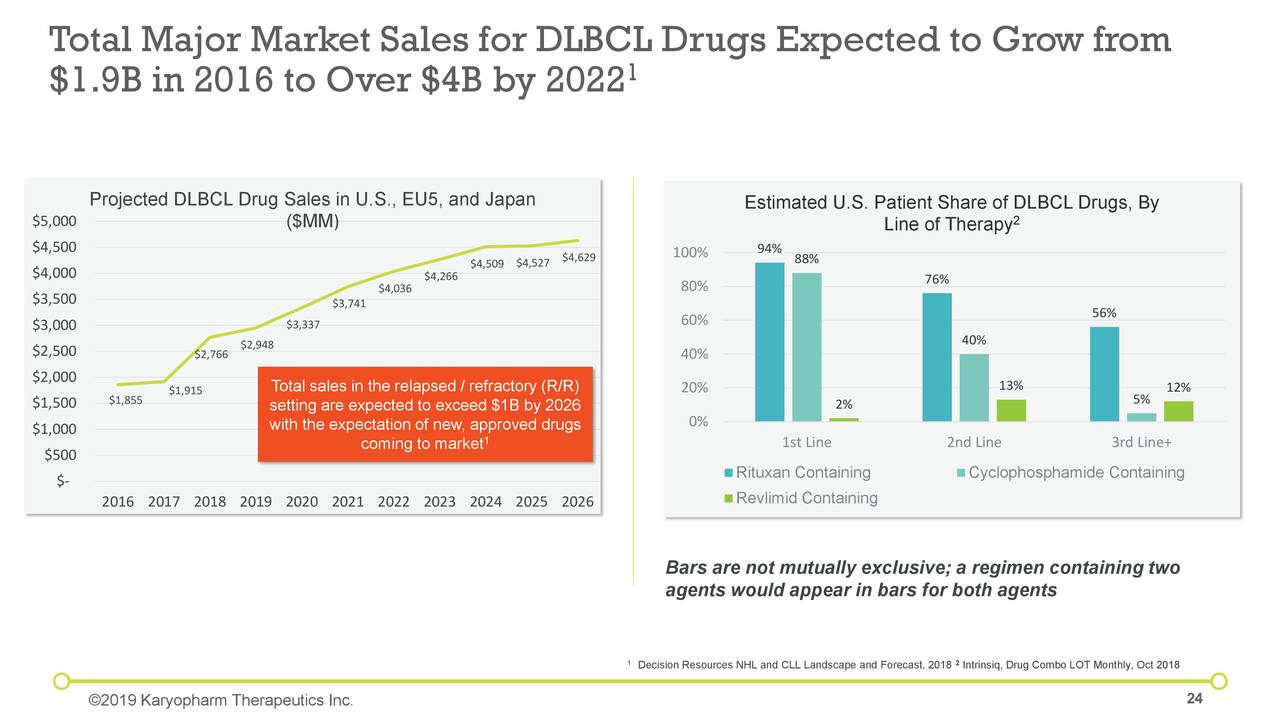 Source: Investment Presentation
The Myeloma market is large one with multiple players and an annual spend north of $17 billion annually.  The niche Karyopharm is targeting is already significant and projected to grow rapidly in the coming years.  With potential upcoming approvals in both the U.S. and Europe, the risk/reward profile of Karyopharm continues to appear attractive at current trading levels.
Happiness is the china shop; love is the bull." - H.L. Mencken
Thank You & Happy Hunting,
Bret Jensen
Founder, The Biotech Forum, The Busted IPO Forum & The Insiders Forum