A person is wise if he listens to millions of advice and doesn't implement any of it." ― Michael Bassey Johnson
The market and the biotech sector was headed to a 'flattish' week before the deep sell-off in the market on Friday triggered by increasing concerns about slowing global growth and falling yields.
The S&P 500 and NASDAQ dropped approximately two percent to end the week while the small cap benchmark the Russell 2000 was off better than three and half percent.  Biotech was particularly hard as the SPDR Biotech ETF (XBI) fell over 4.4% on Friday.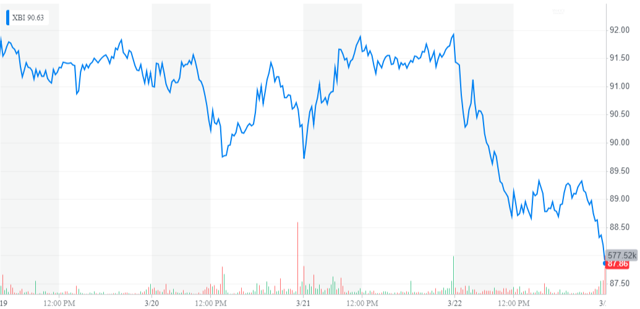 We will try to start the new trading week on a better note today.  While we await the market open, here are four biotech stocks analysts like this morning.
Abeona Therapeutics (ABEO) gets reissued as a Buy with a $30 price target this morning at H.C. Wainwright who offers up the following commentary
Valuation methodology, risks and uncertainties. We ascribe a total risk-adjusted net present value (rNPV) of $1.46B to Abeona's technology platforms, which yields a price per share of $30.00 based on about 48M shares outstanding as of end-2019. We utilize an 85% probability of success for EB-101."
Kaleido Biosciences (KBIO) is initiated as a new Buy with a $22 price target today at Goldman Sachs.  Goldman's analyst 'sees several pipeline catalysts over the next 18 months and projects KB174 has blockbuster potential in hepatic encephalopathy'.  This recent IPO also gets a Buy and $17 price target at Morgan Stanley today while JP Morgan issues a Hold with a $15 price target on this small cap name.
 '10 Simple Rules To Trade Options Like A Pro' from our friends at Investors Alley is a good quick overview on using option strategies to mitigate risk and enhance returns in your portfolio. These strategies are well suited to high beta sectors like biotech where option premiums tend to be large. The report is now available free via download HERE
BTIG upgrades AxoGen (AXGN) to a Buy from Neutral and offers up a $28 price target.  Here is the synopsis of that analyst call.
The analyst cites the stabilizing of its sales force based on his analysis of LinkedIn data and expectations that the management will have learned from its past mistakes by offering a more conservative guidance. The analyst also believes that AxoGen could become an M&A target since its potential acquirers have improved leverage ratios and have discussed deploying capital. Moreover, the analyst anticipates AxoGen's Avance nerve graft platform to be granted a Biologics License Application status by the FDA, but even in its absence, the analyst contends the company "isn't limited from selling Avance under 361 HCT/P," or Human cells, tissues, or cellular or tissue-based products regulations'
Finally, a different analyst at H.C. Wainwright reiterates his Buy rating and $21 price target on Translate Bio (TBIO).  Here is his take on recent events.
We do not believe that the IND clinical hold, announced on January 22, 2019, takes the wind out of the OTC program, but rather that the new timeframe merely necessitates the company adjust its sails and proceed on the defined course outlined by the FDA. Based on the company's proactive identification of the preclinical work necessary to fulfill the FDA's toxicology request, we feel there is reason to have confidence that this new course is feasible and can possibly lead to transition into the anticipated clinical development of MRT5201 in OTC patients. We are encouraged that the company expects both the completion of the necessary preclinical studies and to provide its complete response to the FDA in 4Q19."
And those are four small cap biotech stocks getting some positive analyst praise this morning as a new trading week is about to begin.
I know now that what makes a fool is an inability to take even his own good advice." ― William Faulkner
Thank You & Happy Hunting,
Bret Jensen
Founder, The Biotech Forum, The Busted IPO Forum & The Insiders Forum
On March 12th we published an extensive free report on one of my favorite 6% yield plays in this market. The shares have heavy insider buying as well. If you did not get this investment analysis, just go to bretjenseninvests.com  and hit the 'free reports' tab to download this report. This action will also register you for all the free reports we put out going forward as published as well.