If you want your prayers answered, get up off your knees and do something about them." ― Wally Lamb, She's Come Undone
Recently we started a weekly feature around five stocks insiders are buying. While not as powerful an indicator as insider buying, as insiders sell for many reasons (to cover taxes, divorce, diversification, options expiration, etc..) However, insider sells are one thing I do look at when analyzing an individual stock.
Therefore, we will have a weekly feature covering five stocks that are seeing substantial and recent insider selling going forward.
Insiders seem to be falling out of love with auto parts stocks over the past week.  A director at O'Reilly Automotive (ORLY) sold over $2 million in shares on March 20th.  This follows just over $1.7 million in sales from the same director on February 26th.  The chairman of the company sold nearly $13 million in shares in two transactions on March 20th.  Several other directors sold more than $1 million worth of shares a piece in February and March as well.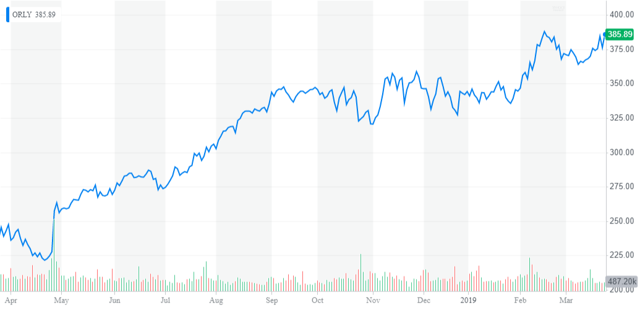 Given the rise in the stock over the past year one can hardly blame insiders for cashing in some chips.  It should also be noted both the chairman and the director in question that sold last week still retain sizable chunks of equity in the company.  However, with the stock trading over 21 times forward earnings with mid single digit revenue gains projected, insiders also might be signalling that the stock is fully valued at current trading levels.  This is especially true if the economy starts to slow down from the sizzling three percent GDP growth seen in 2018.
Competitor Autozone (AZO) is also seeing significant insider selling.  An Executive Vice President sold nearly $7.5 million in shares via four transactions on March 21st.  This represented more than 60% of his existing holdings.  It also follows sales late in February from two Senior Vice Presidents totaling nearly $1.5 million in aggregate.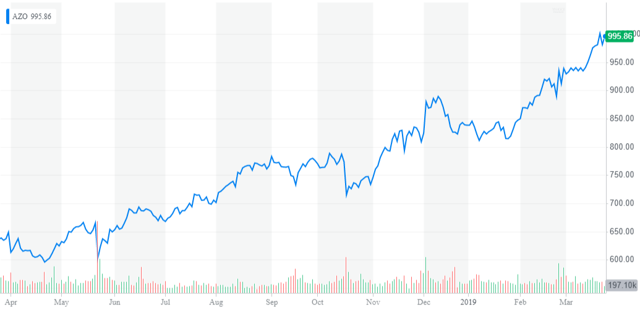 Autozone is a bit cheaper than O'Reilly on a valuation basis going for just over 16 times forward earnings which can be attributed to slower earnings growth than its rival.  Still the stock also has enjoyed a big run over the preceding 12 months.  Oppenheimer downgraded both names to Market Perform in February.  Insiders seem to be signalling that might be the right call via their sales.
10 Simple Rules To Trade Options Like A Pro' from our friends at Investors Alley is a good quick overview on using option strategies to mitigate risk and enhance returns in your portfolio. It is now available free via download HERE 
Another retailer (albeit in a completely different sector of the economy) also saw big insider selling last week.  Eight different insiders sold approximately $30 million in shares on March 19th and 20th in Ulta Beauty (ULTA).  It was the first insider sales since last September.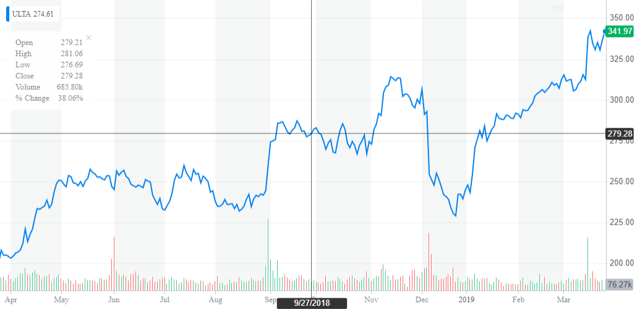 The shares are up just under 60% from where they were one year ago so one can't blame insiders for taking some money off the table.  Ulta is seeing approximate 20% annual earnings growth on revenue gains in the low teens.  However, the stock also for over 25 times forward earnings.  The median analyst price target is also right around current trading levels.  The company did post strong Q4 results on March 14th.  Insiders seem to be taking advantage of the post earnings surge in the stock.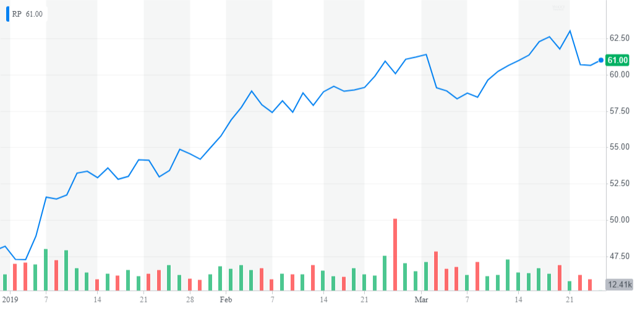 Next up is RealPage (RP).  Insiders are cashing out on the big surge in the stock of this midcap concern that provides software and data analytics for the real estate industry.   The CEO sold over $12 million in shares on March 19th and 20th via three transactions.  This follows almost $9 million in sales on March 5th and 6th.  In addition, the CFO sold just over $100,000 in shares on March 13th.  This was the same time frame that the COO took nearly $1 million off the table with the Chief Product Officer liquidating over $600,000 of his holdings.
The company delivered mixed Q4 results and downwardly revised its revenue forecast on February 25th.  The median analyst price target on RealPage is approximately 10% above its current trading levels.  Finally, the company has similar revenue growth to Ulta Beauty but sells for a significantly higher valuation at approximately 35 times forward earnings.
Finally we have Sage Therapeutics (SAGE) on our list today.  The company was recently granted the first approval ever by the FDA for postpartum depression on March 19th.  An insider 'Steven M Paul' to sell just over $10 million worth of shares last week over numerous transactions.  This looks to be about a third of his existing holdings. It also looks like the CFO disposed of most of his holdings on March 1st in a better than $4 million sale.  On February 8th, the Chief Medical Officer did the same selling just over $3.4 million of his holdings.
There was a good observation on a recent SA article about small and midcap biotech stocks that went like this  "The short the approval and the short the launch" trade has been pervasive across biotechs, especially in instances where the drug is largely expected to be approved" which biotech investors have experienced firsthand over the past few years.  It looks like some of those insiders are putting that theory to use.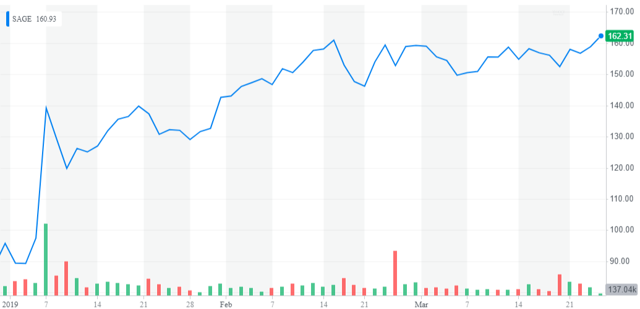 Given the run up in the stock into approval this year, I can't say I blame them much.
And those are five notable stocks seeing significant and recent insider selling.
There are no foolish questions and no man becomes a fool until he has stopped asking questions." ― Charles Proteus Steinmetz
Thank You & Happy Hunting,
Bret Jensen
Founder, The Biotech Forum, The Busted IPO Forum & The Insiders Forum
Later this week we will publish an extensive free report on a new 7% yielding stock I just added to my personal portfolio. The shares have recent insider buying as well. If you are signed up to receive our free reports, you will get this research automatically in your email. If you want this investment analysis and are not registered yet, just go to bretjenseninvests.com and hit the 'free reports' tab to download our last report on 6% yield play also with heavy insider buying. This action will also register you for all the free reports we put out going forward as published as well.