It's discouraging to think how many people are shocked by honesty and how few by deceit." ― Noël Coward
Equities have clawed back the majority of their steep losses on Monday over the past three trading sessions.  Futures are down slightly in pre-market as the Chinese escalate their nationalistic rhetoric as trade tensions remain front  and center for investors.
While we await the opening bell for the last session of the trading, here are four biotech stocks garnering some positive analyst commentary.
Let's start with Atara Biotherapeutics (ATRA).  William Blair reiterates its Buy rating with the following commentary this morning.
We continue to believe tab-cel has a high likelihood of clinical success and regulatory approval given the results reported to date and estimate peak sales of tab-cel in PTLD of roughly $500 million. Beyond tab-cel, we are encouraged by the initial safety data with AT A188 and look forward to efficacy data such as expanded disability status scale (EDSS) in the second half of this year , which could provide significant upside to the stock if consistent improvements are observed. Lastly , Atara's in-licensed mesothelin Kettering continues to impress in mesothelioma as one of the few CAR-T therapies to show durable responses in solid tumor settings."
Chardan Capital maintains its Buy rating and $7 price target on Kamada (KMDA) this morning.  H.C. Wainwright is more generous with its Buy reiteration and $11 price target today arrive at via the following calculation.
Valuation and risks to achievement of target price. Our price target of $11/share is based on an equally weighted composite of: (A) $7.57/share, as a 35x multiple of taxed and diluted FY23 GAAP EPS of $0.62 discounted back to and (B) an NPV of $15.05/share (discount rate 12.5%, growth rate 1%)."
You are never too old to learn some new investment techniques that can enhance your portfolio returns. '10 Simple Rules To Trade Options Like A Pro' from our friends at Investors Alley is a good quick overview on using option strategies to mitigate risk and enhance returns in your portfolio. These strategies are well suited to high beta sectors like biotech where option premiums tend to be large. The report is now available free via download HERE
Next up is Adverum Biotechnologies (ADVM).  This Busted IPO Forum model portfolio holding has had a big week in the market.  Today, Piper Jaffray maintains its Overweight rating on this small 'Tier 4' name but lifts its price target to $12 from $8 previously.  Jaffray's analyst applauds 'management saying the ADVM-022 clinical hold was effectively lifted in just over a month. Further, management provided "some very bullish comments" by describing the ongoing results as "exciting" and demonstrating a "robust preliminary anatomical response" and "the potential to provide sustained efficacy following a single intravitreal injection," and believes "impressive" reductions in central retinal thickness must have already been observed.'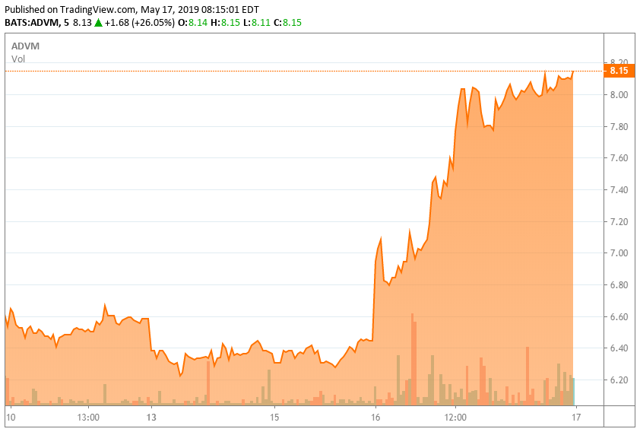 Finally, BTIG initiates Matinas BioPharma (MTNB) as a new Buy with a $5 price target.  BTIG's analyst notes  'that the company's lead candidate, MAT9001, showed superior TG lowering versus Amarin's (AMRN) Vascepa and thinks the Omega 3 class can have multiple winners and estimates MAT9001 peak revenue of greater than $2 billion'And those are four small cap concerns getting some analyst 'shout outs'.
There is only one kind of shock worse than the totally unexpected: the expected for which one has refused to prepare."― Mary Renault
Thank You & Happy Hunting,
Bret Jensen
Founder, The Biotech Forum, The Busted IPO Forum & The Insiders Forum