After under performing the overall market throughout June, the biotech sector has got a bit of a bounce in recent session.  Since Tuesday, the SPDR Biotech ETF (XBI) is up some three and a half percent.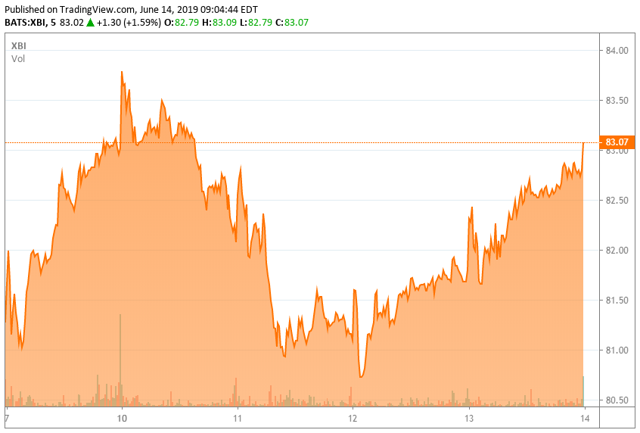 Hopefully we can continue that momentum into today and close out the trading week on a high note.  In the meantime, here are four biotech stocks getting some positive analyst commentary this Friday.
H.C. Wainwright maintains its Buy rating and $22 price target on Dicerna Pharmaceuticals (DRNA) and provides the following view on the company
We regard this expansion of senior management roles as critical to minimizing ongoing regulatory risk, while maximizing patient engagement and thereby commercial product traction and potential. Meanwhile, the company continues to make progress in the clinical development of its RNAi-based therapeutics, specifically DCR-PHXC and DCR-HBVS that are developed based on Dicerna's GalXC technology platform. As we approach the initiation of the pivotal PHYOX2 trial (expected by the end of the month) to evaluate DCR-PHXC in patients with primary hyperoxaluria type 1 and 2 (PH1 and PH2), these new appointments help ensure the right capabilities are in place for both the FDA review of a future a well-planned and efficient product launch."
Global Blood Therapeutics (GBT) is reiterated as a Buy this morning at Cantor Fitzgerald ($110 price target, up from $96), William Blair and Wells Fargo following the release of the final Hope Phase 3 results for hemoglobin modifier voxelotor in sickle cell disease.  Well's analyst 'expects the data to support "rapid approval and commercial success" in sickle cell and notes that no patient discontinued due to an adverse event with the exception of a single patient in the placebo group'
Investors Alley just put out a 10 part 'Options Checklist' for those that want to become more effective using simple option strategies as part of their investor 'toolbox'. It can be downloaded for free HERE.
Next up is Esperion Therapeutics (ESPR).  It is maintained as a Buy with a $65 price target at Northland Securities who offers up the following commentary
We anticipate a clear path to approval considering the success of its broad P3 program comprised of 5 studies including >4K patients, of which >2,600 subjects were treated with BA. Esperion's BA 180mg has demonstrated: an 18% LDL-C redux for those on maximally tolerated statin (MTS) regimens; a 28% LDL-C redux for those on no background statin regimens; accompanied by a 19%-40% hsCRP reduction. For the FDC (BA 180mg + ezetimibe 10mg) BA demonstrated an additional LDL- C redux of 35% for those on MTS regimens; a 43% LDL-C redux for those on no background statin; accompanied by a 34% hsCRP reduction Further, severe adverse events in the BA treatment arms were at parity with placebo."
Finally, Piper Jaffray initiates XBiotech (XBIT) as a new Overweight rating and $13 price target this morning.  Piper's analyst believes 'Clinical activity for the company's lead asset bermekimab in two inflammatory skin diseases - hidradenitis suppurativa and atopic dermatitis - has been "very encouraging". The analyst believes these early data compare favorably to standard of care biologics Humira and Dupixent in each setting, respectively. The analyst expects XBiotech shares to appreciate as it advances bermekimab in both indications.'
We provided some analysis on this name in April.
And those are four small cap concerns getting some analyst 'shout outs' this Friday.
People go to LA to "find themselves", they come to New York to become someone new." ― Lindsey Kelk, I Heart New York

Tim Plaehn of The Dividend Hunter just published a new free report that reveals the name of a safe monthly dividend stock that you can hold forever and leave for your grandchildren. The company pays a dividend EVERY month and a bonus dividend twice a year – June and December. Buy the stock by TODAY to collect your bonus dividend of 125% the normal payout just 11 days later. The new research can be downloaded free HERE.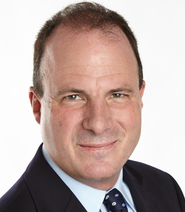 Thank You & Happy Hunting,
Bret Jensen
Founder, The Biotech Forum, The Busted IPO Forum & The Insiders Forum