You can spit on a rose, but it's still a rose." ― Marty Rubin
It has been a good week for investors. This is especially true for biotech investors as the SPDR Biotech ETF (XBI) is up over five percent percent so far this week even if we have seen some profit taking since yesterday afternoon.
I think we need some movement on the Chinese/American trade talks for the market to move significantly higher from here as well as more certainty that either the domestic economy is improving and/or a rate cut from the Federal Reserve.  Reduction in frictions with Iran would also be helpful
So what are insiders buying over the past week or so in the biotech space?  Here are three names that caught our eye based on recent and significant insider stock purchases.
Let's start with Tyme Technologies (TYME), a New York based 'Tier 4' concern looking to develop cancer metabolism-based therapies.  6 insiders including the CEO and CFO bought a total of 85,000 shares of the stock on June 14th.  This follows a 20,000 share purchase by another director four months prior.  These are the first insider buys I can find in TYME since the company came public late in 2014.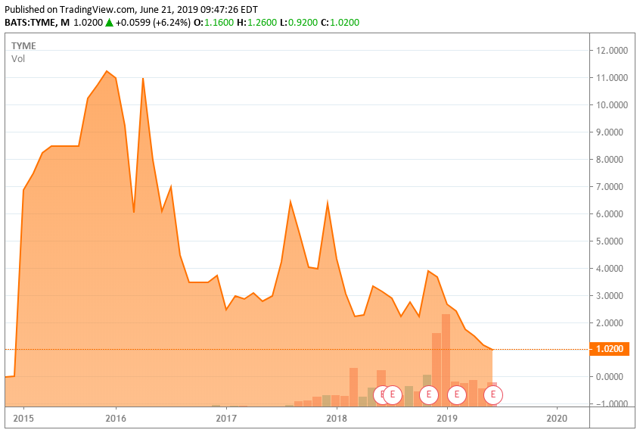 As can be seen above, it has not been a good ride so far for shareholders.  The company is advancing its pipeline and has multiple 'shots on goal'.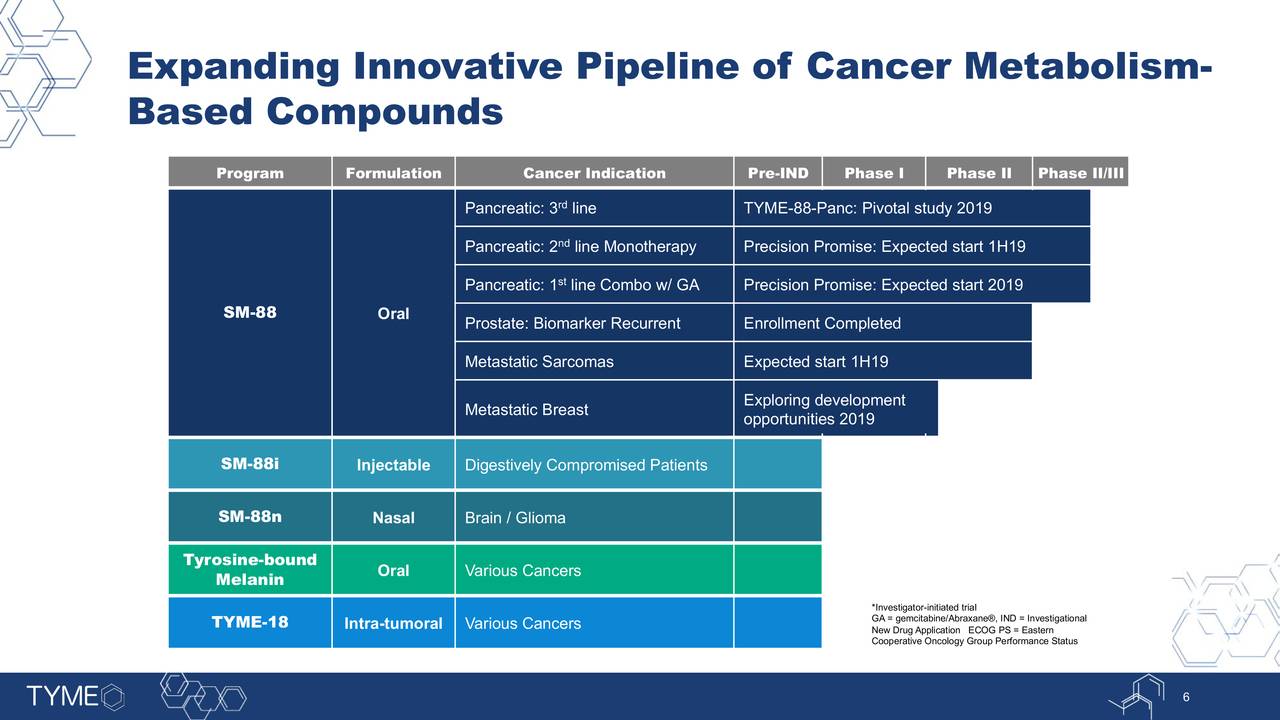 We should get additional Phase 2 data around its primary drug candidate 'SM-88' in pancreatic cancer in the third quarter.  A Phase 2 readout on the same compound in prostrate cancer should be out either in late 2019 or early next year.  Three weeks ago, H.C. Wainwright reiterated their Buy rating with $9.50 a share price target and provided the following commentary about their valuation.
We maintain our Buy rating of TYME and our 12-month price target of $9.50 per share. We derive our price target based on a net present value analysis of projected SM-88 revenues through FY2030 assuming a 12% discount rate and 2% terminal growth rate. We derive an rNPV of $1.5B for SM-88 and include $17M in net cash to arrive at a 12-month price target of $9.54 per diluted share, which we round to $9.50'
Do you have a good handle on simple option strategies that can boost your portfolio returns?. '10 Simple Rules To Trade Options Like A Pro' from our friends at Investors Alley is a good quick overview on using option strategies to mitigate risk and enhance returns in your portfolio. These strategies are well suited to high beta sectors like biotech where option premiums tend to be large. The report is now available free via download HERE
Next up is VBI Vaccines (VBIV).  Trial results on June 17th, cratered the stock even though the study hit its primary endpoints.  On June 19th and June 20th, a beneficial owner added two million shares to his core holdings.  The CEO also increased his stake by 144,000 while two other officers picked up 60,000 shares.
Analysts also appeared sanguine on the company's prospects.  Canaccord Genuity, Oppenheimer and BMO Capital all reissued Buy ratings on VBIV with identical $5 price targets.  It should be noted that all three analyst firms adjusted their price targets down significantly.   Here is the synopsis of the call from BMO Capital
While the company's Sci-B-Vac Phase 3 data met co-primary endpoints showing superior efficacy over Engerix-B, it missed on a secondary for non-inferiority after two doses versus three-dose Engerix. The analyst notes that his lowered estimates reflect a "more equal share" among the low-responder population with Dynavax's (DVAX) Heplisav-B, which is two doses. He keeps his Outperform rating on VBI Vaccines while acknowledging that the company has financing needs before Sci-B-Vac approval'
Finally, Provention Bio (PRVB) sees first insider buying of 2019.  The company's CEO added more than $40,000 to his core holdings on June 18th.  Two directors cumulatively added 35,000 shares to their stake in the company on June 17th and June 18th.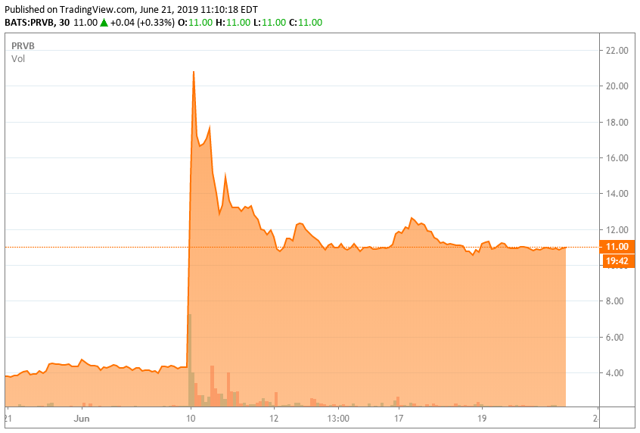 What is somewhat unusual about this buying, is that is occurring after the stock has made a huge recent run up.  The shares nearly tripled on June 10th after the company  announced positive trial data on its lead candidate teplizumab (PRV-031), in Phase 3 development for the interception of type 1 diabetes.  The study showed that a single two-wwk course of teplizumab delayed the onset and diagnosis of type one diabetes by a median of two years compared to the control group.  The company announced and then cancelled a secondary offering that would have raised approximately $50 million a few days later.
It should be noted that this development was also positive for MacroGenics (MGNX) which licensed teplizumab to Provention in May of 2018.  MacroGenics has a warrant to buy just over 2.1 million shares at $2.50 a share via this deal.  In addition, it can receive up to $170 million in regulatory and developmental milestone payments as well as $225 million in sales milestones and royalties in the low single digits on sales.
And those are three small cap biotech stocks with some notable insider buying.
Contempt mates well with pity." ― Gloria Naylor, Linden Hills

Tim Plaehn of The Dividend Hunter is now sending out a weekly list of top dividend plays going ex-dividend over the coming week. To get this free list every weekend, just sign up here.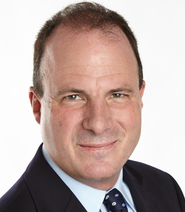 Thank You & Happy Hunting,
Bret Jensen
Founder, The Biotech Forum, The Busted IPO Forum & The Insiders Forum