The biotech sector had a good day of trading Thursday, perhaps as a delayed reaction to the over $60 billion tie up of AbbVie (ABBV) and Allergan (AGN) announced early in the week.  The SPDR Biotech ETF (XBI) managed to climb just over two and a half percent in trading yesterday.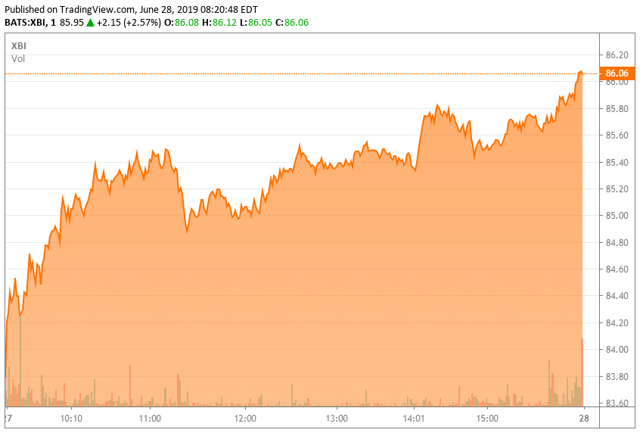 As we look to close out the trading week on a high note, here are four biotech stocks analysts have positive commentary on today. 
Well Fargo says the recent decline in Ascendis Pharma (ASND) is a 'buying opportunity'.  They reiterate their Outperform rating and $176 price target on the stock this morning.  Well's analyst notes 'After speaking with management, he has increased confidence in the superior tolerability and efficacy of TransCon human growth hormone versus daily growth hormone and its opportunity in the $3 billion-plus market'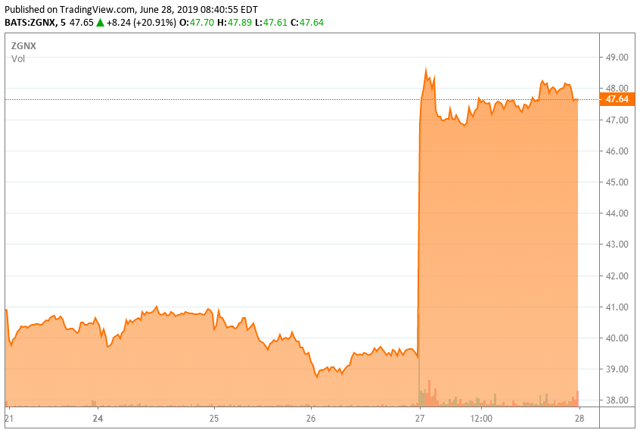 Mizuho Securities is maintaining its Buy rating on Zogenix (ZGNX) but bumping their price target seven bucks a share to $65 after the FDA decision yesterday to allow a re-submission of the new drug application for Fintepla.  Mizuho's analyst 'believes a priority review is highly likely and views the FDA's decision as a positive'
Investors Alley recently put out a 10 part 'Options Checklist' for those that want to become more effective using simple option strategies as part of their investor 'toolbox'. It can be downloaded for free HERE.
Next up is Avid Biosciences (CDMO).  This stock is reissued as a Buy with a $11 price target at H.C. Wainwright which goes on to explain its valuation methodology.
Valuation and impediments to achieving price target. We reiterate our Buy rating with a price target of $11. Our valuation is based on a discounted EBITDA model, which we believe takes into account both the established and anticipated revenue growth of Avid, which is the cornerstone of the company's business. We assign a 23x multiple on F2023 EBIDTA discounted back at Avid's WACC of 13%. We believe that Avid deserves a multiple premium compared to recent CDMO deals in North America, which are based on M&A transactions of mature business."
Finally, Iovance Biotherapeutics (NASDAQ:IOVA) sees its price target raised ten bucks a share at Piper Jaffray who maintains an Overweight rating and now $30 price target on IOVA after recently meeting with management over two days.  Piper's analyst states he 'came away optimistic on a near term favorable regulatory update in cervical cancer. The FDA will, at minimum, accept some subset of the current cohort, which would allow enrollment to complete by the end of 2019 and a filing to occur ahead of the planned late-2020 melanoma submission'.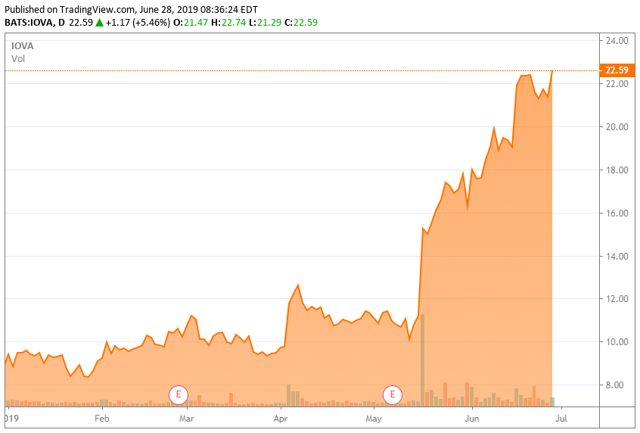 This member of The Busted IPO Forum model portfolio has been 'en fuego' so far in 2019.
And those are four small cap concerns getting some analyst 'shout outs' this Friday.
Be bold in life. Seize the moment. There is no surrender, no retreat. There is only conquer or be conquered, victory or defeat. Anything less is to be forgotten to history." ― Jeffrey Fry

Don't forget to take advantage of the special offer we sent out Tuesday for The Busted IPO Forum that expires at end of this month when prices go up. The Busted IPO Forum model portfolio has crushed the return of the Russell 2000 (24.66% versus 2.35% (as of 6/21/2019)) since its launch in late summer of 2017. Click HERE to get your free two week trial, lock in current rates for the lifetime of the service, and receive 20% off your first year of membership.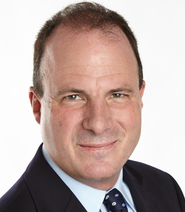 Thank You & Happy Hunting,
Bret Jensen
Founder, The Biotech Forum, The Busted IPO Forum & The Insiders Forum