Bureaucracy destroys initiative. There is little that bureaucrats hate more than innovation, especially innovation that produces better results than the old routines. Improvements always make those at the top of the heap look inept. Who enjoys appearing inept?"― Frank Herbert
It has been a very nice run over the past week or so for the small cap investor.  As can be seen by the chart below, the Russell 2000 has made a big recent move.  Hopefully this momentum can continue.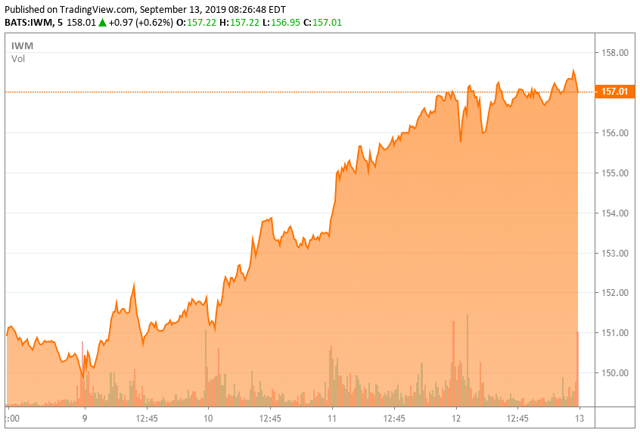 As we await the last trading day of the week to open, here are four biotech concerns garnering positive analyst commentary today.
B Riley FBR maintains its Buy rating and Anixa Biosciences (ANIX).  Here is their updated view on the company.
Anixa Biosciences filed its 10-Q for F3Q19 (July quarter) on 9/6. The company posted an adj. EPS/adj. EBITDA of ($0.11)/($1.2M), versus our estimate of ($0.23)/($2.5M); we represent consensus. The bottom-line beat was primarily due to opex coming in ~$2.7M lower than we projected with $1.4M being tied to lower-than-expected stock-based compensation, as the company recognized $0.9M in SBC, vs. our projection of $2.3M. ANIX exited 3Q with $6.5M in cash/ST investments and a strong current ratio of 4.6:1.0. We believe the company is adequately capitalized to meet its near-term objectives, but we continue to expect equity raises to take place in the coming quarters, primarily to fund ongoing clinical trials/development programs."
Raymond James resumes coverage on Leap Therapeutics (LPTX) with a buy rating and $5 price target.  The analyst there believes the company is 'in the early stages of identifying specific patient subpopulations most likely to benefit from treatment with its two novel immuno-oncology assets, TRX518 and DKN-01, both of which have generated compelling anti-tumor activity as monotherapies and in combination with chemotherapeutics and other immunotherapies'
Don't forget to take advantage of our special limited time offer for a free two week trial into The Busted IPO Forum as well as 30% Off your first year of membership should you decide to stay beyond the risk-free 14 day free trial period.
Next up is Palatin Technologies (PTN).  H.C. Wainwright reissues its Buy rating and $7.50 price target (the shares currently trade near a buck a share) with the following commentary.
Valuation appears attractive based on initial addressable market size. We reiterate our Buy rating and price target of $7.50 . The drivers impacting our valuation are: (1) adjustment to base year; (2) increasing our projected chance of success for (3) increasing our projected chance of success for and Korea. Our price target is based on our clinical net present value model, of which 83% is derived from the bremelanotide opportunity and the remainder from PL-8177 and PL-3994."
Finally, late yesterday, Barrington maintained its Buy rating and $64 price target on SurModics (SRDX) .  Here is their commentary.
We think the next piece of news flow for the SurVeil DCB is very likely the granting of a CE Mark, which could come before calendar year‐end 2019. Finally, the company believes (as we do) that recent commentary from the FDA regarding the modification to informed consent and clinical study protocol (due to the elevated mortality signal associated with paclitaxel coated devices first disclosed late in 2018) is largely benign. It should, in the view of management, be quite manageable for the company as it moves forward with its DCB program (including its efforts in developing AV fistula and BTK below‐the knee DCBs)."
And those are four small cap concerns seeing positive analyst views this morning
Government! Three fourths parasitic and the other fourth Stupid fumbling."― Robert A. Heinlein, Stranger in a Strange Land

Every Monday morning we put out new research on an undervalued small or midcap stock and then outline a simple covered call strategy that can produce a double digit return in coming months even if the underlying stock doesn't move. If you are registered to receive our weekly free reports, you would have received our latest trade idea in your 'in' box before the bell Monday morning. If you are not signed up yet for this free service, just click HERE to download that latest report. This action will also ensure you receive all future free weekly reports as published as well.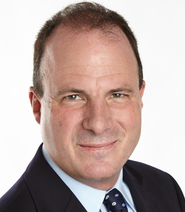 Thank You & Happy Hunting,
Bret Jensen
Founder, The Biotech Forum, The Busted IPO Forum & The Insiders Forum