Tim's Corner: The Next Attack On Oil May Be Coming
Please Note: Blog posts are not selected, edited or screened by Seeking Alpha editors.
Specializing in biotech stocks, Small Caps, managing optimized portfolios
Seeking Alpha Analyst Since 2009
Finding tomorrow's big winners in the lucrative biotech sector, The Biotech Forum focuses on proprietary, breaking research on promising biotech and biopharma stocks with significant potential for outsized alpha. It is the fourth most subscribed to investment service offered through the Marketplace on SeekingAlpha.com. Our service offers a model-20 stock portfolio as well as the most active Live Chat on the Marketplace. This is where scores of seasoned biotech investors trade news and investment ideas back and forth throughout the trading day.
• • •
Specializing in profiling high beta sectors, Bret Jensen founded and also manages The Biotech Forum, The Insiders Forum, and the Busted IPO Forum model portfolios. Finding "gems" in the biotech and small-cap stock sectors, these highly volatile spaces proven hugely successful have empowered Bret Jensen's own investing portfolio.
• • •
Learn more about Bret Jensen's Marketplace Offerings:

An unlimited power to tax involves, necessarily, a power to destroy; because there is a limit beyond which no institution and no property can bear taxation."― John Marshall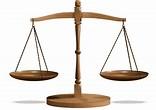 This instablog post comes from Tim Plaehn, expert on income investing and a friend & colleague of mine at Investors Alley as well as a contributor here on SeekingAlpha. Tim runs the Dividend Hunter newsletter which offers a solid & diverse selection of attractive high yield plays. The service now has 9,000 active subscribers and can be had HERE for the rock bottom price of $49 (It usually is $99) for the first year. There are few better bargains around for those looking for solid income plays to balance their high beta holdings especially when equities get volatile!
Good God, if our civilization were to sober up for a couple of days, it'd die of remorse on the third" ― Malcolm Lowry, Under the Volcano

By Tim Plaehn,
On Saturday, September 14, Saudi Arabia's largest crude oil processing facility at Abqaiq, was attacked by at least 30 drones and cruise missiles. The attack shut down about one-half of the country's oil production capacity, which is 5% of the world's daily production and consumption. When trading markets opened on Monday, crude oil prices jumped by 14%.
However, within a couple of days, crude was back trading at just a couple of dollars per barrel above the pre-attack price. I am shocked that the markets are that unconcerned about an attack that shut down 5% of the world's oil supply.
The reason that crude oil, which saw WTI peak at almost $63 on Monday, is back trading in the high $50s is that Saudi Aramco management has promised to get the lost production quickly back online. From what I have read, this may not be feasible.
It is my opinion that Saudi Arabia will sell oil from its reserves and try to get Abqaiq back up to full capacity in a few weeks. This may be very, as in too, optimistic and the country could quickly exhaust its reserves and leave the world supply with a continuing shortage with a much smaller safety net.
Another concern is that oil traders seem to be completely ignoring the potential for another attack. I am a former Air Force pilot, and my thoughts are that when the attackers see that 30 drones and cruise missiles didn't get the job finished, I would start to ready the next one with 60 drones and missiles.
The powers behind the first attack want to shut down the capitalist world. The capitalists trading oil seem to have blinders on that their way of life has been attacked.
I think the world of oil traders is insulated from the dangers of the world and are underpricing the risks to crude oil. There is a strong possibility of another event that will drive the price of a barrel of crude much higher, and the next time it will stay higher. Here are three dividend-paying stocks that would benefit from higher oil prices.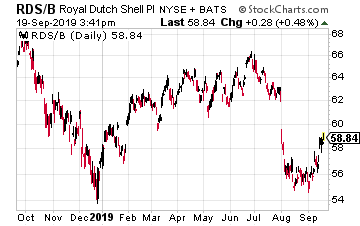 Royal Dutch Shell (RDS.A) (RDS.B) is a global energy producer that would be a significant beneficiary of another or continued production reductions out of Saudi Arabia.
The company is truly a global producer with production areas in the Gulf of Mexico, Canada, Norway, Malaysia, Nigeria, Brazil, and Russia.
Royal Dutch Shell appears to be a prime player to provide oil to end-users that find they are not getting what they need from Saudi Arabia.
RDS shares currently yield 6.4%.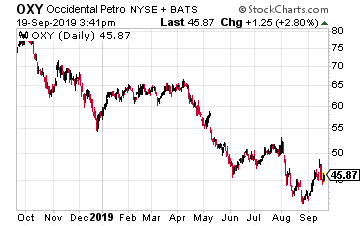 Occidental Petroleum Corp. (OXY) is a crude oil and natural gas production company whose share price is down 40% since it announced earlier this year that the company would acquire Anadarko Petroleum Corp. The merger is now complete. OXY is a global energy producer with a large footprint in the U.S. Permian, Rockies and Gulf of Mexico production areas.
The U.S., especially the Permian, is where most of the world's crude oil production growth is being fueled.
Higher oil prices will allow the Permian and other U.S. production areas to ramp up their growth further.
OXY shares currently yield 7.0%.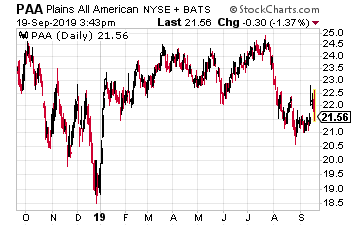 Plains All American Pipeline LP (PAA) is a master limited partnership (MLP) that owns the largest independent crude oil pipeline and storage network in the U.S.
The company is a major mover of crude oil out of the Permian.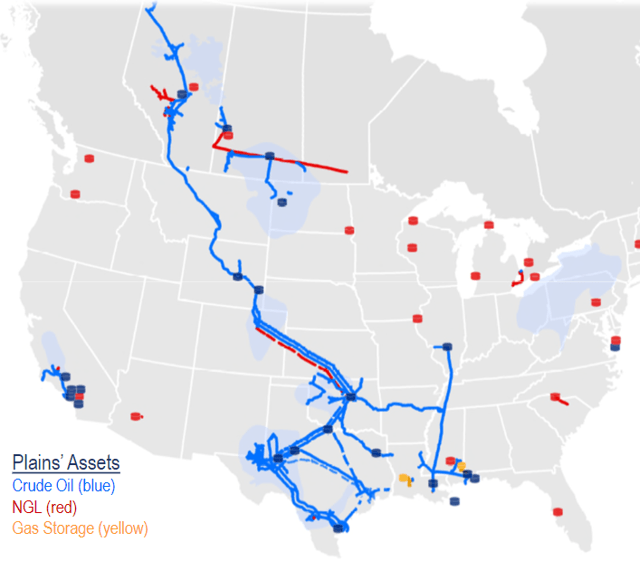 The company has additional pipelines under development and typically partners with crude oil end users as partners in any new projects.
While the company doesn't count on the results of its Logistics Division to support the dividend, this trading business can generate huge profits when energy prices get disrupted.
PAA currently yields 6.6%.
 ...it's better to wake up amid the pangs of desire than amid those of remorse."― Amin Maalouf, Balthasar's Odyssey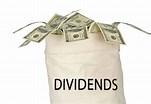 Tim Plaehn of The Dividend Hunter recently published a new free report covering three cheap dividend stocks he likes right now and that should be long term holdings in 401Ks and retirement accounts. The new research can be downloaded free HERE.
These include:
A real estate powerhouse that has doubled their dividend payout in just 5 years
A double-digit yield (13%) energy company that's trading at a 66% discount
Tim's $6 'no-brainer' play that sends you monthly dividend checks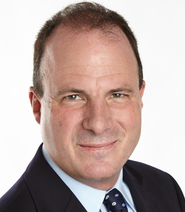 Thank You & Happy Hunting,
Bret Jensen
Founder, The Biotech Forum, The Busted IPO Forum & The Insiders Forum
Seeking Alpha's Disclosure: Past performance is no guarantee of future results. No recommendation or advice is being given as to whether any investment is suitable for a particular investor. Any views or opinions expressed above may not reflect those of Seeking Alpha as a whole. Seeking Alpha is not a licensed securities dealer, broker or US investment adviser or investment bank. Our analysts are third party authors that include both professional investors and individual investors who may not be licensed or certified by any institute or regulatory body.