Amazon (NASDAQ:AMZN) has many, including myself, split over its valuation. For a long time I was not able to assign a value to it's growth, or even decide if its growth was profitable and worth investing in. After this holiday season however, I realized the extent and uniqueness of Amazon's services, and finally decided to thoroughly research the company. I couldn't believe that Amazon could make money off of their prices, offering free shipping and cheap two day options. After looking at the numbers my speculation continued to grow, and I realized that in fact, they might not make profit for a long time.
Everyone knows Amazon's product diversity and continued investment in growth prohibits its current profit potential, but I began to wonder whether there was a chance to make a profit in the near future. The key question is, when will Jeff Bezos stop investing in expansion and work on Amazon's current ventures.
There are two major parts contained within Amazon: Amazon Web Services (AWS), and the Amazon Marketplace. Amazon Web Services is a valuable gem hidden within the losses and expansion of Amazon as a whole.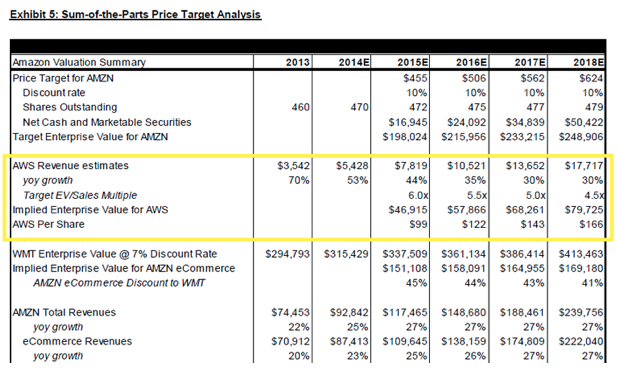 Source: Research Report by Oppenheimer's Jason Helfstein
Amazon Web Services is still growing strong, and will continue to create value for the foreseeable future. As seen in the estimates above, AWS is growing much faster than Amazon as a whole, and will represent more than 10% of revenues in the coming years. At that point, which may be approaching faster than in the estimate above, Amazon will have to reports AWS's sales. Investors will realize what they have in AWS, and might call for a spinoff as they won't want it to be weighed down by the rest of Amazon any longer.
For a longtime, the market has been very forgiving and generous, but Amazon is finally beginning to feel pressure from Wall Street. Amazon's marketplace has become the dominant online retailer in most of the world, but might finally be facing stiff online competition.
The main advantage that Amazon posses is its Prime membership program, which offers free two day shipping and now options for inexpensive same day delivery. The $99 annual membership fee not only assists members with lower shipping costs, but it also provides members with access to Prime Instant Video and other benefits. It is easy to see why people would want to sign up, providing nearly unparalleled value at under $8.50 a month. For about .30 cents more than Netflix (NASDAQ:NFLX) members get free upgraded shipping albeit with a lower quality streaming service.
It is clear that Amazon Prime membership provides value, which is why there should be no surprise that there could be upwards of 55M prime members (assuming that Amazon coverts 70% of its 10M holiday trial members). Prime members are likely to spend more on the Amazon marketplace, but it is impossible to evaluate their exact value. However, Amazon has been giving away more than it needs to through Prime membership benefits in order to grow its base, and it can't keep it up much longer.
Amazon is trying to create value by adding additional services to Prime, spending money and competing where they should not have to. They recently entered the 'same day' and 'within the hour' delivery services, not only going into competition with startups like Instacart, but also Google (NASDAQ:GOOG) and other major retailers.
Google has created Google Shopping Express, which allows users to receive their items from local stores the same day for free (on orders over $15). Google doesn't have to put in a lot of effort, or develop an entire distribution network to deliver their products. Amazon is investing millions in same day distribution to make slim margins off of their own products, instead of using the networks already in place.
Google is able to connect their shopping program to the rest of a user's Google account, tracking more data and offering more precise and targeted results. Google could allow consumers that shop in physical stores to check prices, and if a cheaper price is found in a different store, the item can be delivered to the customer's door by the time they get back through the Google shopping app and their same day delivery service. They have successfully integrated multiple aspects of consumers' lives to one central marketplace, something that Amazon has done on a less extensive scale with Prime. Google clearly holds the advantage when connecting to consumers with the android operating system and hundreds of millions of Google accounts already in place.
Amazon is on the wrong track. Originally people thought that there was no purpose in running an online marketplace because it was unprofitable to ship goods to consumers. Once shipping these goods became simple and more economical, more marketplaces emerged. To separate itself, Amazon offered faster shipping options, but competitors followed that too. Now Amazon offers free fast shipping (with Prime), but that isn't enough for Amazon to distance itself from competitors. So Amazon is continuing on the track of faster and cheaper shipping where they are outmatched.
Amazon operates on a very small margin, and they are trying to add services in order to grow it. However, by doing so they are expanding into more competitive sectors where they are required to invest even more capital. The small potential of their same day delivery service, in part because of cost, and in part because of competition from Google and startups, is an utter waste of time. Instead, they should work on improving their current distribution and shipping practices, and perhaps think about what they'd do if shipping rates go up (which could potentially destroy the company).
The major advantage that Amazon has is that it keeps all of its products in warehouses, and processes them in house, instead of relying on parties (like Google does to local shops). If they could complete the shipping process by operating a delivery service to compete with UPS (NYSE:UPS), USPS, and FedEx (NYSE:FDX), then the would be a formidable 'online to door' marketplace. This would provide them with advantages over all other online marketplaces, and could help to solve some of their margin problems. Even if they were to save just 10% off of their shipping costs, they could save nearly a $900M next year alone.
While this would be a major investment, it will provide the infrastructure to build their 'one day' delivery offerings from. While it seems very unlikely that they would build such a network from scratch, they could acquire and build off of a company like YRC Worldwide (NASDAQ:YRCW). For the time being however, Amazon has shown that it will continue to try and expand their offerings, even if they are not profitable. Their entrance into 'same day' delivery and competition with Google could trigger unseen problems in the coming years. More and more companies will try to compete with the online marketplace giant, and it may not be a good idea to enter the stock until it gets into fighting shape.
Disclosure: The author is long GOOG.
The author wrote this article themselves, and it expresses their own opinions. The author is not receiving compensation for it (other than from Seeking Alpha). The author has no business relationship with any company whose stock is mentioned in this article.