Total revenue of Baidu for the third quarter 2018 reached RMB 28.2 billion, increasing by 27% year over year. On-line marketing revenues reached RMB 22.5 billion , a year-over-year increase of 18%.
Growth in Baidu online marketing revenues started to slow down since 2016, and a recession was experienced during the second half of the year. After three quarters, growth has resumed since Q2 2017 at a rate of 5.6%. During the following several quarters, online marketing revenues maintained a growth rate of around 20%.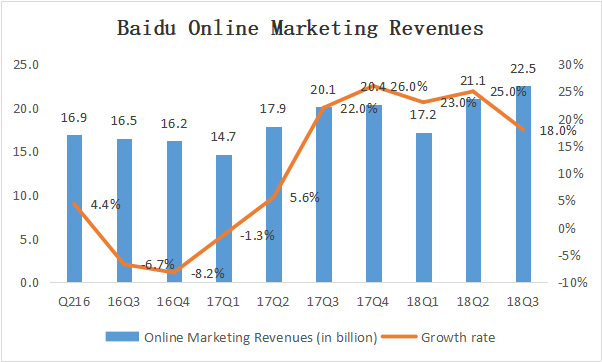 Socure: Baidu Quarterly Reports
These resulted from the feed business launched by Baidu since 2016. The feed+AI model ensured intelligent ad serving, and thus strengthened ad effects.
"Feed revenue has been a bright spot in driving Baidu's revenue growth due to robust user traffic growth, as well as strong traction with Baidu's video offerings," said Robin Li, Chairman and CEO of Baidu.
The persistent growth of the online marketing revenues depends on Baidu's innovation ability. From the current perspective, mini program is likely to become a new engine driving earnings growth.
Mini programs:New opportunities on mobile platforms
Wechat mini programs experienced rapid growth since its launching in Jan., 2017. According to the 2018 Progress Report on Mini Program Ecology , Wechat mini programs exceeded one million in total during the first half of the year, with over 1.5 million developers and 600 million users.
Investors were attracted by the red-hot market. GF Securities even targeted Wechat mini programs a valuation of USD 50 billion. Attention from the investors in turn attracted more enterprises into the market.
Alipay initiated pilot testing of its mini programs in Sep., 2017, and launched officially it this year. Baidu launched its Smart Mini Programs in Jul., 2018. In November, Toutiao joined the competition and launched its own mini programs. With the joining of the internet giants, competitions among the mini programs has entered a new era.
Initial feedback from developers for Baidu's Smart Mini Programs during pilot testing has been very positive with monthly active users surpassing 100 million in September 2018. Baidu's smart Mini Programs has been open to all developers, which is different from the Tencent and Alibaba.
Up to now, Baidu has opened more than 500 thousand lines of Smart Mini Program codes to developers. This means that mini programs from other platforms could be introduced to the Baidu Smart Mini Programs by simply modifying several lines of codes. In this way, the mini programs could operate on several APPs through one development.
On 20th, Dec., signing ceremony of the Baidu Smart Programs Open Source Alliance was held in Beijing. Twelve enterprises including iQIYI and Kuaishou signed cooperation agreements with Baidu and became the first of its strategic partners.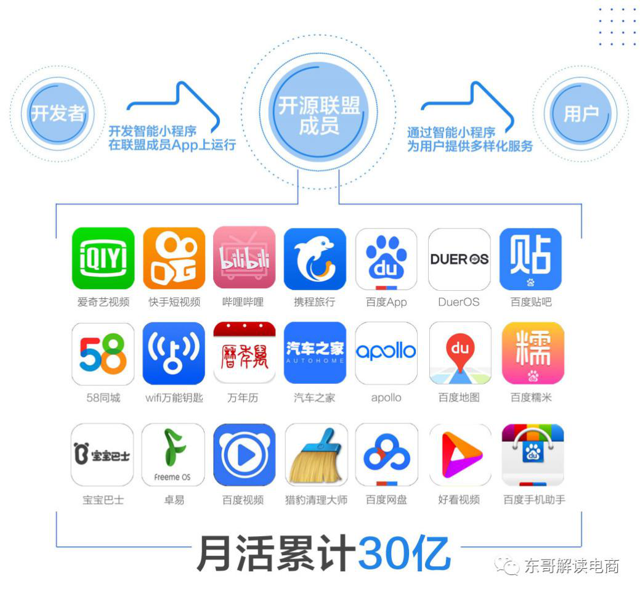 Three billion MAU on Baidu Smart Programs Open Source Alliance
The open source alliance is not just for finding new users or reducing development cost. Within this open system, the service and the liquidity of the APPs of the members will also be remarkably promoted.
Disruptiveness of the Baidu Smart Mini Programs Open Source Alliance
According to a report of QuestMoble, the number of APPs in the Chinese market surpasses 4.06 million during the first half of this year. Among these APPs, less than 20 are with a DAU above 100 million. The majority is monomlized by BAT (Baidu, Alibaba and Tencent). Under such a background, it is unlikely that the manufacturers or developers would launch their own mini programs within the total of 4.06 million APPs. That's why only a few giants such as BAT have the ability to launch mini programs.
It seemed that other medium-small-sized APPs are doomed to rely on the systems of the giants, and would not be able to establish their own mini program ecosystem. However, this situation might be changed by the Baidu Smart Mini Programs Open Source Alliance.
APPs joining the alliance would gain improvement both in terms of service abilities and commercial abilities.
Firstly, the Baidu Smart Mini Program could improve the conversion rate and user experience.
The traditional mobile ad mode is in essence sale of user traffic. When a user clicks the ads, the system would jump to the H5 page or remind the user to download the APP and thus divert the user to other locations. For a user, such diversion of pages would affect the experience and thus lower the conversion rate of the ads.
Baidu Smart Mini Programs might change it. The advertisers could adopt the Smart Mini Programs as the landing page of the ads, and realized seamless jump within the APP, thus bringing about more brand exposures.
Secondly, the Open Source Alliance support to the popular APPs to establish their own mini program ecosystem.
iQIYI is a great example. Before, when an iQIYI user was watching a poplar movie and happened to want to read the novel of the same title or search for related games, he would have to switch to other APPs for searching and selecting. Obviously, this would hurt the user experience.
However, within the Open Source Alliance, iQIYI gains the ability to establish its own mini programs ecosystem. The user could obtain IP contents of novels and games just by one click through the Baidu Smart Mini Program within the iQIYI APP, and thus enjoy the attractions of IP from multi-angles. For an owner of the IP right, mini programs could help improving the value of the IP, and exploring more business models.
For a company such as iQIYI, it is difficult to establish a mini program ecosystem. The emerging of the Open Source Alliance provides a great opportunity for iQIYI to establish its own mini programs.
Smart Mini Programs Open Source Alliance will become the next engine for Baidu's growth
According to report of iRESEARCH, China's online marketing size is likely to increase by 31% to RMB 491.4 billion. This is driven by the switching of ads budget from offline to online, which in turn result from the persistent improvement of ad accuracy due to the feed+AI model.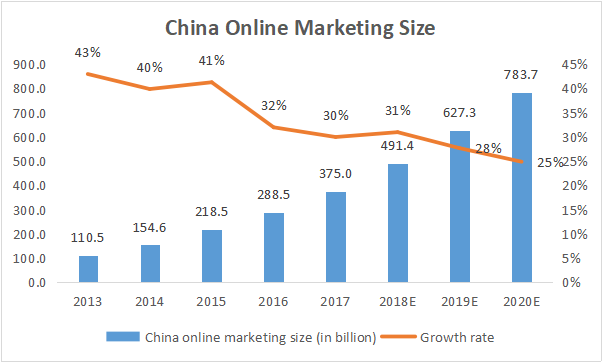 Socure: iRESEARCH
The Baidu Smart Mini Programs Open Source Alliance is likely to improve its ad accuracy and user experience through promoting its ads conversion rate and establishing a mini program ecosystem covering long-tail user traffic. In this way, it shall become the new engine for Baidu's revenue growth in the online marketing sector.