On March 13th, Pinduoduo released its financial results for the fourth quarter and full year ended December 31, 2018.
During 2018, GMV rose by 234% to RMB 471.6 billion from RMB 141.2 billion of 2017. Active buyers increased by 71% to 418.5 million. Average MAU was 272.6 million.
For the fourth quarter of 2018, PDD total revenue rose year over year by 379.4% to RMB 5.65 billion (US$ 820 million). Net loss attributable to ordinary shareholders was RMB 2,423.9 million (US$352.5 million), compared with net income of RMB13.6 million in the same quarter of 2017.
During full year 2018, The total revenue rose year over year by 652.3% to RMB 13.12 billion (US$ 1.91 billion). Net loss attributable to ordinary shareholders was RMB10,297.6 million (US$1,497.7 million), compared with RMB498.7 million in 2017.
The market expected the PDD total revenue to be US$ 789 million for the Q4 and US$ 1.87 billion for the full year. Both the Q4 and full year revenues beaten expectation.
However, the share price plunged by 17.45% after the earning released, and dropped by another 2.91% on March 14th.
How could it happen that revenues beating expectation but share price drop?
The reason lies in that total revenues are not the main focus of concern of the investors for internet companies (especially for a 3-year-old company like PDD). Usually internet companies have users but no revenues at beginning, and then they start to create business modles to make money. Therefore, for a young internet company, the investors mostly concern of the quantity of its users and GMV ect., instead of revenues or profit.
Specifically for PDD, the investors expect this young company might beat and replace Taobao one day in the future and become the new leader of Chinese e-commerce.
In our view, weak user growth is the true reason underlying the plunge of share price.
Net growth of users were lower than Alibaba, making it a mission impossible to beat Taobao?
Despite the robust user growth since its establishment, PDD's net growth of active users was overtaken by Alibaba in the fourth quarter 2018.
In the twelve-month period ended December 31, 2018, PDD's active buyers reached 418.5 million during the past 12 months, a net increase of 33 million compared to 385.5 million for the 12 months ended September 30, 2018. This is lower than 35 million of Alibaba.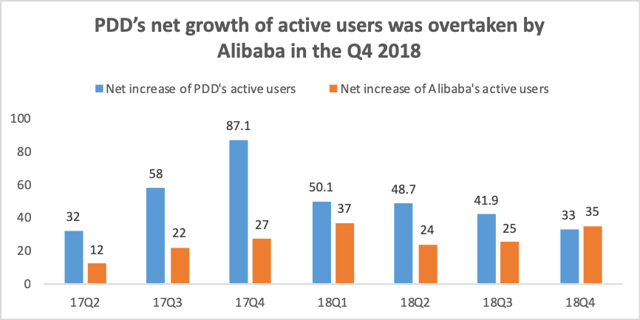 During the recent quarters, Alibaba kept on emphasizing in its earning reports that the new users are mostly from the lower-tier cities. For example, in its latest financial results , Alibaba claimed that over 70% of the increase in annual active customers was from third-and-lower tier cities. In most investors' opinion, those areas are dominated by PDD, so Alibaba's invasions make them worry about PDD' future.
Last year, Alibaba made a number of adjustments to handle the challenges from PDD, including substantial revision in Taobao APP to enhance recommendation feeds, launching of Taobao Special Price APP, and the initiation of "Everyday Special Offer", a ideology of supporting medium-small enterprises of China against the PDD's "New Brand Program".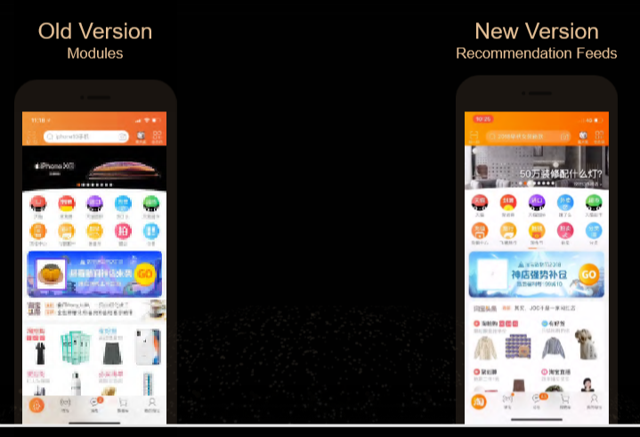 These adjustments made Taobao look more similar to PDD. The competition is becoming more and more fierce. According to related data, 50.3% of the users would go to PDD after uninstalling Taobao APP, while 78.3% of the users who uninstalled PDD would start to use Taobao.
The biggest problem is not the soaring users acquisition cost
Q4 2018, PDD's marketing expenses bulged by 699% year over year to RMB 6.02 billion. This disappointed the market. Each new user costed PDD RMB 182.54, a year-over-year increase of 2009%.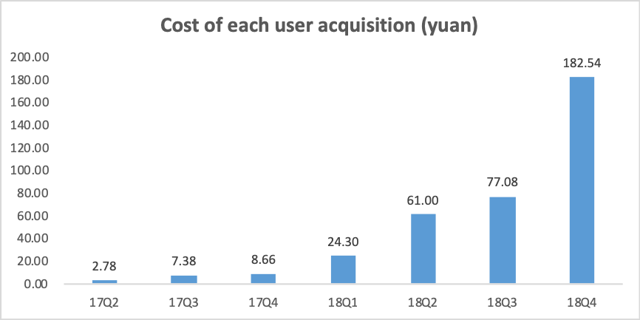 However, I don't think it is the biggest problem for PDD. Each buyer placed an average of 26.56 orders in PDD during 2018, a year-over-year increase of 51.3% as compared to 17.55 orders of 2017. Price per order rose by 29.4% to RMB 42.5 from RMB 32.8.
Orders placed per buyer increased at a higher rate than price per order, demonstrating that elevation in order frequency is the major drive for GMV growth. This might surprise many people, because we use to believe that lots of users might quit PDD after 1 or 2 purchases due to low-quality goods. But now it seems that users are not leaving PDD, and they even buy more form this platform.
That's the point I worry about. The biggest issue for PDD is that It lacks infrastructure such as logistics. In the future, challenges might arise from areas other than online retailing, e.g., downstream logistics.
2018, daily parcel deliveries from PDD rose to 30.4 million from 118 million of 2017. China has totally delivered 55 billion pieces of parcels in 2018. This means that in every 5 parcel deliveries at least 1 comes from PDD.
This could be the real crisis for this young company. Alibaba has invested in Best Inc., YTO, ZTO, and STO in 2007, 2015, 2018 and 2019 respectively. Currently, Alibaba is the biggest shareholder of Best Inc., and the second biggest shareholder of YTO, ZTO and STO.
What if Alibaba, as their major shareholder, requires these enterprises to elevate the price of parcel deliveries? Would the low price strategy of PDD be stricken? People might think that increase the price of parcel deliveries would hurt Alibaba's own e-commerce platform as well and therefore it's unlikely for them to do so. It's definitely true. However, considering the lower price per order of PDD, it would surely be subject to more negative effects.
The price per order of Alibaba for fiscal year 2018 (by the end of March 2018) is around RMB 100, while it was RMB 180 for VIPshop and RMB 42.5 for PDD. If the delivery price is up by RMB 1, there would be an increase of 1% in Alibaba's cost per order, 0.55% for VIPshop and 2.4% for PDD.
Currently, Yunda is the only one major low-price express company that Alibaba does not hold shares. It's unlikely for sellers on PDD to use SF (Shunfeng) service since it is more expensive. ZTO, YTO, STO and Yunda are always sellers' first choice due to their lower price. Therefore, it could definitely constitute a major crisis for PDD once Alibaba starts to integrate the downstream express deliver industry.
Net user growth could not catch up with Alibaba while the downstream industry is controlled by its rival. It seems that PDD would slow down its pace in 2019.