JD revenues met a drop of 28% in 2018. Operating deficit expanded from RMB -840 million in 2017 to RMB -26.2 million in 2018. Growth of active users for the fourth quarter 2018 dropped to 4% from 29.1% of the prior year period. External factors made the situation even worse for JD. JD had to advance hard amid unfavorable factors such as upgrading of China-US trade friction, downturn of Chinese economy, secession of consumption of durable goods such as electronics and home appliances products, massive sell-off of Chinese concept shares. Share prices kept on sliding, with the maximum rate reaching 60%.
How would JD perform in 2019?
JD Active Customer Accounts will bottom out in 2019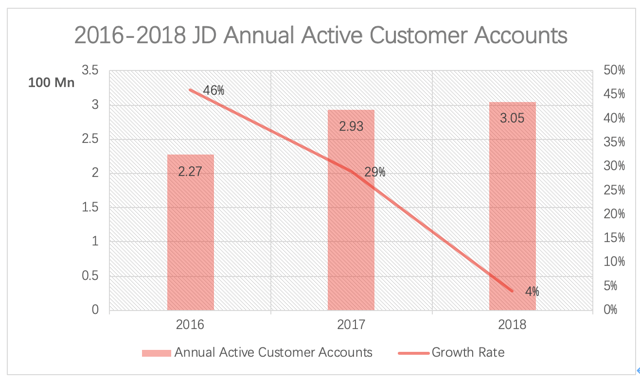 We believe that JD active customers will bottom out in 2019. Growth of active customers has been sluggish during 2016-2018, even reaching a single-digit rate of 4% in 2018. This might be due to the impact of the sexual assault scandal of Liu Qiangdong, CEO of JD, and the overall downturn of the China e-commerce industry. Customer growth of Alibaba hit a record low of 7.3% in the first quarter 2017, and rebounded to 23.5% in the fourth quarter 2018. VIPshop customer growth dropped to 4% and rebounded to 13.3% in the fourth quarter 2018. Referring to these two companies, there is a great possibility that active users of JD will rebound from the bottom.
Gross margin is likely to rise
The gross margin tends to continue upwards in 2019. The improvement of earning-generating capabilities of JD main businesses is favorable for maintaining its sustainable competitive advantages. Looking from historical data, the gross margin of JD has been continuously on the rise.
JD gross margin has been going up continuously in the past 6 years, from 9.9% in 2013 to 14.3% in 2018, marking an annual rise of 0.9 percentage points each year.
There are two major contributors to the rise of JD gross margin. On the one hand, adjustment of the category structure resulted in a rising proportion of merchandise products which has a higher gross margin. On the other hand, commission and advertising revenues from service revenues also brings gross margin up.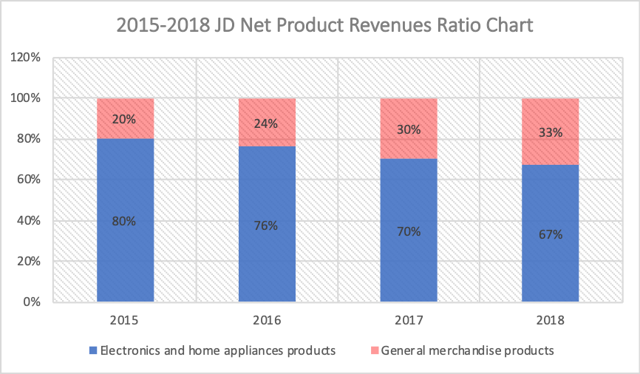 Earlier, JD mainly focused on selling electronics and home appliances products with a gross profit rate below 5%. Currently, daily goods account for more than one third of the total sales revenue.
Fulfillment expenses will continue to go down
The fulfillment expense ratio for the fourth quarter 2018 was 6.6%, the lowest in the recent four years. But we believe that there is still room for further cutting of the fulfillment expense rate.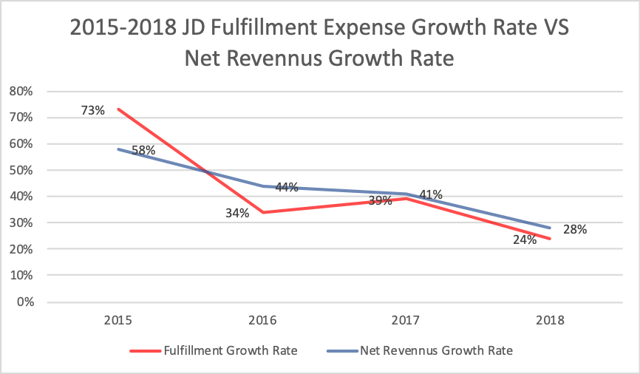 Warehousing and distribution are the two major parts of JD fulfillment expenses. Distribution contributes around 60% of the total, while warehousing contributes 25%. Therefore, JD fulfillment expenses will definitely be reduced in 2019 if warehousing and distribution expenses are successfully cut.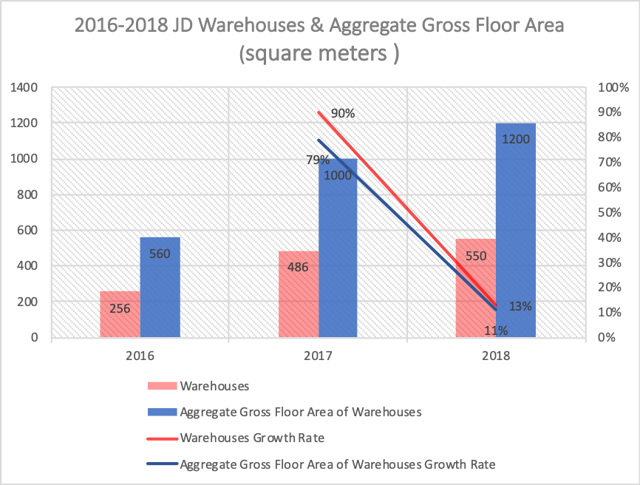 In 2018, the expenses on warehousing was remarkably reduced. Growth rate of warehouse number dropped from 90% of 2017 to 13% of 2018, while that of floor area dropped from 79% of 2017 to 11% of 2018. Both growth rates are remarkably lower than the growth of revenues and gross transaction value. Growth of warehouse number and floor area would remain close to 2018 or a bit lower.
In terms of distribution, JD had delivery personnel of 95,138 in 2018, a year-over-year increase of 11.8%. It is reported that JD plans to lay off 12,000 employees, and most of them would be delivery personnel . That's why we think the personnel expenses would be decrease.
JD might find new opportunities now that Alibaba has switched its focus of attention in 2019
As Alibaba turned its gun towards Pinduoduo, JD might find a better external market environment with much less pressure.
2018 was a bad year for JD, but a Golden Era for Pinduoduo. Its total revenue reached RMB 13.12 billion in 2018, marking a year-over-year increasing rate of 652.26%. The active customers exceeded 400 million, a year-over-year increase of 71%. It's obvious that Pinduoduo has become a much stronger challenger to Alibaba than JD.
Alibaba has strengthened its pressure on PDD in the recent quarters. In the fourth quarter 2018, 70% of the new customers were from third-tier cities and below. These cities were considered the domains of Pinduoduo. This might enable JD to have a much better external market environment.
JD was pushed to the bottom due to its bad operating result and negative news of its founder in 2018. In 2019, Liu Qiangdong has "completely" got away from the public. In the meantime, as gross margin rises and fulfillment expenses drop, overall profit ratio of JD will start to go upwards in 2019. Furthermore, the probable rebound of active user growth and Alibaba's engagement on pressing Pinduoduo would contribute to the rebounding of JD after hitting the bottom.