Background
In the recent quarterly GDP report, the UK economy shrinks by 0.2% in the last 3 three months ending June. The recessionary fears are growing and there seems to be no stop to it in the near future There are several factors at play here: Looming Brexit deadline, Newly Elected PM, Sino-US trade dispute, Slowing global economy. What do all these mean in the coming months for the UK?
Newly Elected Nation Leader
After 5 rounds of intense voting by 159,320 Conservative party members, Boris Johnson edged out Jeremy Hunt in the final round by 92,153 votes to 46,656 votes to assume the leadership position of the tories and also the nation. Former foreign secretary vowed to leave the European Union on 31 October 2019 with or without a deal. This is a worrying sign as the current outlook seems to be a no-deal Brexit. Brexit aside, Johnson just appointed his cabinet on 24 July 2019 and it was a thorough extensive reorganisation. He also announced increase public sector spending, particularly security, education and healthcare. This is highly likely in preparation for the possible impending election later this year.
My view is that the UK economy will sustain itself going into the next quarter with the temporary fiscal stimulus injected by Johnson's government. However, it is not going to be too promising with such strong headwinds (No-deal Brexit, early election possibility).
Looming Brexit Deadline
This is probably the biggest concern for every British citizen now. The newly-elected PM is rather hawkish on the issue. We are expecting discussion with the EU to resume shortly in August. However, the expectation is that the EU will not compromise further on the deal especially the backstop in place to prevent a hard border. As such, it is likely the discussion will not yield any results and a hard Brexit seems to be the probable outcome now.
With UK crashing out of the EU without a deal, this is going to damaging to the UK economy. Observers estimate an impact of 50 bps to 2019 growth figure and 200 bps to 2020 growth figure with a no-deal Brexit. In the worst-case scenario, this number can be as high as 800 bps. A full-blown recession will be inevitable by then.
SINO-US Trade Dispute
Even as the UK is busy dealing with Brexit, they cannot simply ignore a bigger dispute outside of the country. The whole trade war is on the verge of complete eruption with Donald Trump announcing additional tariffs on the remaining 300 million of good coming into the US from China on 1 September. China retaliated tit-for-tat by devaluing their currency pass the psychologically significant 7 mark which resulted in them being labelled as a currency manipulator by the US Department of Treasury. They also stop all purchases of US agriculture and apparently restricted access of some US firms to their market.
Despite ongoing talks at the moment, I am not optimistic of a resolution anytime soon. Both parties are holding on for the best deal and any compromise will be deemed as a failure for them. Trump is concerned with the upcoming election and his strategy is to leverage on the trade war to raise his popularity amongst the nationalist and secure a second term. Xi, on the other hand, is more worried about the economy of China. He is seeking out a solution that allows him to not just sustain china tremendous growth but also to protect their pride in this tussle of power. The security of XI's autocratic power to rule hinges largely on the outcome of this trade war.
Slowing Global Economy
The slowing global economy s definitely one of the main themes of 2019. OECD, IMF, World Bank Group and other credit rating agencies all cut their forecast for global growth in 2019 and 2020. Indeed, the economic data coming out in 1H2019 proven so. Eurozone economy was in fact one of the worst. The UK, being the 2nd largest economy in Europe (At least for now), is one of the main culprits behind it.
Strong Sell for British Companies?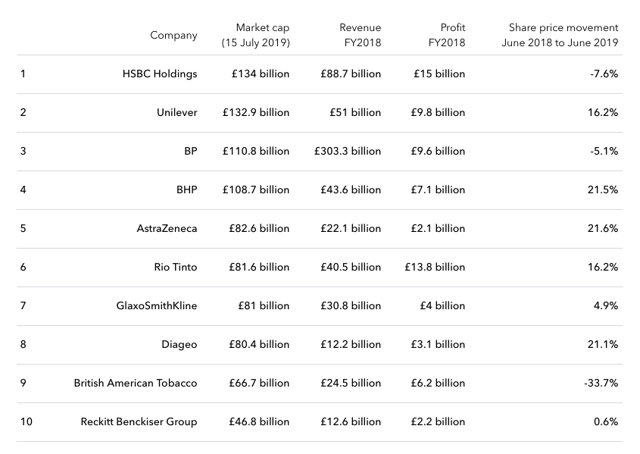 CR: IG
Analysing the numbers of the top 10 biggest companies in the UK by market cap, I observed that the top and bottom-line figures are still relatively strong. EPS are decent as well. The share price movement in past 1 year is reflective of that. However, we must be mindful that the profit margin is expected to decrease as firms need to spend to prepare for Brexit. Therefore I will recommend reducing your holdings in these companies in the short run as we await more pieces of information coming out from the Brexit negotiation.
Disclosure: I/we have no positions in any stocks mentioned, and no plans to initiate any positions within the next 72 hours.
I wrote this article myself, and it expresses my own opinions. I am not receiving compensation for it (other than from Seeking Alpha). I have no business relationship with any company whose stock is mentioned in this article.