After a wild and tumultuous 2018, we find ourselves settling down from the festive season ready to strap ourselves in and tackle a brand new year for cryptofunding. But what does 2019 have in store? Will the industry continue to gather momentum following Bitcoin's surge in popularity 12 months ago? Or will there be deeper challenges ahead?
Let's take a look at five of the biggest trends to look out for in crypto-crowdfunding coming up in the brave new world of 2019.
Welcome to the rise of the STO
The age of the Initial Coin Offering is ending, some industry leaders believe, pointing to their unregulated nature and its role in making them a decreasingly attractive proposition for crypto-investors.
This in no way signals an end to the burgeoning potential of crowdfunding through crypto, though. It simply means that a newer incarnation is waiting in the wings - a natural evolution that will benefit investors and businesses alike. 2019 could well be the year of the Security Token Offering (STO).
STOs carry a very similar format to their ICO predecessors, but also have key differences in the fact that they're better regulated, more secure, and distributed under a legal framework.
Author and leading thinker in the world of crypto finance, Thomas Power, supports the rise of the STO, and declared that "unregulated ICOs are dead," in December 2018.
The Next Web anticipates that the STO will bring with it a fresh 'rationalization of the market,' that will lead to more intelligent investments from users safe in the knowledge that their crypto-funding endeavours will be safer within this newer framework.
Delving into the mainstream
2017 was a landmark year in developing the world of cryptocurrencies and blockchain. Bitcoin's surge to almost $20,000 in value back in December 2017 led forecasters to anticipate a huge year ahead for the fledgeling technology.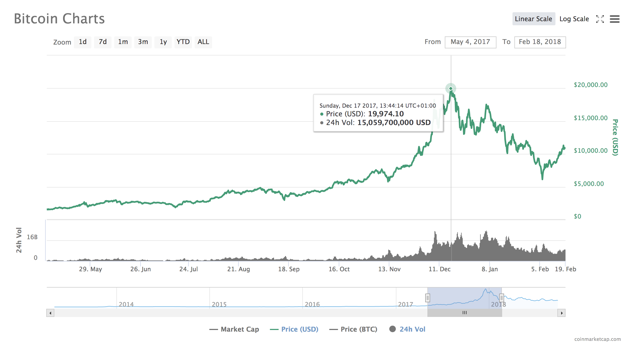 Image Source: CoinMarketCap
Instead, 2018 proved to be a challenging 12 months for crypto and blockchain alike, but after some much needed time for reflection and reassessment, we could be set to see some significant inroads being made in the coming year.
Zilliqa CEO Xinshu Dong explained that "we will see a wave of widespread use cases in 2019 as organisations looking to implement and develop blockchain applications become more focused.
"As entrepreneurs and enterprises introduce and implement blockchain technology, a major stumbling block the industry faces is the balance between scalability and security. 2019 may indeed be the year we address the existing challenges, see traction for the technology beyond the testnet phase, and welcome many far-reaching apps."
As adoption of blockchain progresses, so too will the proficiency of crypto crowdfunding, with more intricate and increasingly popular incentives and profit margins on offer for investors to boot.
Innovation in security
A recurring stumbling block with the crypto economy is the vulnerability of some of the security systems in place for keeping digital assets protected. With increasing incidences of crypto-jacking putting would-be investors off holding cryptocurrencies, reassuring a jittery market will pay dividends for businesses and users alike in 2019.
Writing for Medium, HODL Finance asserts that coming blockchain innovations will be the cornerstone for enabling a rebound in fortunes for a crypto market that's experienced a series of dips since Bitcoin's surge in late 2017.
HODL Finance's article highlights companies that are already making waves in developing secure platforms for cryptofunding, and one prominent example of a startup committed to bringing enhanced security in 2019 is Roobee.
Roobee provides statistics to support investors but also boasts blockchain-based security that keeps portfolios safe for even the most inexperienced of users. Roobee combines various highly quoted and verified investment instruments that have been incorporated into the platform to grant users access to loans, IPOs, venture capital, stocks and other market options at zero commissions. The platform is designed with strict selection criteria to ensure access only to verified companies, and a $10 entry threshold makes investing possible even for owners of smaller budgets or newbies.
Much needed improvements in due diligence
Due diligence will go some way to establishing an unprecedented level of trust in crowdfunding markets in 2019, considering that the transaction value of the crowdfunding industry is expected to grow to $11 billion by 2022.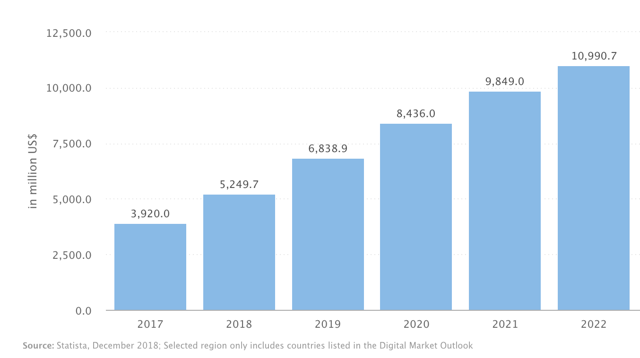 Image Source: Statista
Currently, many companies taking part in crowdfunding tend to bypass traditional investment banking processes like the kind of in-depth auditing that's designed to minimize the risks posed to investors.
2019 will see essential steps being made in order to establish the types of due diligence practices that are prevalent in more traditional Venture Capital investments.
Such measures will go some way in building confidence in cryptofunding markets among investors - which, in turn, will see a much larger scale of investment moving forward.
Slowing physical economies may encourage wider adoption
The worldwide political landscape holds significant ramifications for cryptofunding. With the prospect of the United Kingdom's exit from the European Union anticipated to affect markets across Europe, while tensions over trade between the United States and China may prove costly to stocks in both the eastern and western hemispheres, investors may begin to seek solace in decentralized financial alternative markets.
Such political uncertainties within more physical economies could play straight into the hands of the crypto crowdfunding industry, where investments are likely to be less impacted by governmental volatility and may even see their own markets improving as more users look to find a more secure financial alternative to invest in.
There's plenty of speculation in the mix for 2019, and given how new the cryptofunding industry is, it's a particularly tricky one to forecast with absolute accuracy. But what investors and businesses alike can be certain of is that the coming year has heralded plenty of excitement and optimism from industry experts. Whatever happens, it's going to be a landmark year for crypto investments and blockchain alike.
Disclosure: I/we have no positions in any stocks mentioned, and no plans to initiate any positions within the next 72 hours.