There are many practical reasons why the notion of 'digital radio switchover' in the UK remains nothing more than a pipe-dream of civil servants and regulators. One such reason was unintentionally highlighted by Ofcom's publication today of its annual Digital Radio Report.
LOCAL radio stations are the bedrock of the UK commercial radio sector. Around 300 local commercial radio stations account for 71% of all commercial radio consumption. Those stations' continuing success sustains the entire industry.
However, it will prove impossible for those local commercial radio stations to switch off their FM/AM transmitters because the analogue platform still accounts for at least 72% of their consumption. Analogue switch-off will never be a realistic option when it has the impact of destroying your business.
Figure 1: Percentage of consumption of UK radio via digital platforms by station type [source: RAJAR]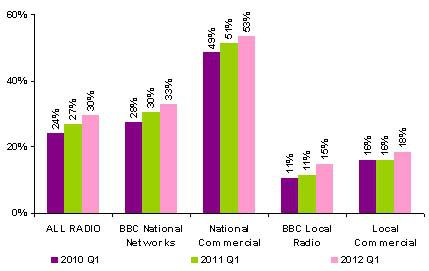 Digital platforms account for only 18% of consumption of local commercial radio. This is the negligible outcome of an expensive, intensive 13-year marketing and promotion campaign in the UK to persuade the public to switch to DAB radio. This 18% is nowhere near the 50% threshold the government selected as the pre-requisite for digital radio switchover. Indeed, if take-up were to continue at its present rate, that 50% threshold would not be attained by local commercial radio until the year 2035!
Listening to BBC national radio networks via digital platforms is almost twice that of local commercial radio. It is evident that, whilst the BBC might consider it is well on the way to attaining the 50% target, local commercial radio is barely out of the starting block. Any attempt to implement digital radio switchover would risk losing local commercial radio three-quarters of its consumption and, as a direct result, three-quarters of the sector's revenues.
Figure 2: Percentage of consumption of UK radio by station type [source: RAJAR]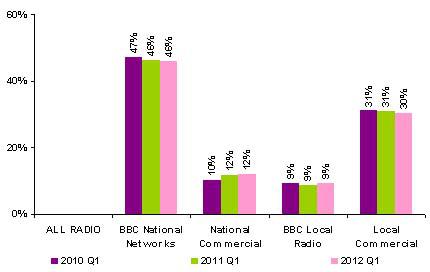 And whilst one national commercial radio station may publicly boast about the success it has had in converting its listeners to the digital platform, RAJAR listening data demonstrate that, in aggregate, the UK's national commercial radio stations are insignificant within the overall picture. Three-quarters of UK radio consumption comprise BBC network radio and local commercial radio.
For local commercial radio, with 'digital listening' still only 18%, the DAB platform could account for as little as 12% (Ofcom does not divulge). This is a staggeringly low take-up when one considers the huge expenditure over more than a decade on carriage charges for simulcasting hundreds of local commercial radio stations on the DAB platform.
With no financial return yet visible from all that expenditure on DAB, shareholders in commercial radio should stop to contemplate the extent of destruction of shareholder value caused by the folly of station owners having pursued this policy for digital radio. It was always a wholly unrealistic strategy dreamt up by government and regulatory pen-pushers who evidently had no understanding of the commercial radio industry or of consumer behaviour.
The fact that so many local commercial radio owners signed up to that pipe-dream and chose to divert so much revenue from content creation to a DAB broadcast platform that so few people use is a major tragedy for the UK radio sector. It has already destroyed a huge swathe of formerly very successful genuinely local radio businesses.