Warning
:  holding over earnings is extremely risky without some predetermined strategy.  The risk is mitigated if you have an entry point that gives you a 15% profit, or if you buy collars (selling calls to buy puts) which gives you cheap insurance but limits your upside.
Joy Global engages in the manufacture and servicing of mining equipment for the extraction of coal, copper, iron ore, oil sands, and other minerals worldwide.  They are expected to report earnings Wednesday morning before the market opens, December 15, 2010.  Market cap is $8.3 bil, book value $1.1 bil, book value per share $10.85, price to book ratio is 7.4X, 16% debt, return on equity is 43%.  Price momentum has been picking up (see chart below) with price being contained inside the median line channel.  There are various news items of interest involving coal, Warren Buffet and Bill Gates.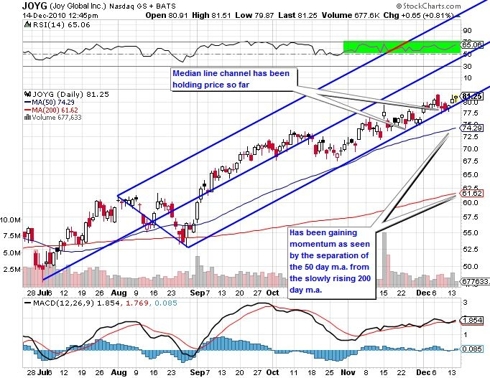 Analysts expect earnings of $1.16 on sales of $927 million.  Gross profit margin is 33%, operating margin 19.5% and net margin 12.8%.  There is speculation that Deere (NYSE:
DE
) may make a bid for JOYG.  DE may not want to be left out of the push toward mining equipment and the global demand for commodities, especially coal.  CAT bid $8.6 bil for Bucyrus (NASDAQ:
BUCY
), a 30% premium.
Warren Butffet has been trying to position himself to participate in the coal industry.  Berkshire Hathaway made what is possibly its largest acquisition in its purchase of Burlington Northern Santa Fe Railroad (a major coal transporter), the ticker used to be BNI.  In November 2010 Buffet made a visit with Bill Gates to one of the largest coal mines in the U.S., Arch Coal's (ACI) Black Thunder Mine in Wyoming.
While there are some plans afoot to convert various aging coal-fired power plants and replace them with natural gas, plans are being made to create the first major coal export facility on the West Coast to enable coal exports principally to China.  This will be located 40 miles north of Portland, OR.   Washington and Oregon being a hotbed or environmental activism, it will be interesting to see how this plays out.  Coal would be transported from Montana and Wyoming by, you guessed it, rail.   You may track the coal industry, including JOYG, with the KOL ETF. 
Disclosure:
I am long
JOYG
,
KOL
.