A frequent complaint about technical analysis is the distinct after-the-fact quality about it. Breadth analysis tends to go beyond technical analysis in that it looks at comparative price action of up versus down stocks, or up versus down volume.
However, instead of using it to confirm a bull or bear market a la garden variety investopedia definitions, I have found it more useful to help confirm a possible low of a pullback, or correction, in a bull market. This steadily trending market, since November 2010, has been frustrating for many in that one to two month gains were wiped out in a day, or leading stocks would headfake, then stop you out, and then rally right back to where you got in (see IBD commentary over the past week).

Famous bears publicly gave up a couple of weeks ago and many retail investors finally seemed to come to the realization that the stock market was going up.  Bears giving up coinciding with amateur bulls getting in.


The New High/New Low Ratio (chart below) showed a pop today from a relatively low level while the SPY made a new low, indicating a potentially strong bullish divergence. Over the past year or so, the broad market has tended to turn real ugly in one week, then bounce, or consolidate for about a week, and then resume the uptrend for a couple of months.
Here is an investopedia explanation of market breadth:
"A large number of advancing issues is a sign of bullish market sentiment and is used to confirm a broad market uptrend. Traders will specifically look at the number of companies that have created a 52-week high relative to the number that created a 52-week low because this data can provide longer term information about whether the bullish or bearish trend will continue."
Like I said earlier, I tend to use it for helping to identify bottoms in a corrective move rather than confirm a bullish move. See comments on the chart graphics.  The chart below of the McClellan Oscillator also has annotations.  It went below -250 yesterday, and went even lower today.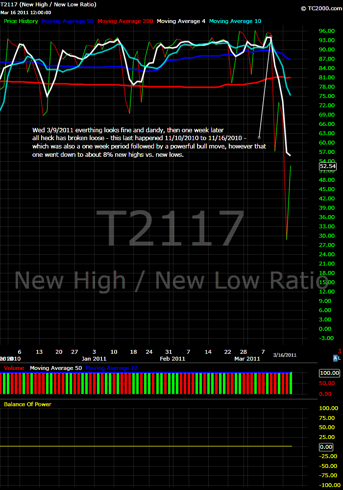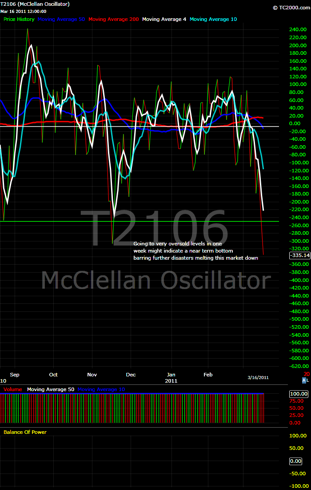 Disclosure:
I am long
TNA
.