The US DoE's Stance to the Crude and Distillate Inventories vis-à-vis Hurricane Sandy: The Winner Takes It All?
More Sharing ServicesShare|Share on facebookShare on myspaceShare on googleShare on twitter
It's no longer a news that on Thursday NYC authorities imposed gasoline rationing on motorists in New York City and Long Island a day after a nor'easter added to the woes of a region still grappling with the damage left behind by last week's Superstorm Sandy. The orders from Mayor Michael Bloomberg and Gov. Andrew Cuomo will be enforced Friday morning and restrict private car owners to buying fuel for their vehicles on either odd- or even-numbered days, depending on what's imprinted on their license plate numbers. Taxis, public transit, and emergency vehicles, including ambulances, though, are exempt from the order. As we know, New Jersey authorities put similar restrictive rules into effect last week. Apparently, these initiatives resulted from huge gasoline and diesel fuel shortage embracing the Tri-State Area and some other adjacent States. Popular media references to closure of the Sea ports (Hurricane Sandy prompted the U.S. Coast Guard to shut the ports of Boston, Portsmouth, New Hampshire and Portland, Maine) as the main culprit of the acute deficit don't look particularly convincing, since the much needed carburants could have been delivered by petrol lorries. This raises questions over the position of the DoE, which keeps building up crude inventories - apparently, at expense of underutilizing fully operational oil refineries, while stockpiles of the badly needed gasoline and distillates are either overtly declining or creeping up at a snail's pace in case of the Midwest (PADD2) configuration (see Fig. 1 and Fig. 2).
Fig.1. DOE Total Increase of Crude Inventories vs. Decline of the US Refinery Utilization Rate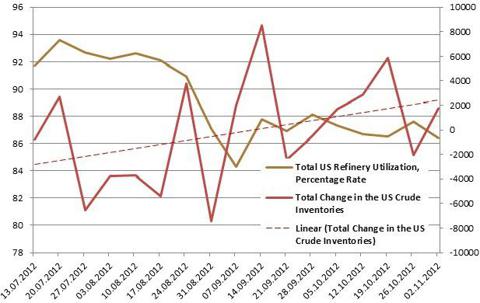 Sources: DOE, API
Fig.2. DOE Distillate Low Sulphur Diesel Fuel Inventories' Change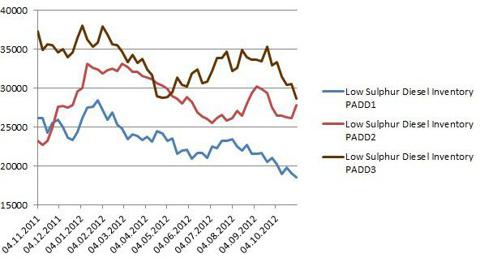 Source: Bloomberg
Hurricane Sandy resulted in the loss of electric power to about 8.5 million customers on the East Coast and the shutdown of two refineries (Hess in Port Reading, NJ with operating capacity of 70,000 bbl/d, and Phillips 66 in Linden, NJ with operating capacity of 238,000 bbl/d), as well as major petroleum distribution terminals and certain pipelines because of power outages and flooding.
US Energy Information Administration (NYSEMKT:EIA), the DOE's research body, expects higher average fuel bills this winter in states east of the Rocky Mountains. A return to a near-normal winter is considered the main driver of higher heating expenditures. Projected changes in residential prices from last winter include 2% higher heating oil prices.
Forecast average household expenditures for heating oil users are at their highest level in record. Meanwhile EIA, as if nothing big happened, expects U.S. total crude oil production to average 6.3 million barrels per day (bbl/d) in 2012, an increase of 0.7 million bbl/d from last year. Notably, according to their latest report dated November 7, there were almost 673 thousand customers without power in the affected States. This represented an increase by 22 thousand customers earlier reported as a result of the Nor'easter sufferers' addition to the original affected households and businesses in the aftermath of the Hurricane Sandy. Back in the 1990s, storm victims suffering power outages simply lit candles and waited for power. Today, only portable diesel generators promise to keep life relatively normal even during extended outages. As a result, now all these affected people are in urgent need for heating and diesel oil, so without immediate restorations of crude vs. distillates balance, the latter prices are poised to skyrocket as soon as freezing winter conditions arrive.
On November 6 EIA updated its report on the Retail Motor Gasoline Supply in the New York City Metropolitan Area. EIA estimated, based on an emergency survey of gasoline availability, that 24% of gas stations in the New York Metropolitan area did not have gasoline available for sale. No biggie again?
Such an odd attitude is really hardly explainable. One of the likely possibilities that global traders are considering is EIA's strict adherence to its pre-election mandate to keep the crude prices low by means of building excess inventories. Again, this is just one of the many wild assumptions circulating in various Internet traders' blogs these days. Apart from maintaining a bull or a bear stance on oil, most traders are concerned about sustainability of the current price trends. Sudden price spikes and collapses caused by unexpected swift recoveries of distorted fundamental balances - are equally unwelcome for the trading people.
The typical inverse relationship between the price of crude oil and the value of the U.S. dollar returned in October. The U.S. dollar index decreased by 1.7% in September while Brent crude oil prices dropped by nearly $2 per barrel (1.6%) over the same time period. In October, the value of the dollar started to recover, which coincided with declines in the price of the front month Brent futures contract (Fig. 3).
Fig. 3. Brent Crude Oil Price vs. Value of the US Dollar (DXY)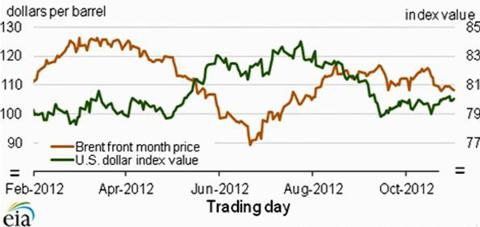 Sources: Intercontinental exchange, CME Group
STOCKPILES
The storm struck at an already delicate moment for the regional market, with stockpiles of motor and heating fuel being at unusually low levels explained above. Also the "effect of backwardation" on the oil futures market was the one to blame: the more futures prices decline the less motivated the end-buyers become to hold inventories because future prices are cheaper than current ones.
For instance, PADD 1B gasoline inventories hit the lowest level on records dating back to 1991 in the week to Sept. 28. They have risen by 3 million barrels since then, but remain still 10% below the 5Yr average, according to DOE data.
PADD 1B distillates stocks - which includes heating oil and diesel, and is a particular concern ahead of the winter - are now 45% below the five-year average. Stockpiles hit their lowest level since May 2008 in the week to Oct. 12.
The bottom line: the US stockpiles are at their historical lows, oil refineries has been increasingly underutilized and discouraged, while consumer demand for heating oil and diesel jumped at least twofold. Guess what's going to happen next?