Exchange: CME
Sector: Futures market
Industry: Index futures
Entry strategy
Price: 2600–2700 points
Stop-loss: 2825 points
Take profit: 2100 points
Investment horizon: until the end of 2019
The fundamental description of the idea
In early 2019, the US stock market has shown a belated New Year rally — it has increased by more than 13% over the month. However, there is no fundamental basis for this growth. Factors of the global financial market weakness are:
Consequences of trade wars. Increased tariffs mean additional costs for companies and consumers dependent on international trade.
The Fed policy. The regulator has been reducing the balance and raising the rate. Expensive funding adversely affects financial results of organizations.
Geopolitics. Investor expectations are becoming more pessimistic due to disagreements within the EU and possible instability of the union.
The slowdown in the growth of the top 20 economies in the world and the huge international debts of China, the USA, the EU. Negative macroeconomic indicators reduce expectations for future demand.
#background In 2018, there were strong sales of bonds, stocks and commodities. S&P 500 fell to 14-month low in December
Investors are waiting for progress in the negotiations between the US and China. They hope that trade war will be settled, and global demand and trade activity will be restored. However, we think that these expectations are already embedded in stock prices. Even if such positive news appears, the market is likely to respond to it on the principle of «buy the rumors, sell the facts.»
Technical analysis (trading plan)
The main scenario for this stock is further sales. The seasonal weakness of the stock is January — March of each year which is an additional advantage of this idea (see Graph 1).
At the time of this forecast, January 23, 2019, the tool shows signs of weakness in the expected resistance zone of 2600-2700 points. We are trading in the direction of the main trend — selling. Seasonality supports this idea: the end of January and the beginning of February is a period of weakness for most stock markets.
The forecast is based on the technical analysis model «Head and shoulders». Now the market, as is often the case after the activation of this model, has grown to a horizontal zone of resistance and the neck line. In such a situation, the safest thing is to sell, putting a stop loss above the right shoulder of the model.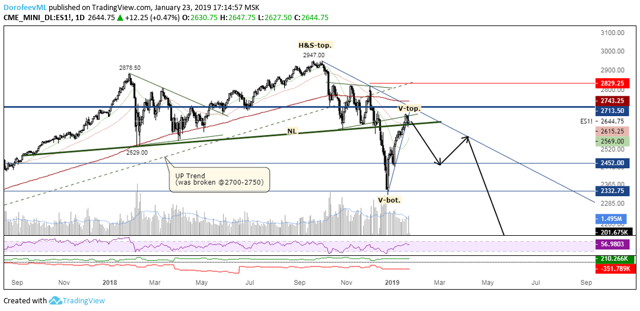 Disclosure: I/we have no positions in any stocks mentioned, and no plans to initiate any positions within the next 72 hours.
I wrote this article myself, and it expresses my own opinions. I am not receiving compensation for it. I have no business relationship with any company whose stock is mentioned in this article.