Exchange: NASD
Sector: Financial
Industry: Exchange Traded Fund
Entry strategy
Price: $117–119
Stop-loss: under $111.8
Take profit: $125, then $129 with potential move to $140
Investment horizon: until the middle of 2020
Instrument details
iShares 20+ Year Treasury Bond ETF ($TLT) is a financial instrument that allows you to invest in long-term US bonds (with a maturity of more than 20 years). Given the high duration, this type of US government bonds has the most attractive expected returns.
$TLT profile: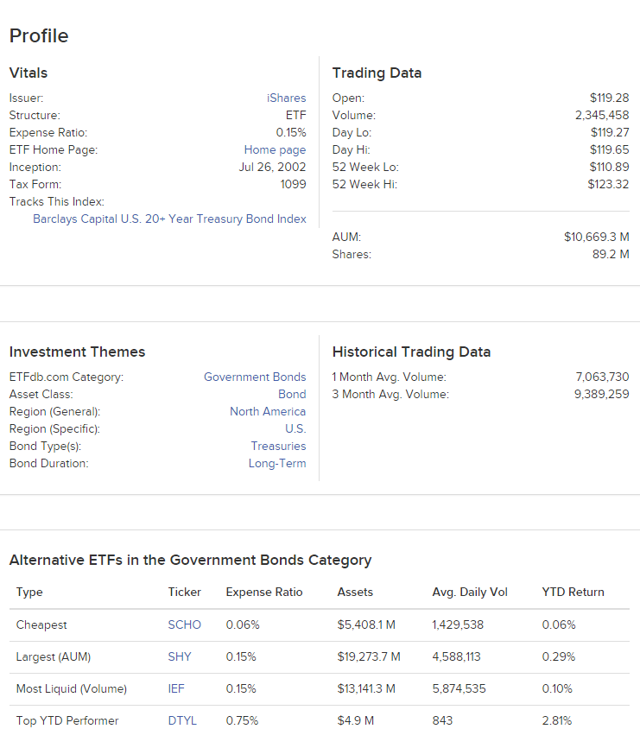 The idea can be realized with higher parameters of risk and expected return — through the sale of Ultrapro Short 20+ Year Treasury ($TTT). This is an ETF with embedded leverage (3x) that allows you to indirectly sell long-term US bonds. In other words, the sale of $TTT is equivalent to a long position on $TLT with 3x leverage.
When using this strategy, it is necessary to take into account the presence of securities in the market for opening a short position and the cost of funding — with short sales you borrow security from a broker and you have to pay a commission for this. One must also be prepared for three times higher risks.
The fundamental description of the idea
In early 2019, we wrote about investment opportunities that appeared on the US debt market due to the change in sentiment about the US Federal Reserve rate. Among them was the purchase of $IEF ETF — a financial instrument that allows you to indirectly invest in US Treasury bonds with a maturity of 7 to 10 years.
Today we are considering longer bonds with arguments similar to those that were the reasons for buying $IEF:
The trend in the stock market remains uncertain. Conditions for new sales of shares have not yet been formed. New stock purchases also do not look like the best investment opportunity, especially after the recoilless growth of stock indices by more than + 20% since the beginning of 2019.
The Fed Funds futures market shows that the US regulator is not likely to raise interest rates during 2019. In such a situation, instruments that are sensitive to interest rate increases may outperform the stock market — not to fall when it grows and grow when it falls.
Bonds are a defensive asset when there is uncertainty in the market and monetary authorities do not raise interest rates.
Long bonds have an advantage over short bonds when the yield curve inverts. Their yields remain relatively low, and the price is high. In other words, long bonds are better protected from falling if rate hikes and grow no worse than short ones if it decreases (see the left graph). The inversion of the curve has not yet happened, but the market is aiming for it (see the right graph).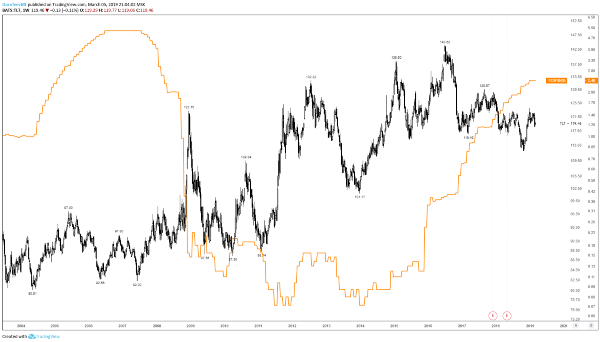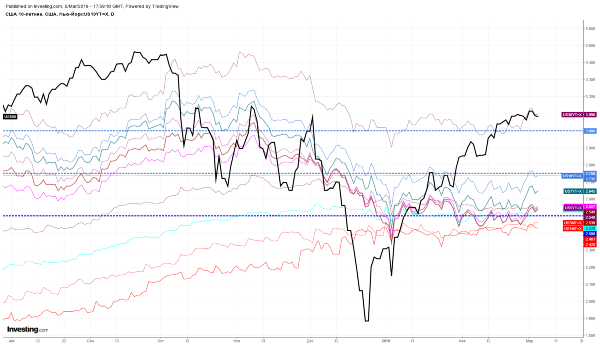 Trading plan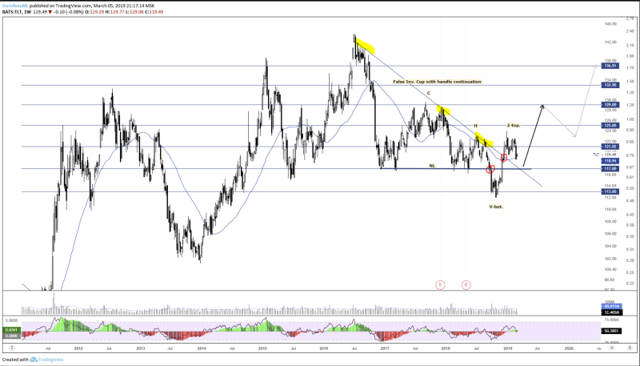 Technical analysis of iShares 20+ Year Treasury Bond ETF ($TLT). Source: Trading View.
---
Disclosure: I/we have no positions in any stocks mentioned, and no plans to initiate any positions within the next 72 hours.
I wrote this article myself, and it expresses my own opinions. I am not receiving compensation for it. I have no business relationship with any company whose stock is mentioned in this article.