Exchange: NYSE
Sector: Healthcare
Industry: Drug Manufacturers — Other
Entry strategy
Price: $44–48
Stop-loss: $34.8
Take profit: $71.5
Investment horizon: until the third quarter of 2019
Company details
Canopy Growth Corporation ($CGC) is Canada's largest manufacturer of medical marijuana. Until 2015, the company was called Tweed Marijuana Inc. Canopy Growth is headquartered in Smiths Falls, Canada.
Canopy Growth Corporation's site
The corporation is the international leader in cannabis-based products. As of March 2019, the company owns about 4.3 million square feet of manufacturing facilities throughout the world, including Canada, Germany, Brazil and Australia.
The main products of Canopy Growth are dry flowers, oils, concentrates, helium capsules with herbs and cannabis. Some of the company's brands are Tweed, Black Label, Spectrum Cannabis, DNA Genetics, Leafs By Snoop, Bedrocan Canada, CraftGrow and Foria.
Key indicators of the company's shares:

Idea basis
We have already recommended buying Canopy Growth shares in August 2018. Since then, the corporation has continued to actively grow and develop. At the end of 2018, its annual sales were almost twice as high as a year earlier.
Canopy Growth report for October-December 2018
The market in which this company operates remains fast-growing, so Canopy Growth still has prospects for rapid growth in business capitalization. An important factor of the decision to purchase is the financial stability and independence of the corporation. This is crucial at the stage of rapid business growth, when substantial capital investments are required, and the financial results of current operations remain below the break-even point.
Annual financial results and balance sheet of Canopy Growth
Trading plan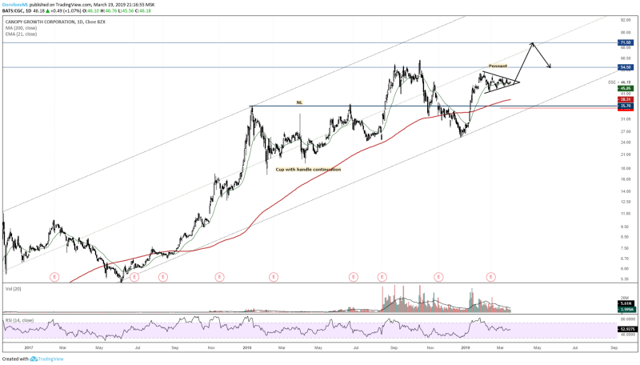 ---
Disclosure: I/we have no positions in any stocks mentioned, and no plans to initiate any positions within the next 72 hours.
I wrote this article myself, and it expresses my own opinions. I am not receiving compensation for it. I have no business relationship with any company whose stock is mentioned in this article.