Business Description
Norilsk Nickel is a leading Russian metallurgical company headquartered in Moscow, RU. Currently, Norilsk Nickel (Nornickel or NN) unites a group of enterprises headed by the Public Joint Stock Company Norilsk Nickel Mining and Metallurgical Company (PJSC MMC Norilsk Nickel). History of the mining and smelting giant starts in 1935 when the USSR Council of People's Commissars resolved to build a Norilsk Plant. The plant started its operations in March 1935. Norilsk Nickel has been under the leadership of President Vladimir Potanin. Chairman of the board is an independent director Mr. Gareth Penny.
The main activity of the company is "Production of non-ferrous metals." PJSC MMC Norilsk Nickel is considered the main (parent) company of the Group based on the prevailing participation in the authorized capital of subsidiaries. The Norilsk Nickel Group is the leader of the mining and metallurgical industry in Russia, as well as the world's largest producer of palladium and refined nickel and one of the largest producers of platinum and copper. In addition, the Group produces cobalt, rhodium, silver, gold, iridium, ruthenium, selenium, tellurium and sulfur.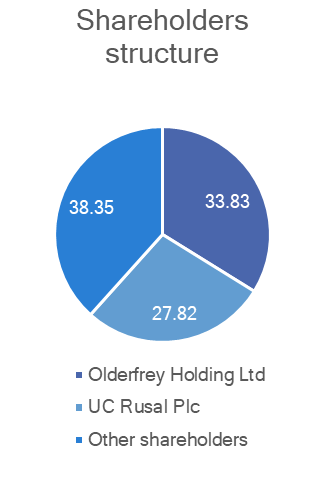 Geographic presence and business segments: Norilsk Nickel products are shipped primarily outside of Russia to the EU and China. Europe accounts for 57% of NN sales and China with 23% and remaining 20% primarily in North America and Russia. The main divisions of the Norilsk Nickel Group are vertically integrated. Russia: These include the Polar Division, JSC "Kola MMC", LLC and "Mining and processing plant Bystrinskoe" (Bystrinsky MPP). Finland: The Norilsk Nickel Refining Plant Harjavalta (the only nickel refining plant in Finland). The plant is fully integrated into the production chain of the Group. South Africa: The company owns a 50% stake in Nkomati, which develops a nickel deposit.
Market Strategy: The priorities of the company include the implementation of the second stage of an unprecedented environmental program, the completion of the production reconfiguration program, the development of the mining base, achievement of the project's full capacity of the Chita project, a large-scale upgrade of the infrastructure, which, together with the implementation of a comprehensive efficiency program, will provide the basis for sustained growth in the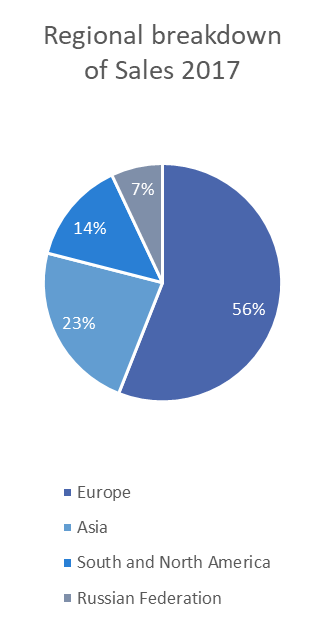 shareholder value of the Company.
The market strategy is focused on the development of mining and a new cycle of renewal of funds:
System upgrade of infrastructure and fixed production assets;
Modernization and reconstruction of production assets (reconfiguration program);
Development of the resource base of Talnakh ores and maintaining the level of mining.
Long-term strategic goal - development based on first-class assets.
Over the next few years, the company plans to explore the possibilities for developing the Southern Cluster, further expanding the Talnakh complex, and jointly with Russian Platinum to develop disseminated ore deposits in the southern part of the Norilsk industrial region.
Industry Overview and Competitive Positioning
Competitive Positioning
Primary activity:
Inbound Logistics: The equipment is supplied directly by suppliers from abroad, the company purchases fuel, raw materials, and materials for everyday needs from local suppliers in the territory where production activities are carried out.
Operations: The company is a vertically integrated firm that controls most of its supply chain.
The main advantages of the company are:
economies of scale;
low defects;
on each mine modern equipment was put into operation;
compliance with the products of all standards, both domestic and foreign.
Outbound logistics: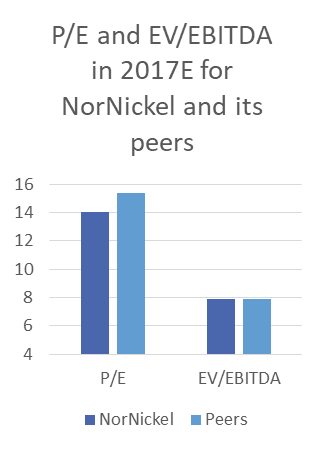 Due to the fact that the company's assets are located favorably, as well as access to transport infrastructure, the company delivers goods to international markets with minimal costs, the company has the ability to deliver goods to main consumers - Asia-Pacific countries with low transportation costs due to the fact that mining companies are located closer than competitors.
Marketing: In order to increase liquidity and premium sales, the Company registers its products on the world's major stock exchanges. The Company's products are listed on the London Metal Exchange and the Shanghai Futures Exchange.
Service: Due to the fact that the trade network has a fairly extensive infrastructure, the delivery of goods to consumers is carried out in a short time and with minimal transport costs.
Auxiliary activities:
Infrastructure: In NorNickel, an automated system for managing relationships with suppliers, SAP SRM, was introduced and applied. The Company also actively uses the functionality of independent electronic trading platforms, such as Fabrikant.ru and the B2B center. The use of these tools is aimed at increasing the transparency of supplier selection and expanding the competitive environment during ongoing procurement procedures. (See Appendix 10)
Personnel Management: The company aims to provide the necessary number of employees who possess the necessary competencies and qualifications to achieve the goals of the company. The priority of the company is the creation of safe working conditions for the staff, as well as the creation of conditions for professional and career advancement. In addition, the company is implementing programs that are aimed at improving the welfare of the staff and their families.
Technology development: The company is actively introducing innovations into its activities; it has already mastered a whole line of products that are distinguished by enhanced consumer properties and, more importantly, environmental friendliness.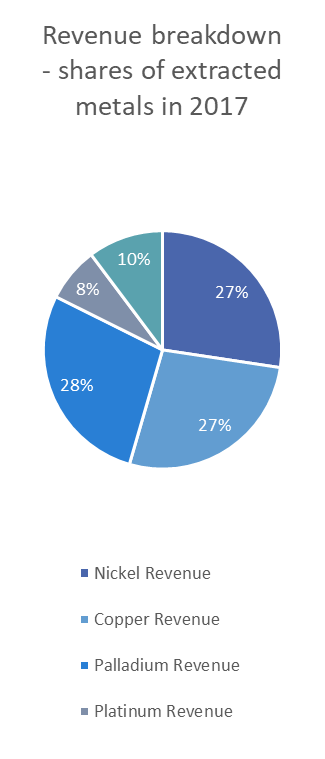 Procurement: The selection of suppliers is carried out on a competitive basis, this ensures the effectiveness and transparency of procurement. In 2017, the company attracted 6,082 suppliers, with more than 99% of suppliers represented in the domestic market. Equipment that does not have domestic analogs with similar characteristics is purchased from world leading manufacturers, including from Germany, Austria, the USA, China, and Japan.
For Analysis of five forces of Porter and Porters value chain creation please refer to Appendix 12 and 13.
Industry overview
Barriers to entry and Global D/S Dynamic: The mining industry is characterized by high barriers to entry. Further entrenched by Russian regulations and political-based approvals, we deem access to the Russian mining market to be low. With relatively rich deposits of high-quality ores, varying regions of Russia present exploitable growth opportunities protected by initial high capital-intensive investment. Environmental concerns and established contracts further protect already existing operators. High labor turnover factors into a complex hiring scheme, but high labor supply in Russia provides security. Overall, barriers to entry and a global product based on perfectly competitive prices, mining companies in Russia seem well-protected and poised for continued local market control.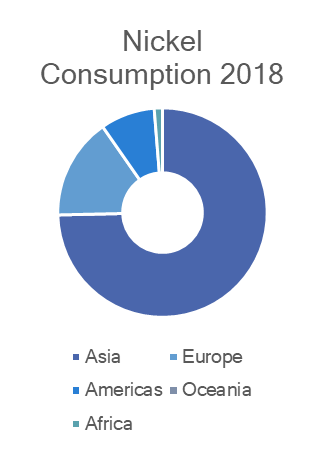 Nickel - demand projections and drivers: The first key Ni driver is stainless-steel industry growth. GMKN verifies that the stainless-steel (SS) sector accounts for 73% of Ni consumption, as of 2017. This is accounted for in GMKN's forecast of 9% increase in Ni supply y/y for FY18 and FY19. This is projected to be led by Indonesian SS production, of which we will talk about in the later section.The second key driver is the projected transition away from Hydrocarbon fuel to electric bases. Lithium-Ion batteries (main ingredient: Ni) are a catalyst in this transition for Ni demand. These technologies are already Ni intensive, but demand for class 1 nickel products will increase as 2025 forecasts are approached and should drive presently unseen Ni-quality pricing differences. Estimates for the battery sector demand by the mid-2020s are 500,000t. The major worldwide push for electric vehicles (reason - emissions reduction) has already resulted in increased Ni consumption (lithium-ion). Future EV demand projections present robust upside Ni consumption aided by lithium-ion battery demand, of which's input, Ni sulfate, requires class 1 material. This is the kind GMKN has been producing which is in contrary to global production of NPI for China and the SS industry. One of the key concerns moving forward is how to supply the exponentially growing battery industry projections of demand.
Leader in nickel consumption, China: 2017 strong Ni demand was led by Chinese consumption within the stainless-steel industry (ca. 53% global consumption share in 2017). Stainless steel continued to represent the greatest share of total primary Ni consumption at 69%. It is not only combination uses of SS driving Ni demand, but also regional production of steel driving Ni demand. Indonesia emerged in 2017 as a new producer of SS, with unique mill designs aimed at on-site utilization of locally-available Ni ore. One Indonesian Mill has a design capacity for 3 Mt/y of SS and will cater to the high demand for Ni in the coming years. GMKN considers Indonesia and China to be the growth drivers of NPI production. GMKN expects 7% (FY18) and 9% (FY19) growth in Indonesian SS and promising Chinese batteries markets.
Nickel prices: Nickel prices have continued to recover over the course of 2018, reaching $13,655/t and adding to the gains made in 2017, following the price's low point of $9,605/t in 2016. Despite the further rise in prices seen in 2018, NN predicts that nickel prices will stay low through to 2019.
Palladium demand projections and drivers: Due to a deficit, Palladium price has surged dramatically in 2018, even surpassing gold with $1,255.12/oz in early Dec. driven also by investor and trade interest. Responding to strong auto industry demand (80% of Pd consumption), the petrol engine has driven recent demand moving preference from platinum (usage in diesel engine). Other drivers of demand include surgical instruments, dental related, and electronic applications. According to Metals Focus, demand for catalytic applications will reach a record high at 8.5M oz.
Based on stable auto sales, further emission restrictions and petrol engine transitions, 2018 expects a deficit of 1.2M oz and the deficit is expected to continue into 2019. Supply may begin to match demand in the medium-long term if EV prospects increase.
Copper demand drivers and consumption: 2019 expects a rise in global copper demand. The market is current analyzed to be under-supplied and in the long-term expects demand to increase from 23.6mnt (2018) to 29.8mnt (2027) at a 2.6% annual growth rate. Global consumption of Cu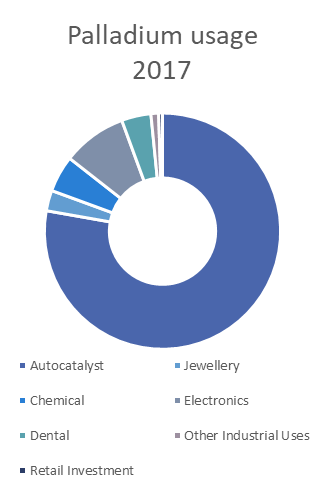 is expected to surpass supply driven by the EV transition and Chinese power and infrastructure needs. Global Cu mine production should see relative stable growth in the medium-term aided by minimal operating costs and growing Cu prices. On a longer forecast from Fitch, global Cu production is set to increase 3.6% (on average) between 2018-2027. GMKN projects copper consumption growth to underperform this production average at a 2.4% rate (on average) for 2018-2019. Volume expectations are that output will increase from 20.4mnt (2018) to 28.1mnt by 2027. The deficit apparent is expected to shrink post-2021, eventually leading to oversupply as pipeline projects reach full-capacity. [1]
Global Risks: The fundamentals of the mining industry are heavily reliant on Chinese demand. A slowdown in China or a shock based on a ramp-up of steel and aluminum production remain two of the largest risks. Supply-side reforms can also support commodity prices, stabilizing present highs. However, overall, we anticipate price volatility to continue in key metals with China acting as catalyst for major changes.
Investment Summary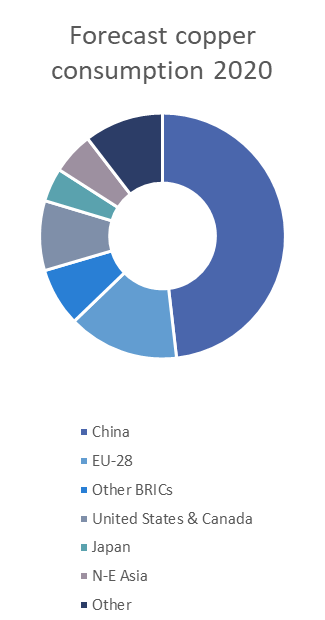 Neutral Entry Point with Strong Realizable Value: We issue a BUY recommendation for PJSC MMC Norilsk Nickel with a target price USD $207.26 and 7.11% upside from current price level. NorNickel having a strong position on its major metal markets (2nd in nickel, 1st in palladium, and 13th in copper), now expands both its long-term (up to 25% by FY2025) and short-term (up to 8% by FY2020) metal growth targets further into action. Recent NN's market capitalization which keep skyrocketing since June 2018 (USD 1.28b) to USD 2.07b in January 2019 (as its operational outperformance perceived due to rising metal basket) caught investors.
Valuation methods: We derive our target price by combining DCF valuation and multiple pricing. The basis for the peer group selection serves the following factors: common level of metals production, market capitalization, revenue, return on sales and ROE ratios, which we believe deemed reasonable and sufficient for the selection.
Market prospects: Given palladium has strongly increased hitting record highs at each stage of the year and ultimately peaking at the current month of January 2019, NN keeps its bet on emissions-reducing auto catalysts for gasoline cars that rely on palladium and other factors that have led to its current deficit. With emission restrictions not lessening form year to year and the deficit continuing, NN expects a demand inflow in this and other factors for palladium.
Market for electric vehicles is also in perspective sight of NN. New pilot short-term projects focusing on digitalization of the company with expected 2-year payback aim to make NN one of the technological leaders both locally and globally. Digitalization strategy encouraged introduction of digital technology into Nornickel in its full-capacity, which is expected to increase their presence in the market of supplying electric vehicles (with potential joint forces with Germany's BASF in the European EV battery market).
New projects add value: Third stage of Talnakh concentrator upgrade and South Cluster mines expansion is projected to drive 2017's combined nickel and copper output upward by 15 percent, and platinum metals by 25 percent, by 2025 (See App. 14).
Projected steady growth targets along with potential of Talnakh mines expansion, South Cluster development, IPO of Bystrinsky that produce clear copper concentrate and possible add-value opportunities in PGM project, Arctic Palladium should rise investors interest in Nornickel's prospective position to seize rising demand for nickel, palladium and copper, driven by new trends in market (electric cars, battery materials).
Dividends and potential risks: For past 10 years, dividend yield was ranging from as low as 2.7% in 2010 to as high as 14.4% in just 4 years, with recent huge drop to 4.7% in 2016 and recover again in 2018 to 10.6%.
In case of implementing Talnakh and South Cluster projects, it is reasonable to expect even dividend payments in high investment years while averaging out in total for the next 4-5 years.
Although there are claims of the dividend yield being unsustainable, we believe there is consistent effort to maintain shareholder stability through managing their Net-Debt/EBITDA ratio. Forecasts have been analyzed and seem reasonably likely to be followed per our calculations. Given management's adjustment to the pure calculation of the net leverage ratio in order to sustain dividends, we feel there is strong precedence for high dividend yields to remain uninterrupted. This is aided by the inability of management to change dividend policy without the consent of shareholders.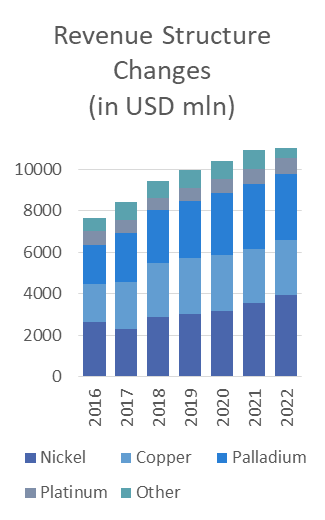 Given the role shareholders play in maintaining dividend policy, it is important to understand their interests and incentives. In 2008, Rusal, a Russian aluminum company, acquired a 28% stake in Norilsk Nickel. They have presently been facing a liquidity squeeze necessitating strong cashflow infusions for debt management purposes. Their interests seem to be in maintaining a high dividend yield. They are utilizing dividend payouts to ensure stability; however, late cycle movements have been known to aid copper and aluminum alike allowing for a stability measure through cyclical matching, loosening their needs. However, this situation further aligns dividend interests between minority shareholders and majority. Other risks from Rusal include the fact that their debt is largely related to the Norilsk Acquisition and thereby presents a unique relationship to be monitored for any large sell-offs for higher cash infusion needs to manage costs associated. There is risk also associated with one of Rusal's location of operations (Ukraine).
Still, Mr. Potanin, NN's CEO, informed of no upcoming direct discussion on dividends Rusal.
Dividend Policy: Dividends either range from a minimum of $1BN to a maximum of 60% of EBITDA based on a weight of net leverage ratio we discussed above.
Possible Investment Risks:: The largest potential risk is in a substantial Chinese growth slowdown decreasing global demand for Norilsk Nickel's metals. Investors should also be aware of sanctions risk present in certain Shareholders, market risk related to the volatility of the RUB, high debt related costs leading to sharp operational adjustments, worker strikes leading to sharp reductions in volumes, and several other factors that are introduced when investing in Mining and in an emerging market.
Valuation
We have utilized two industry standard approaches to the valuation of GMKN - Discounted Cash Flow (DCF) Model and comparable companies' multiples analysis.
DCF Valuation
We have used a Discounted Cash Flow Model based on Free Cash Flow to Firm (FCFF). We have found this model to be suitable for GKMN based on its accuracy with a fast changing debt structure. Based on the results of our comprehensive DCF, we established a target price of $214.58 (10.9% upside). Given the variety of assumptions and inputs built into the DCF model, it is sensitive a variety of factors including the following:
Revenues: The forecasted growth in revenue is largely based on increasing ore and concentrate production from GKMN's Russian-based mines, although accounting for all international operations. We have taken special attention to GKMN production forecasts and ramp-up schedules for newly producing mines (e.g. Bystrinsky) (See App.9). Revenues from Nickel and Palladium will be the most important sources of revenue for GKMN by 2022E, both mined locally in Russia. Nickel's share of total revenue will move from approximately 27% at FYE'17 to 36% in 2022E. Palladium prices have been rapidly climbing since Aug'18 and have not yet stabilized. It seems Palladium's price may surpass our conservative expectations and may overtake Nickel as the leading source of GKMN revenue. As of now, we expect palladium to be the second leading source of medium-term revenues with a final expectation in 2022E at ~25% of total revenues. All revenue forecasts are subject to production changes, but we expect no serious deviations from management guidance based on mine operating capacities.
Residual Growth Rate & Terminal Value: There are several macroeconomic and business-related factors that have led us to our assumptions for residual growth and terminal value calculation. Here are the following factors: [1] late-stage cyclical benefits for GKMN's metals basket value in relation to global growth estimates, [2] export opportunities aided by Chinese GDP growth (>RU GDP GRs) sustained at levels around 5% in the medium-term with an increasing share of Chinese revenues (Asia %share of total revenues up to 26% in 1H18 from 23%in FYE17) and [3] early-stage EV and Renewables positioning in relation to low-cost production and metal quality with European and Chinese revenue sources. Connecting the above factors, we have calculated a 3% FCFF residual growth rate for GKMN. We feel that although the above factors are realistic, we must balance our full calculation to a market sentiment-based weight. This is why in addition to perpetuity-based TV, we included a separate EV/EBITDA multiple valuation and ran weights of 40% and 60% respectively. We feel this further balance our conservative assumptions.
NWC Changes: The company stated that it aims to remain on its 2018s estimate of 1 billion USD for the future years. Based on this underlying assumption we have checked potential factors that could influence this aim. The most important factor that would have an influence on the change of Net Working Capital is the slowdown of GDP-Growth in China. It is estimated that Chinas growth rate will go down from 6,6% now to 6% in two years. Since the biggest consumer of NN goods slows down its growth, it will have a negative effect on the Net Working Capital. Our estimate of future NWC is based on the adjusted impact that Chinese GDP-Growth slowdown had on the NWC capital in previous years. Although, we believe that the company will be able to adjust to this situation and reach its 1 billion USD aim by 2022.
WACC: To calculate cost of equity we use Capital Asset Pricing Model. The risk-free rate of 2.86% of 10-year US treasury bill, equity risk premium of 7.96% (Damodaran's estimations as of January 2018) and calculated country risk premium of 2.88% (Appendix 5 and 7) are applied in the model. We assume that NORNICKEL's exposure to country risk is similar to its exposure to other market risk to arrive at 14.6% cost of equity with beta of 1.08 (Thomson Reuters). The after-tax cost of debt of 3.7% is estimated for all forecasted period with cost of debt reduced to 4.6% (2017:6%) that NORNICKEL presented in November strategy report in London. Throughout forecasted period, the WACC goes from 12.1% (2017) to 11.8% in 2018 and kept at 11.6% for the rest of forecasted period and perpetuity. Different WACC is implemented due to multiple-stage structural change in debt and equity financing, relying more on debt: with debt weighting rising from 25% in FY2018 to 27% in FY19-FY22 (refer to Structure of financing, financial analysis). For detailed calculations and assumptions please refer to Appendix.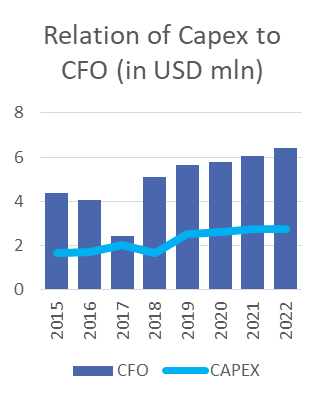 Dividend Policy: The company does not expect any policy changes which are made solely by the General Meeting of Shareholders based on recommendations of the Board of Directors. For 2009-2017 period, the median dividend yield was 6.88% and median payout ratio was 0.93. As of 2017, dividend yield is 10.36% and payout ratio 1.03, which are expected to be maintained as maximum level for forecasted period. The dividend amount is subject to variation in operating profit and debt reliance.
Capex: Due to the development of Norilsk Nickel's expansive social commitments for environmental projects, commitments to existing base investment programs, and potential growth projects, the established CapEx program will be significant. Based on financial reports, feasibility studies, and 3Q2018 strategy updates, we have outlined an accurate CAPEX schedule for FY18-FY22. Remaining on the conservative side, our calculations estimated an average CAPEX of $2,450M.
Multiples Analysis - International Mining Peer Group: Discount Present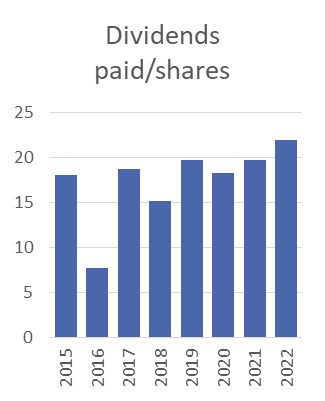 After having established an international peer group through an outlier based stringent fit test, we conducted a multiples analysis based on 3-year historical EV/EBITDA's (enterprise multiples) and 3-year P/Es (price multiples) (See App. 17). We currently observe not only a discount on the current P/E to FYE15 but a long-term discount in comparison with its peer group. We believe there were several strong factors that led to this discount, including: higher perceived market risk associated with Norilsk Nickel's country of operations and currency of denomination, weak to no growth during the industry slowdown of FY2012-FY2016 with a slow production recovery due to conservative practices, higher than normal perceived shareholder risk associated with Russian sanctions, concerns towards socially responsible earnings growth derived from modern technologies and the looming debt repayment risk potentially violating GMKN full-dividend payout policies
Although historically the discount has been as much as 39% for P/E (FYE16, ex. Antofagasta), the EV/EBITDA has averaged to its peers showcasing specific strength in 2017. We feel this dynamic shows the influence of price perception on such a high-value stock (highest $ price amongst peers). Overall though, we still feel there exists ample upside given the increased commodity prices for GKMN's basket of metals, plans for higher sustained production volumes (Metals: Pd+Pt, Cu, Ni), and strategic cost management (EBITDA margin at 53%) with plans for higher cost savings through the efficiency improvement program (+$200-300M to EBITDA from cost reductions ramping up from FY2020).
Several new operations have come online including the Bystrinsky project. This project alone reaches full-capacity in 2020 producing a variety of metals including special high-quality copper concentrate. Its operations are estimated to add EBITDA $100M FYE18, up to $300M FYE19, and +$400M FYE2020 and beyond. It's estimated 2020 IPO will be another highly lucrative event attracting spin-off-based arbitrageurs and further foreign investors to the parent company. If performed properly, it will be a strong catalyst towards reducing the discount and reverting price to peer averages. Regardless, new operations like Bystrinsky will offer cash infusions and new profitable regionally diversified streams of income.
Regardless of the possible lucrative catalyst events upcoming for GKMN, the production volume increases alone will attract attention towards GKMN's shares. With a generous FY2018E-FY2022E earnings CAGR of 9.19% and a more conservative revenue CAGR of 5.96%, it seems GKMN is well poised to re-attract investor attention and thereby closing the discount gap and easing investor worries concerning revenue growth. Although planned expansion necessary for further ESG based enhancement projects and volume increases is CAPEX heavy, in our calculations, it will only raise FYE2019E Net debt/EBITDA to 1.52 protecting dividend-based investor demand. GKMN's favorable position in debt refinancing and strong B/S were proved in its ability to strategically carry out the lowering of 2019's repayment needs to $200M (down from $600M) providing a margin of security for investors worried about near-term debt repayment risk. Though this refinancing further translates into worries of exceeding covenants on future debt levels, our Net Debt/EBITDA forecasts have shown that both dividends and GKMN investment grade credit ratings are protected. Our forecasts show a gradual ramp-up of Net-Debt/EBITDA starting form FYE2019E at 1.52x to FYE2022E at 1.7x, which is margin of safety below the credit rating guidance by the major agencies. This CAPEX expansion, as noted above, will provide significantly increased earnings for shareholders through massive production overhauls, cost adjustments, automation technology implementations, and ESG projects. In summation, CAPEX should not present any interference with policies concerning high dividend payouts or GKMN's targeted credit rating of Baa3/positive (Moody's), but the CAPEX's efficient allocation does present, in our calculations, a justified reason for positive investor responses and a closing of the P/E discount gap.
We recalculated and adjusted the typical weighting of the EV/EBITDA and the P/E differently in an attempt to target investor concerns while reducing the overweighting of any one financial factor (particularly, debt structure with the EV/EBITDA capture). Due to the already existence of EV/EBITDA equal-weight in the DCF TV calculation, we decided to underweight EV/EBITDA in this valuation providing more attention to price capture in relation to the profit concern factor we think modern investors are more concerned with. Our final weightings for P/E and EV/EBITDA multiple were 0.75 and 0.25, respectively. In this adjusted combination, we derive a multiples target price point of $199.94, which results in a final target price of $207.26, when in equal combination with our DCF.
Risks to target price (Overall):
The DCF model is sensitive to a variety of factors that have a medium probability for bias. Although our analysis has stressed managing each input as accurately and honestly as possible to the best industry standards, we accept that the DCF analysis is heavily dependent on Terminal Value calculations, which in turn are reliant on many factors including residual growth rates and discount rates. We designed our model with a combination of several WACCs to not strongly enforce one discount over another and to adapt to a changing capital structure. However, we also feel that our residual growth rate was arrived by fair means. (See Appendix 16)
Financial Analysis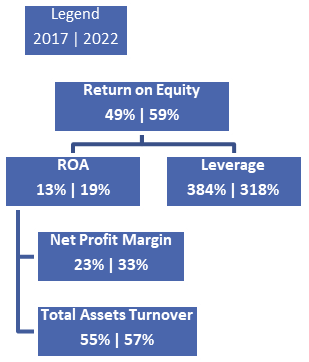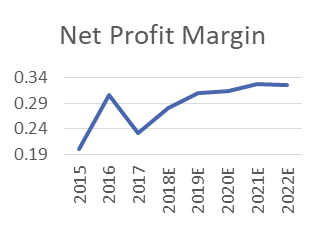 Diversified Earnings with Potential: GMKN has improved operations significantly in the past 2-years and has shown stability and growth. 1H2018 revenues reached $5.8bn which is +37% vs 1H'17. This is due to higher realized metal prices (ex Pt), output increases for PGMs and Cu and sales of Pd from stock. Although GMKN was weighed down by Pt prices and lower than expected Ni output, this did not drastically affect their EBITDA which increased to $3.1bn ( +77% over 1H'17) aiding a $2.6bn FCF (5x higher than 1H'17). Through 2012-2016, GMKN experienced revenue declines stemming from falls in metals prices and demand (industry-wide decline). However, mining declines typically favor low-cost producers leading GMKN to return strongly in 2017 with revenue growth of +10.7% and cost-cutting technology-based strategy utilizing 3D Mine mapping, SAP-based analytics, and plant automation. After factoring in GMKN's, efficiency improvement program (+$200-300M to EBITDA from cost reductions ramping-up post-2020), we forecast earnings to benefit the most. In the near-term FYE19 net income improves to ca. 20.3% y/y growth but returns to long-term sustainable NI growth levels of CAGR 9.19% (FYE18E-FYE22E). Driven by production volume increases, favorable metal prices (Pd price gains at +$316M between 1H'17-1H'18), and cost reduction effects (e.g. headcount reduction at 7%). 2018E-22E are forecasted to experience steady deterioratio
n of NI based on increasing financing costs (avg. -$580M and currency erosion due RUB macroeconomics (2018E: -$453M; 2019E: -$151M). We project GMKN 2020E NI to realize weaker y/y growth due largely to Cu volume decreases based on secondary feedstock depletion. However, considering the strongest factors of increased production volumes, favorable metal prices (Pd leading), and gradual increases in cost savings, we maintain the view that GMKN's stable earnings will ensure the continuation of high-dividend yields and present ample opportunity for capital appreciation of GMKN.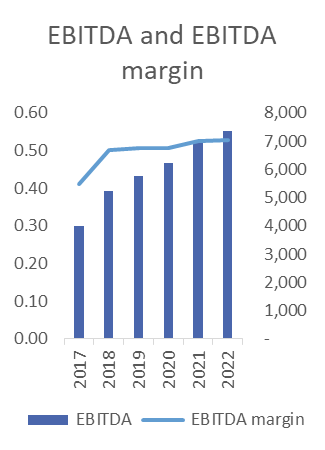 Mid and long-term sound level of margins: The past 5-year period has shown well-kept margins averaging a GP Margin of .50 and an operating margin of .35. Given the stability and targeted operating costs, we expect GMKN to hold at its current level in the medium term, keeping its competitive edge over a majority of its peers. However, we expect profitability margins to weaken in the mid-term, due to vastly changing debt structure and variable macroeconomic risk factors including a Chinese economic slowdown. The company's cost improvement strategies outlined above are expected to improve realized margins in FY18-FY22 (+$300M savings and 15% productivity increase). GMKN's EBITDA was 45% in 2017 and in FY18-FY20 we expect EBITDA margin to be ca. 50% and sustainable EBITDA of 52% til FY22.
DuPont analysis: In the analyzed period (2017-2022), GMKN exhibited historically high return on equity (2014: 42%; 2015: 77%; 2016: 66%). DuPont analysis indicates that the main drivers of such high level of profitability were mainly due to high net income margin, financial leverage and total assets turnover. Even though there is a downward trend since 2015, our models show that increasing Net Profit Margin will bring GMKN to its historically high ROE figures.
The three-level DuPont analysis suggests that the most important driver for sustaining future levels of ROE is financial leverage, calculated as ratio of total assets divided by total shareholders' equity. A high proportion of the debt that is maintained on the company's B/S generates strong positive influences on the ROE calculation. The negative side of such a rationale is added risk to the company's operations and increased risk for the liquidity of the company already stressed with the massive 2019E forecasted debt load of $10,021M. However, we conclude that the forecasted increase of the Company's financial leverage to have positive influence on profitability. Second driver appears to be asset turnover, which indicates that the company efficiently utilizes its assets in generating sales and may do so with newly acquired assets.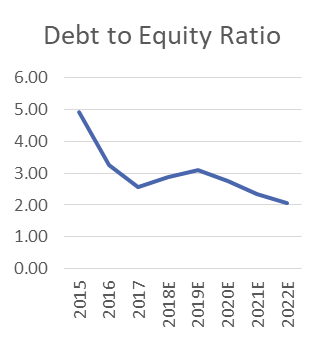 Future Positive Cash Generating Abilities: In analyzing the historical operations (2012-2017), GMKN has shown consistently declining CFO since a high in 2014 (pre-mining industry fallout) leading to a FYE17 low of $1,763M. 2017 had a unique one-time massive trade payables cost ($-1,118M) settled from previous advances taken during slow operations. Our analysis suggests now GMKN is using favorable metals prices and high volumes to establish a foundation for better CFO processing. 1H'18 results showed a CFO of $3,143M (2.69x > 1H'17s CFO) and sets our FYE18E projection at CFO $4,379 (2.48x > FYE17 CFO). Based on commodity price projections and operations guidance, we believe this CFO level to hold in the medium-term presenting a CFO CAGR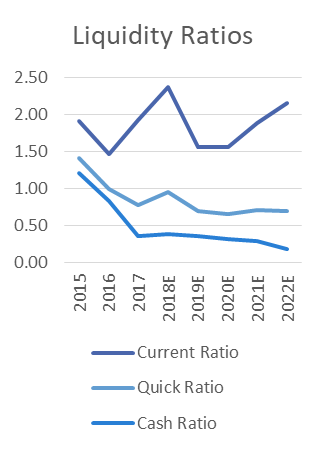 (2018-2022) of 3.8%. We do not believe this will satisfy all cash generating needs as 2020-2022 presents a combined $6,800M needing to be refinanced or paid down. Based on historical capacities and operational trends, we have found that on avg. 60% of each year's debt to be reasonably refinanced while still maintaining target Net Debt/EBITDA levels. A negative CFF is assumed to be growing with each repayment rollover and subsequent debt increases. CFI's primary cash outflow will be CAPEX and CAPEX is another major factor leading into our forecasted debt schedule. Overall, if production continues to hit set volume targets, we forecast net cash changes for the period 2018-2022 to be fluctuating around an average of -$84M.
For the period 2018-2022, we forecast that the CFO/CAPEX ratio to remain in a stable zone ranging between a low of 181% (2021E) to a high of 265% (2018E). We deem this as low-risk in terms of completing the necessary aggressive CAPEX schedule. When considering other large capital usages, sustaining the high dividend yield while maintaining a stable debt reduction schedule will require external cash infusion, likely through refinancing. This is evidenced through analyzing the cash sufficiency ratio (CFO / Dividend + Debt Repayment + Investments in Fixed Assets). We find on average for 2018-2022, CFO is only able to cover 71.09% of cash needs. This is accounted for in our forecasts with a gradual debt-refinancing schedule taking place during 2018E-2022E.
Finally, in analyzing the earnings quality indicator ( CFO / (NI+D&A+ΔNWC) ) for the past 5-years (2013-2017), results showed consistency above 1 and we extrapolate this consistency into the future with no strong deviation expectations.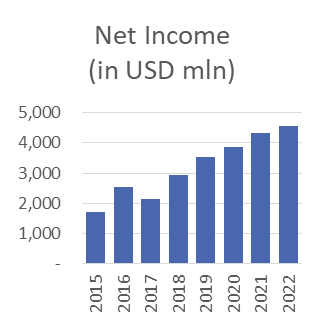 Structure of financing: increased debt financing reliance: Since 2010, GMKN has been heavily relying on debt financing. Total debt/capital increased from 6% to 24% in 5-years. Proactive debt management raised new funding at record low-interest rates (replacing high RUB rates), sourced new credit lines signed for the total amount of USD1.6bn and increasing the total amount of available credit to USD3.1bn as of Q3 2018. We forecast increased debt financing (in form of LT bank loans up to a total USD3.4bn increase for FY18-FY22 ), thus estimating that the Debt/Equity ratio will rise from 33.33% in FY2018 to more risky levels of ca. 37% in FY19-FY22.
Corporate Governance and Social Responsibility
Corporate Governance: The corporate governance model of the Company is aimed at harmonious relationships between shareholders, the Board of Directors, management, as well as employees and other interested parties involved in the activities of the Company. In its activities, the company is guided by the norms of the current Russian legislation, and also relies on the principles set forth in the Corporate Governance Code, which is the most important source for the Company to develop its own internal documents, as well as a guideline for developing the best corporate governance practices.
The company complies with international practice and the recommendations of the Bank of Russia Corporate Governance Code on joining a sufficient number of independent directors on the Board of Directors (not less than one-third of BOD). Six directors (ca. 46% of the Board of Directors) were independent directors, meeting the criteria for determining the independence of members of the board of directors established by the Moscow Exchange. In 2016, the Annual General Meeting of Shareholders approved KPMG JSC as an auditor for international financial reporting standards (IFRS) and for Russian accounting standards (RAS).
Balanced Board led by independent directors with 2 newly appointed directors since 2017 strengthens the board's financial expertise and along with audit and sustainable development committee heavily contribute to strong Nornickel's corporate governance.
Corporate Social Responsibility: Efficiently using natural resources and equity capital, Nornickel provides humanity with non-ferrous metals, which make the world more reliable and help to embody people's hopes for development and technological progress. Constant improvements in labor health and safety along with positive results from environmental projects on toxic emissions and waste raised the Company's ESG rating from "CCC" to "B" (MSCI ESG Research) as well as score increase by Sustainalytics rating agency to 58 points (out of 100) from former 46 in 2016.
Investment risks
MARKET RISKS: Products price volatility
Nickel: Nickel price is on its recovery trend to reach average peaks of 2005-2014 heading up to $12,640 as of December 21st, 2018. As of today, nickel consumption is driven by the stainless-steel producer's demand that accounts for more than 70% in 2017. China is the major stainless-steel producer that accounts for more than 50% of global production share as well as more than 50% of consumption of nickel. It is expected that growing stainless steel production in Indonesia is going to boost demand for nickel. It is expected that growing demand for electric cars will potentially push prices of nickel and cobalt up, which are used in the production process of electric batteries. By 2025, the demand for nickel in the EV market to grow to 420kt.
Copper: Copper prices are also below its peak benchmark of $7,216 and currently trades around its 2018 average price of $6,000. The price of copper as per market analyst is expected to reach $9,000 by 2022 due to the current global shortage in supply and increasing exploration and extraction difficulty of commodity.
Palladium: Since 2010, there has been a sustained undersupply in the palladium market covered by the consumption of accumulated reserves. Palladium consumption shows a positive increasing trend due to the tougher requirements ecological of automotive industry. Catalyst of the last year price growth is China that has moved to higher environmental standards that pushed car manufacturers to use palladium more in the manufacturing process. Industrial consumption of palladium in 2017 is 331 a ton out of which 263 tons is the consumption of the automobile manufacturers. 19 January 2019 palladium price is $1,375 against $499 on 19th January 2016 is a strong upward moving trend that is set continue further.
Platinum: Since 2010, there has been a sustained undersupply in the palladium market covered by the consumption of accumulated reserves. A number of new production points (South Africa, Zimbabwe, US, and Canada) with the global decreasing demand for platinum its price is set to decline in the long run period.
To sum up, given a positive growth perspective for the main products of Nornickel we estimate a minor risk related to the price volatility of commodities. (See App 15)
MARKET RISK: USD currency assumptions - fluctuations of exchange rates
Majority of the Group's income are related to foreign currency transactions. For this reason, the USD/RUB rate changes have significant impact on the size of income from sales. Given that majority of the corporate expenses are in Russian Roubles, that has a weakening trend since mid-2014, and major part of revenue is in United States dollar the threat of further potential Russian Rouble devaluation doesn't present a significant risk for the organization.
ECONOMIC RISK: Global macro – drop in GDP growth rate
Global GDP annual growth as per IMF is expected to be 3.7% up to 2020 before going down to 3.6% between 2021 – 2023. China is the major contributor to the global growth of GDP with 27.2% share in 2018. Even though China's GDP growth is expected to slow down it will still outperform growth of United States. China's share is expected to reach 28.4% of global GDP share. Provided information above we assume that even though there is an expected slowdown in the global GDP growth after 2020 the major consumer of the Nornickel's basket of good is expected to generate positive GDP growth figure hence the risk of decreasing global demand is a minor risk.
ECONOMIC RISK: Trade war between US and China
The largest share of the global demand for copper and nickel in the amount of 39% and 50% in 2017 is created by needs of China. Though, current trade war between US and China could have a positive and negative effect on the commodity prices. Since there is no economical tool to estimate political behavior in the time of uncertainty, we estimate 50% chance of commodity prices decline (due to continuing economic war) as a moderate short-term risk.
ECONOMIC RISK: Price decline due to competition.
Current players have a marginal cost advantage due to supplier relationships and optimal logistics, as well as economies of scale and long-term customer agreements. The competence required to enter the industry is an understanding of the specifics of production and mining and production. New players are forced either to immediately enter the industry with production on a large scale or to agree in advance with high costs. The threat from the new players is weak. The existing barriers are sufficient to protect the market from the emergence of new small and medium players. The emergence of new large market players is highly improbable; hence the risk is low. (See App. 13)
OPERATIONAL RISKS: Control of the company.
Despite the were disagreement over strategic management direction of the company in the past, the Board of Directors managed to come up with a fair agreement of allocation of control over the organization in 2013. Under mentioned out of 13 board seats 4 are allocated to Interros, 4 are given to Rusal and 5 seats are given to independent directors. This allocation of powers has covered interest of major shareholders of the company and is successfully maintained up to date. Hence, we conclude that there are minor risks of disputed between the board members that could affect effectiveness of company's operations.
POLITICAL RISK: Sanctions
US sanctions are not likely to be applied against Nornickel despite it is 28% owned by UC Rusal. UC Rusal is actively working with US authorities in order to lift sanctions against them and has recently managed to reach an agreement with them. Another factor is political independence of the owning entities of the organization that doesn't make them a target of US sanctions. Thus, we consider the risk of sanctions against Nornickel is to be minor.
Appendix 1: Income Statement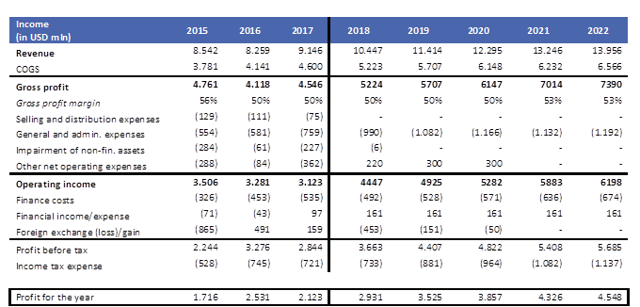 Appendix 2: Balance Sheet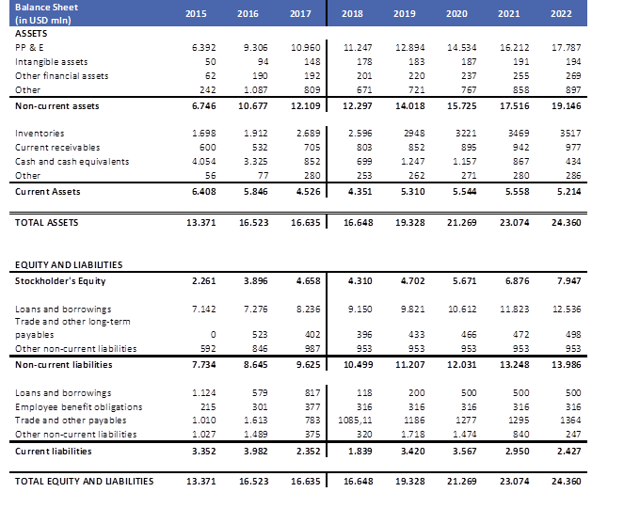 Appendix 3: Cash Flow Statement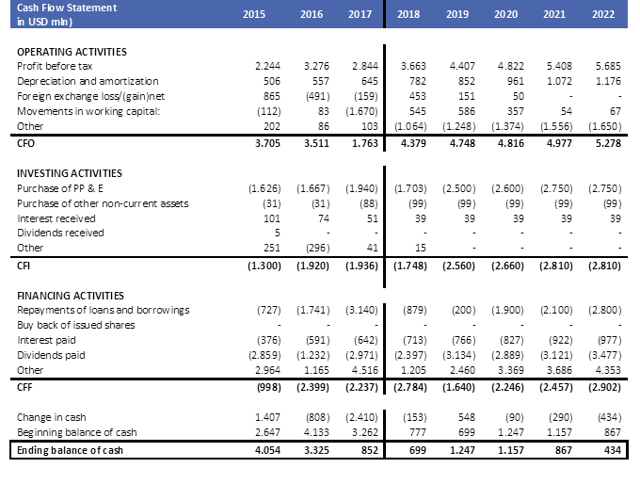 Prepared by:
1. Gunner Laine Hardy 
2. Lennart Welter 
3. Lydia Khadjibaeva
4. Andrey Nechiporenko
Master of Science in Global Economics and Finance
Faculty of Moscow School of Economics
Moscow State University
---
Disclosure: I/we have no positions in any stocks mentioned, and no plans to initiate any positions within the next 72 hours.