Gold & Silver
August 13 recap:
"Contrary Thinker's position had been clear since the base breakout three months ago. I expected the move would be a high rate of change affair, grab everyone's attention, flip everyone into raving bulls all in the face of a move that would be terminal."
Contrary to everyone who believes Gold is a safe harbor, or a hedge against inflation or a kind of currency, while all these backstories are real, the truth is that gold is nothing more than another risk asset."
It is a risk market, like any other.
This long term chart shows how the most recent rally is fear-based, providing weak underpinnings for a bullish market because it lacks rational buying.
The issue for the bulls here is the run-up is from the horizontal triangle. As such, the advance is always terminal never the beginning of a new trend. And unlike the post triangle debacle in crude oil in 2016 that extended, trends out of triangles are nine times out of ten measured moves.
For Gold today the post triangle move has now completed its minimum requirements and does not need to run to the targets of its measured move at $1,600 -$1,700 area. While these targets are based on sound ratio analysis, they are not magical magnets like many would imagine." This is where such a forecast is funded with pride and little else.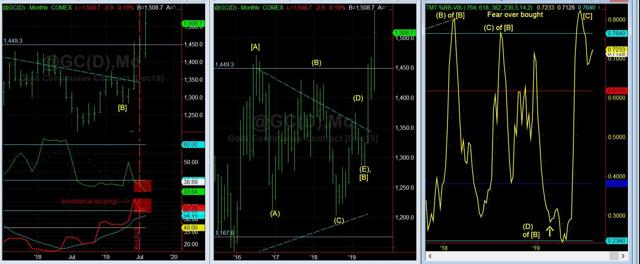 The Intermediate (I-T) and Short Term (S-T) charts provide our exclusive volatility modeling – the Technical Event Mode – that shows both times frames still in panic mode. This situation needs to be worked off – 9 times out of ten - with a trading range before the market can return to a trending environment.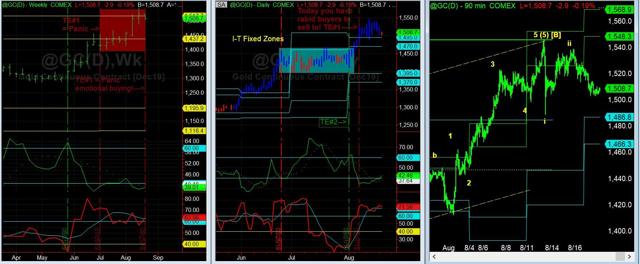 Gold is above I-T zone resistance zone that runs from 1470 to 1495, the market's ability to hold this level, now new support, is essential for the bullish opinions. Also, L-T zone starts at 1437.20 runs to 1517.70 – see left-hand chart. You can see the weekly chart unable to hold the high-end breakout, which is a chink in gold's bullish armor.
From a contrary thinking point of view, almost everything I read in the headlines and all read like hyper bullish. The bullishness is based on the performance thus far this year.
Wall Street Analysts are jumping on the bullion bull market bandwagon. Here are some big names and what they are saying.
Goldman has a six-month gold forecast of $1,600; Citi has said it would rise to the same $1600 level in 6 to 12 months; and, Bank of America Merrill Lynch sees prices climbing toward $2,000 within two years, topping the record of $1,921.17 reached in the spot market in 2011.
However, while they may be telling retail the above, their prop desk is short, as seen in this chart. They are nearly as bearish as they were back at the 2016 peak.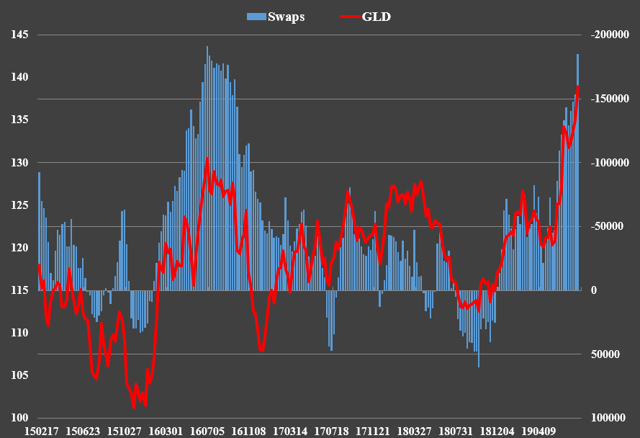 CT's in house MarketMap has a peak expected in the current time frame and another peak in October. The peak later in the fall may be a higher or a lower top relative to the most recent high. 
However, in terms of risk and opportunity, long term risk is new lows compared to one last move to $1,700/oz.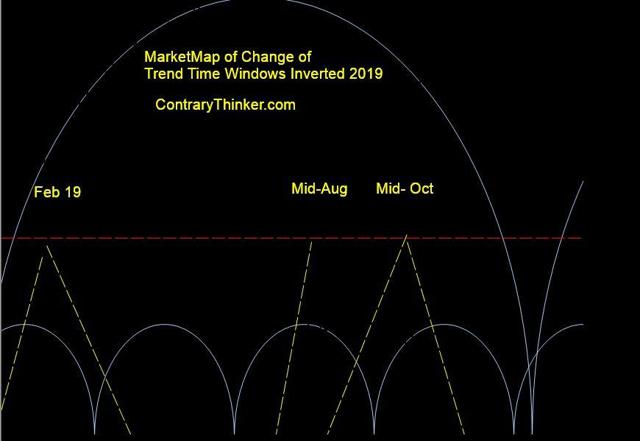 Silver as the proverbial lucky to gold is showing a breakout in silver's relative performance. The monthly chart of the left reveals the downtrend over the last 12 months has reversed. This L-T chart also pegs resistance running from 18.60 to 20.10/oz.
Our TEM provides a favorable background that supports trading a break. With that in mind, the daily chart on the right side uses the I-T resistance zone, where you can see prices locked in that price box now. A move to new highs, above 17.40 should get carry over into the L-T resistance zone.

Bottom line is S-T bullish in Silver a S-T standing aside Gold. Risk-averse long term.
Disclosure: I/we have no positions in any stocks mentioned, and no plans to initiate any positions within the next 72 hours.