Mushrooms Are The Future - A Tale About A Growth Stock In Money Flooded Market
Please Note: Blog posts are not selected, edited or screened by Seeking Alpha editors.
Summary
A fictional tale about an entrepreneur, a sceintist and an investor during the year of Covid-19 that are going all in with a new solution to overcome the energy problem.
What happens to growth stocks in an environment where too much money is looking for too little opportunities.
Take your guess how it goes from here.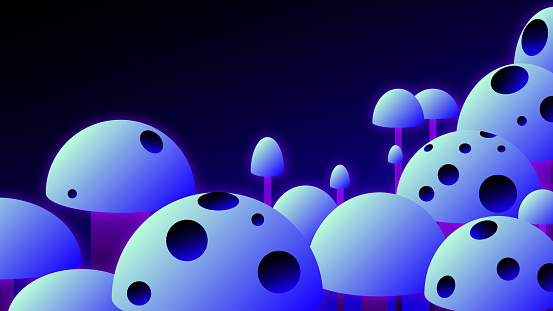 It all started in mid-2019, a scientist friend of mine named Aaron, who works in the green energy industry for years and has a very impressive history of registering patents in the field and selling them for millions of dollars to companies, contacted me and told me he had the "idea of ​​the century", something that can change the world of energy that so urgently needs green ideas that can replace the polluting industry that exists today and is doomed to disappear in a few decades from the world.
We met at my garage and he introduced me to his idea - generating electricity using an electromagnetic force applied to mushrooms. I told him it sounded delusional and he went on to explain that there are lots of mushrooms in crops in the world and there are hidden electric power in mushrooms that although have been researched very poorly, there are some good indications and several documented cases where mushrooms have worked in synergy with lightning during storms. As said, very little research has been done on the matter so far, but my fellow scientist has the potential to create great things. He gave me a small demonstration of how he succeeds, by compressing a certain kind of mushroom into a vessel heated to 158⁰F (70⁰C) by a turbine, to fill up a small generator that manages to close an electrical circuit and turn on a light bulb. That was cool! Is it possible to bring this thing to mass production and streamline the process so that it will be significantly cheaper than the other solutions offered and create such an amount of electricity that it could be part of the global power generation solution? I'm in big doubt, but I told Aaron it is interesting and I'm joining in. I'm a well-known entrepreneur and the combination of my connections and my abilities to run a business and raise money along with his proven experience in the field can be a winner. So, we went on an adventure and started a private company - we called it "ElectroMush".
As a first step, we prepared a presentation of about 15 slides in which we explained about the global problem that has arisen, how the world's electricity consumption is consistently rising and that the solutions offered today to replace the polluting industry are limited and largely that the solution to all world's problems lies in mushrooms. We added all sorts of buzz words and exploding phrases like "green energy", "saving the earth", "Renewable Energy", "Sustainable Energy" and asked for an investment of $ 10 million at a value of $ 50 million.
I took advantage of my connections and we ran between investors in California, ones who can fall in love with these green ideas and put money into such a venture, I expected a nice echo and positive comments, either because they liked the idea or because it's not a bad idea for such ventures to invest in some of their portfolio in a risky, but green and innovative start-up. We ended up receiving many positive feedbacks from lots of investors and then COVID-19 came and silence arrived with it.
Until the summer of 2020, even the investors that really liked us, did not really talk to us and then at some point the reversal came. Benjamin, one of the investors from a VC called us and said to me "Let's make an IPO together". I thought he was crazy, I did not understand where he got this crazy idea. He continued:"ElectroMush is trendy, it's green, it's innovative, it's going to catch on, it's exactly what the market wants right now. I've got a billion-dollar deal with SPAC along with a $200M investment in your venture, are you with me?" I was in shock, what is SPAC anyway?!
The very next day, we were scheduled for meetings with some of the major US investment banks ahead of the IPO. We updated the presentation overnight, Benjamin from the VC demanded from us to change for him only one thing, "Instead of talking about millions, talk about billions, people need to understand that you are Going on a huge market and on the way to conquere the world with mushrooms- mushrooms are the future! That's the message. "
So, we added all sorts of zeros to the presentation, shortened our pipeline schedules a bit and added a slide about negotiations with agricultural companies regarding collaborations for growing mushrooms together for electricity generation. We put on a suit and a tie and met in Zoom (social distancing, you know) with all sorts of important people, we demonstrated to them How do we manage to light a light bulb, everyone clapped, were happy and agreed with us, mushrooms are the future.
From here, things moved very quickly, we managed to raise the investment amount from the SPAC to $250M at a value of $1.5B. and that's it, the IPO got underway, a dizzying success. The idea for this company came up just a year ago and is already worth $ 1.5 billion. The offering was exceptional, analysts praised the company, set astronomical price targets, we were invited to hosting shows, where we talked about the company's green vision and how its contribution to the world would be irreplaceable.
We used the money raised from the IPO to recruit 30 employees and set up a laboratory, signed agreements with an agriculture company to supply 50 tons of mushrooms for further development and operation of pilots signed with several companies based in Silicon Valley, to provide them with green energy from mushrooms. We had a lot of positive announcements to the stock market following the signing of the agreements and the value of the company soared above $ 4 billion in February 2021, Shocking.After reaching a peak in February, the share price began to fall sharply and today we stand at about 60% from the peak, when nothing has really changed in the company's situation.
I caught up with Benjamin from VC for a call last week to understand what's going on and what this volatility is, and this is what he answered me:
"This is it, the good times are over, you have to understand, in the summer of 2020 when we started working with your "ElectroMush", it was a great time for investments, the Federal reserve backed the market and flooded it with money. This is the consequences of too much money looking for too little investment opportunities and that caused some assets to grow and grow much beyond their real valuations. Here are some examples:
1. Virtual currencies including Dogecoin and NFT - The world's virtual currencies have reached a huge value of $2.5T, that's delusional for an asset that most investors around the world don't really understand what it is good for. And the Dogecoin, that's really a joke and actually it was also founded as a joke - the creators were overwhelmed by the amount of digital coins around them and as a joke during a night out, thought to create a new coin that will be called Dogecoin because they liked a meme about Shiba Inu (a breed of dog), this coin has risen 20,000% in the last six months. Does it make any sense for any economic asset to rise so drastically in such short term?! Look at what happens in NFT. Someone, with a real marketing charm decided to come up with a platform in a blockchain where you can upload some artistic piece, let's say a picture, song or video and it will be up on the blockchain as "exclusive" piece in limited copies, those pieces are sold at a price tag that can reach hundreds and even millions of dollars in some cases, and the funny thing is you can find these Images or videos in a simple Google search in two seconds, it has no real value.
2. Growth stocks - Look what happened in the capital market especially in Nasdaq during this COVID-19 year, all kinds of stocks rose to completely delusional values, companies with no income or with very low income reached psychic multipliers. Lots of small companies engaged in hot and trendy fields just like our mushroom power generation company have risen in an unprecedented way. A lot of them are "dream" companies and just as they rose, they will also dive back to a more reasonable value and that is exactly the process you see today to some extent in almost all of these growth stocks. You can see this especially if you look at growth companies, you can have a look at ARK's portfolio, several of the stocks there went up to crazy multipliers riding the wave of innovation and not necessarily because of the true value of their products, but because of the market environment. These ARK (ARK) ETFs have already dropped around 30% of their peak, look at all stocks related to renewable energy (TAN), look at the dozens of companies that merged into SPAC, a very good example is Nikola (NKLA) which did an IPO with a SPAC and rose hundreds of percent and then was caught in scandals like a video of their truck, supposedly powered by hydrogen energy, but actually it was powered by a much less sophisticated force that is called gravity - the truck simply slid because the road was tilted. In short, what I am saying is that everything that has rose by hundreds of percent, returns to its real value. "
So, I asked Benjamin, "Wait, so our company also falls into this category of inflated companies?" And he replied:
"This is how the stock market is and what is beautiful about it, in the long run stocks drain into their true economic value, in the short run there are deviations and these deviations need to be exploited and that's exactly what we did with "ElectroMush". If you ask if we at the VC still hold the shares in ElectroMush, I believe you got the answer.By the way, how are things going with the development in the company?" 
"Well, Excellent," I replied, "we just got to a breakthrough, 150 kg of mushrooms for charging a car battery in 10 days."
Analyst's Disclosure: I/we have no positions in any stocks mentioned, and no plans to initiate any positions within the next 72 hours.
Seeking Alpha's Disclosure: Past performance is no guarantee of future results. No recommendation or advice is being given as to whether any investment is suitable for a particular investor. Any views or opinions expressed above may not reflect those of Seeking Alpha as a whole. Seeking Alpha is not a licensed securities dealer, broker or US investment adviser or investment bank. Our analysts are third party authors that include both professional investors and individual investors who may not be licensed or certified by any institute or regulatory body.