As an investor, I have always invested in companies I love. As long as management is an A+ and historical decision making has been to my liking, I consider investing. Sound financials, constant growth, ratios, and analyst opinions come second. I would much rather invest in A+ management with a C+ product/service over C+ management with an A+ product/service. Today, I will explain to you why even though Snapchat has an A+ product, I hate investing in them.
I have always been an active user of Snapchat. It is a brilliant idea. I can be the first to tell you, Generation Z and Millenials don't want to speak to other humans if we don't have to. We just don't. We would rather order a Big Mac on a computer screen than tell someone our order. We would rather text a significant other to ask them on a date then ask them how it should be done, in person. We would rather avoid having to meet a professor and leave the house everyday and take online classes on our own terms. And we would also want to be able to keep up with our friends and see our friends faces without having to ask them how their day went over facetime. Might seem silly and lazy, but people in Generation Z and Millenials just want to make life as easy as they can.
Well, Snap did that for us lazy young generations. They made keeping up with your friends fun and cool. Snapstreaks became competitive and addicting. Everyone wanted to chat with their friends and flirt with their crush just to brag about how high they could get their snap streak. Snapchat added filters that could make yourself look like you are a dog or have a funny beard. They even added voice changers. It was obviously a growing trend. Upper management saw opportunity in this and added a discover page which would be organized in a grid, displaying stories by companies that sponsor them and their news. I believe it was a smart decision to add this as their ad revenues rose and growth seemed to be steady. While the popularity and growing DAUs was there, and ad revenue was growing, I am not sure as an investor if I care for the adjectives, "Fun", and "Cool". I have been using Snapchat since the beginning of its explosion, and after seeing who uses snapchat most often, and after watching my mother try to figure snapchat out and use it regularly, I will tell you that these ad revenues will plateau and eventually drop.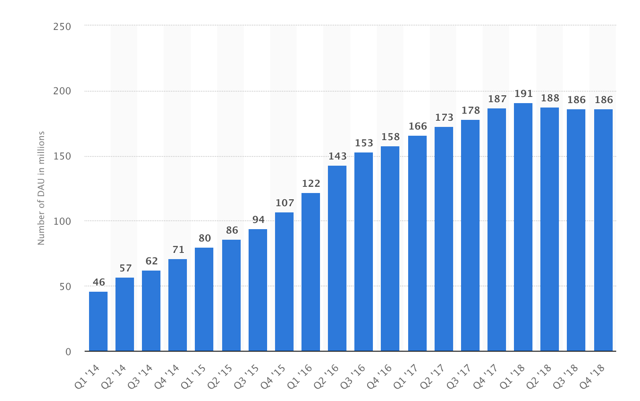 (Source: statista.com)
As you can see by the graph, Snapchats DAU's did explode, but have recently started to plateau. If I am a bull on SNAP, this doesn't concern me that much. What does concern me however is if these Daily Average Users are the users Snapchat is trying to capture when it comes to revenue. Snapchat relies on ad revenue. They post ads before and after your friends stories, and before and after discover stories. They also have companies sponsor filters for example Pringles paid Snapchat to include a mini game filter that had the user try to catch as many virtual pringles as they could in their mouth in a certain amount of time. The thing is, that all you have to do to immediately bypass an advertisement is swipe down. After you swipe down, it's gone and you can continue to the next story you wanted to watch. This is a terrible format to try to capture the interest of a Generation Z or Millenials that wants everything to happen immediately in today's age of social media.
So, as DAU's plateau, the average user Snapchat is getting everyday is a Mother that snapchats her kid thats away at college once a month, and Generation Z's/Millenials that swipe through all of your ads and do not buy any of your sponsored companies products/services.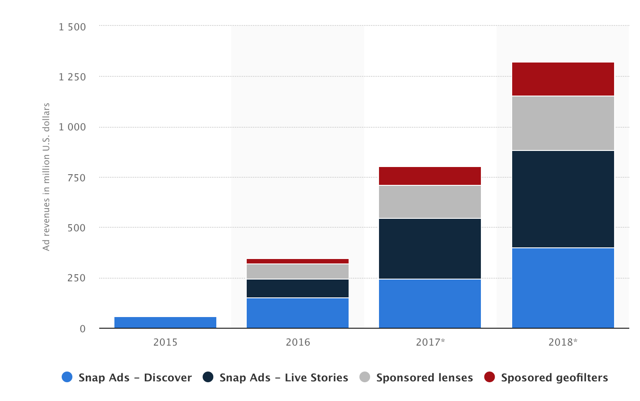 (Source: statista.com)
By looking at the graph above, you can analyze that more than half of Snapchats ad revenue comes from the discover page and stories. However, after personally observing who really uses snapchat daily and who really watches their ads for a couple years, I am confident that less companies will be willing to pay to attach their ads to their stories. I didn't even mention that half of their "discover" stories are people cutting soap and writing #oddlysatisfying for 30 min straight. People will watch one or two people cut soap, but after the fourth, fifth, or 20th, person cutting soap, people eventually get bored. With ad revenue primarily coming from consumers tapping through stories, ad agencies will begin to realize the opportunity cost of putting their ads elsewhere is just too high.
Big social media companies like Facebook and Instagram have recently added "Story" features to their sites. I believe this will be deadly to Snapchats future. Management of Facebook and Instagram have geniusly integrated this feature to their apps while still offering the thousands of other features they already offered.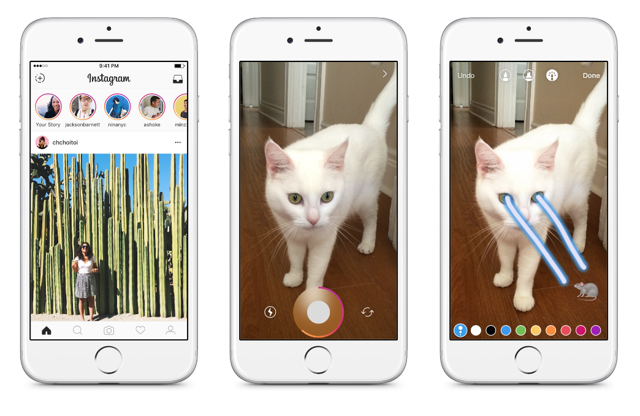 (Source:Introducing Instagram Stories)
Here is an example of what stories look like on Instagram. This is essentially exactly what it looks like on snap. However, this is the only thing snap offers besides sending pictures back and forth. Is is just a matter of time before Snap is seen as pointless and its features are beaten by its competitors.
I like to put snap in the category of a "single-feature" social media company. Another great example of a company like this was Vine, which has been shutdown. I believe Snapchat has replaced Vine as the top single feature social media platform, and that feature is a unique way to broadcast your life to other people. Famous viners who were paid to create content on the site have shifted to Instagram and Twitter.
What I am trying to get at is that these single feature social media companies come and go in this era of trends, and I believe Snapchat has had its time. Now, it is Tik Toks time to capture the demand for a new single feature social media company. Tik Tok is an app similar to Vine in the sense that users make short, usually humorous, videos and post them to their feed. What makes Tik Tok unique, is it's massive database of preset audio tapes that the users make the videos over. It is like a voice changer, but it grabs scenes from famous movies and allows their users to recreate them. They also offer a feature to make a similar video to another Tik Tok user and play them side by side. I know it probably seems extremely confusing, but all you need to know as an investor is that this new app Tik Tok is drawing these Generation Z'ers and Millennials attention away from Snapchat.
Conclusion:
After recent Q4 earnings, Snapchat's price soared over 30% this past week. It is currently trading at 9.08 afterhours up from about 6.90 a week prior. Analysts liked what they heard during the earnings call. CEO Evan Spiegel highlighted their new successful redesign of their android app, introduced new executives, and emphasized that their journey to profitability is getting closer and closer. I do not believe this is enough to long snap let alone a 30% price increase. I believe they are still incredibly far from reaching profitability, and in the long term, they will lose a major portion of their DUAs. I am putting a 2021 price target of low:$4 and high:$5
Disclosure: I/we have no positions in any stocks mentioned, and no plans to initiate any positions within the next 72 hours.