In May, Cocoa regulators of both Ghana and the Ivory Coast who together control about 65 percent of the global cocoa trade came out with a rather novel set of pricing regulations that had stakeholders across the global value chain up in arms due to its ability to introduce considerable risks and disruptions, to business models.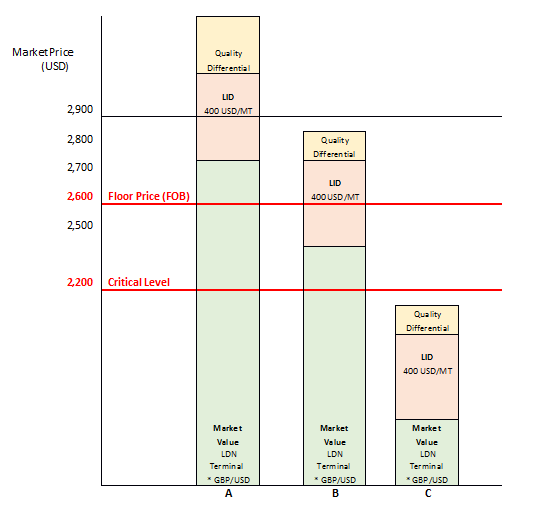 POLICY EXTRACTS AND HIGHLIGHTS:
In recent years, the regulators of the Ghanaian and Ivorian cocoa sectors Ghana Cocoa Board and the Le Conseil du Café-Cacao respectively have been commiserating with the aim of forging common strategies through collaboration, that will help them to better manage the common socioeconomic inefficiencies and challenges that they both face with respect to commodity production, marketing, and revenue mobilization as a means of improving perceived issues of international commodity market inefficiencies regarding price formation, etc.
As a direct result of these deliberations, the two regulators arrived at the following formal and informal preliminary agreements:
ECONOMIC AND FINANCIAL CONSIDERATIONS:
Cocoa Price Floor: The regulators proposed a novel floor price of US$2,600 per tonne on average achieved gross FOB (US$2,700 CIF) for cocoa for the crop. This was initially accepted by all stakeholders. However, some processors, manufacturers, and traders who were present at the meeting requested a follow-up technical meeting to help fine-tune the mechanism for the implementation of this new floor price process/regulation.
Follow-up Technical Meeting: It was agreed that a technical meeting is held on 3rd July, 2019 in Abidjan to fine-tune the modalities for implementing the floor price.
The Abidjan Declaration: The initial works culminated in the signing of the Abidjan Declaration in March 2018. The Abidjan Declaration aims amongst other things "to find a sustainable solution for the improvement of prices obtained by cocoa producers in their respective countries".
Living Income Differential: Going forward buyers of Ghana-Cote d' Ivoire cocoa beans would be expected to pay an extra fixed tax of US$400 as Living Income Differential to better the livelihoods of cocoa farmers in their respective countries starting from the 2020/21 main-crop season.
Legislative Backing: The two countries further agreed to legislate a guaranteed minimum price of 70% of the floor price of US$2,600 of the average achieved gross FOB (US$2,700 CIF) per tonne for cocoa farmers.
Farmer Bonuses: when the achieved average Gross FOB price at the end of the Cocoa Season is between the minimum price level of US$2,600 ($2,700 CIF)-$2,900($3,000 CIF), the farmer would be entitled to bonus payments.
Stabilization Fund: A Stabilization Fund Account shall be established under the Cocoa Initiative of both countries. This fund will be guided by a Charter which would provide the requisite framework for the utilization and management of the acquired funds under a new secretariat.
Revenue Allocations: Responding to a question on how revenues from the account will be used, he said, revenues from the Stabilization Fund would be used to cushion farmers when the price per tonne of cocoa for the season falls to US$ 2,200 average achieved Gross FOB in addition to providing some essential amenities in line Corporate Social Responsibility Programs of both countries.
SOCIAL AND HUMANITARIAN CONSIDERATIONS:
Social and Environmental Imperatives: It was also agreed that the issues of sustainability, relating to traceability, environment and child labor, although important be decoupled from the floor price and to be discussed at another forum.
Temporary Suspension of Crop Sales: Prelude to any further engagement on the matter, Cote d'Ivoire and Ghana suspended sales of the 2020/21 Crop until further notice, in preparation for the implementation of the floor price.
Welfare Effect: According to the regulators, the proposed floor price should help the two countries plow back some of the revenues at the high end of the supply chain.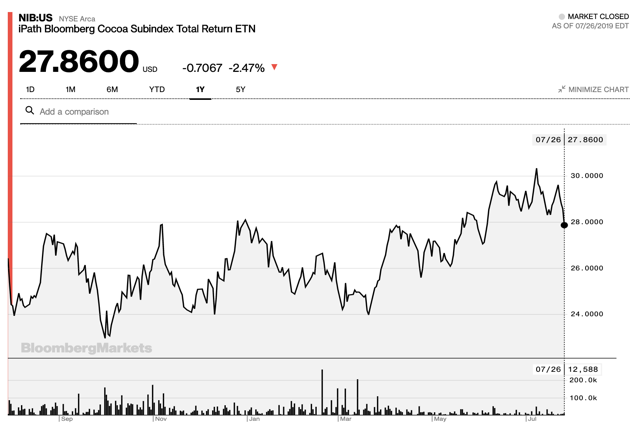 SITUATIONAL ANALYSIS:
MARKET OVERSUPPLY
The market has been in a persistent oversupplied state in the last three years due to oversupply from Ivory Coast. This drove prices to record lows in 2017 and also reduced farmer incomes by as much as a third. Cocoa production in Ivory Coast was up by as much as 2-million tonnes for the 2016 - 17 crop season. According to the International Cocoa Organization, in 2017 alone, the sector outstripped market demand by as much as 300,000 tonnes. Even crop yields rose by as much as 800kg per hectare, over a hundred percent increase ten years prior. And all of this is putting a very strong downward pressure on commodity prices.
RECORD HIGH GRINDINGS DATA
Grindings which tends to serve as a sought of a proxy into the performance of the sector has been at record highs lately. Recent reports on European cocoa grindings are highest since 2002. Grindings volumes being this high is simply instructive. It goes to show global consumer demand and growth to be rather robust. Major grinding sector players such as Barry Callebaut AG (BARN.EB), Cargill Cocoa & Chocolate Inc., Nestle SA (NESN.EB) and Mondelez International Inc. (MDLZ) are all benefiting from strong consumer demand even though they've not been passing on much of the cocoa oversupply savings on to end consumers in the form of cheaper chocolates.
CHALLENGES FACING PRODUCER NATIONS:
Constrained domestic finances: Both Ghana and Ivory Coast's economy are in bad shape. Ghana is in such poor fiscal state due to economic mismanagement by the current administration, that the governor of the country's central bank, Dr. Ernest Addison was on record stating that the government had grossly failed in achieving its fiscal deficit targets again in the first half of this year based on provisional data from the Bank of Ghana (BoG). According to him, the data reveals that the government had once again exceeded its own fiscal deficit target of 2.4 percent of GDP, instead of recording 3.0 percent of GDP, on a cash basis. This he attributed to, "higher-than-projected fiscal deficit outturn was primarily driven by lower-than-expected revenues outturn against the increased pace of spending. The revenue shortfalls were mainly from international trade taxes." This is a government that has missed every single one of its own revenue generation targets since it assumed office while increasing the size of government expenditure by over fifty percent.
On the back of such evidence of economic mismanagement and incompetence, it is difficult to buy the government's argument that somehow European chocolatiers are to blame for the adverse welfare effects that farmers in the sector are currently experiencing. The empirical evidence just doesn't support the argument.
DISTRESSED BANKING AND FINANCIAL SECTOR:
Ghana's banking sector in recent years has been heavily distressed due to large sectoral non-performing loan portfolio that was allowed to pile up in the industry over the years by previous governments due to bad governance aided largely by corruption. Instead of prudently and professionally addressing this sector-wide NPL dilemma in carefully pruning out the bankrupt or lawbreaking banks, instead, the current administration is accused of going a step further by unnecessarily politicizing the matter. By this, they went ahead and revoked the licenses of a few key indigenous banks (UniBank, Heritage Bank', GN Bank, etc.). the irony here is that, Cocoa remains top 3 foreign exchange earner for the country and in difficult times when farmers are unable to make ends meet due to bad crop or low prices such as the one we've been experiencing in recent years, the best chance of a local farmer at securing a loan to help tide them over until the next season with the blind hopes of better prices, is through indigenous banks. Those banks are more accessible to poor illiterate farmers and masses than their European counterparts.
And as a consequence of this kind of misguided sector governance approach, the current cocoa producer surplus, and its attendant depressed commodity prices have been wreaking havoc in farming communities. This is not the fault of Barry Callebaut AG (BARN.EB), Olam, Nestle SA (NESN.EB) or Mondelez International Inc. MDLZ. This is purely a domestic issue and politicians should take full responsibility for the mess they've created rather than coming out with a $400 ad valorem tax on the commodity.
CURRENCIES OF PRODUCER COUNTRIES:
Being that cocoa remains one of the top 3 foreign exchange earners of the country, anytime cocoa prices suffer in the international markets, the local currency the Cedi suddenly experiences the knock-on effects. The last couple of years have seen the Cedi under considerable pressure. The subsequent currency devaluationary pressures are always harsher on the poor farmers. They are the ones who struggle with buying medicine when they are sick or buying enough food to feed the family.
CROP POLLUTION FROM ILLEGAL MINING CHEMICALS:
The prolonged incidence of low cocoa prices is forcing some farmers to rent out the lands to artisan gold-miners, and this relatively new phenomenon is creating an unintended quality nightmare for regulators of both countries. The polluted water and chemicals that the miners produce seep back into surrounding water bodies and cocoa plants. Already there had been incidents of certain cocoa buyers declining their orders upon deliveries due to the presence of unwanted chemicals in the crop. If this goes unchecked, it could only worsen the volatility of the market price to the detriment of the farmers.
WIDESPREAD CORRUPTION:
These days, barely a day goes by without a news report or exposé of a high ranking government official or family member of some powerful politician, being caught smuggling fertilizers meant for cocoa farmers, or payments for cocoa farmers being diverted into the personal accounts of some politician, or even worse, checks provided by bouncing upon deposit for payment, etc. Even the Cocoa Marketing Company (CMC) is on record, admitting that they are bankrupt and in dire need of cash injection. All these high profile incidents point to domestic mismanagement of strategic national assets which culminate in unwanted production and crop output disruptions for the respective countries.
CHILD LABOR:
Cocoa by its very nature is a labor-intensive endeavor and farmers have historically leveraged their children for this task. But there is one problem to this, it creates long-term vicious cycle chains since the kids end up not getting any decent amount of education in order for them to become either more efficient and productive farmers due to their higher educational status or just more productive citizens in general. Thereby perpetuating the cycle of poverty within their families, rather than breaking it.
UNFAVORABLE WEATHER CONDITIONS:
Due to global warming, whether in cocoa-growing areas in recent years have hovered around the extremities. Thus making the dry seasons, locally known as harmattan, to become dryer, followed by a prolonged period of drought. And then the rainy reasons have also become wetter. Worsening humidity around the crop and adversely affecting crop yields. Regulators from producer nations need a concerted policy on breeding crop varieties suited to weather extremities.
INCREASED INCIDENCE OF CROP PEST AND DISEASES:
There has been an increased incidence of reports of crop disease and pestilence in both countries. This could be easily managed well with an effective spraying program in both countries, why this issue has been left to deteriorate to a point whereby it Bloomberg is beginning to report crop delivery shortfalls in Ghana is another categorical indictment of the local administrators.
UPCOMING ELECTIONS:
This critical policy is scheduled to go into effect from the 2020-2021 cocoa season that starts on Oct. 1. That's just weeks before the presidential elections in the Ivory Coast and just a couple months shy of the Ghanaian polls, thereby potentially helping the incumbent governments to score cheap votes from poorly educated farmers by saying to them, "see, I am the candidate that fought the big bad Capitalist in your favor and won you a living income differential." Whether or not these political gimmickry works remains to be seen.
POORLY PLANNED AND COMMUNICATED POLICY:
Even weeks after the policy had been announced, both heads of the regulators Joseph Boahen Aidoo of Ghana and Yves Brahima Koné of the Ivory Coast did not seem to have any practical idea as to how the policy will work. It was stakeholders at the joint announcement of the program in Accra in June, who insisted on a follow-up technical meeting in Abidjan to be scheduled for July 3 to hash out the details. Cocoa is a strategic sector for both countries and a critical foreign exchange earner for both economies. Hence, for the ministers of these two countries to approach such a critical policy regime without any thorough research and planning is an indictment of the political motives behind this announcement.
CURRENT MARKET PERFORMANCE:
Since the announcement of this new cocoa price floor policy, cocoa ETF's have seen a brief uptick in traffic as media platforms have published articles in an attempt to rationalize the unfolding events. The iPath Bloomberg Cocoa (NIB) at the beginning of June when the announcement was made was trading at $27.05 as of June 3rd. Then temporary volatility from the news kicked in and drove the ticker to a periodic high of $30.33 on July 8th. Then a couple of weeks later, the ETF seems to have self-corrected a bit to $27.86.
Overall the stock is still far from its five year high of 43.84 and its ten years high of $52.15 that it achieved in March 2011.
Commodity traders should look to capitalize on this period of volatile that is largely driven by fundamentals and market sentiments to reap some yields from cocoa related ETF's and chocolatiers. Buying and holding these assets on shorts will be the best bet since persistent oversupply by Ivory Coast and drastic policy regimes such as the new floor price regulation is bound to continue bouncing these assets to extremes.
CONCLUSION AND KEY TAKEAWAYS:
Endogenous inefficiencies: The bottom line is that supply-side mismanagement in the is unnecessarily creating adverse commodity price volatility that is hurting producers and the vast majority of mismanagement related issues that are responsible for this adverse pricing development are endogenous. The affected governments need to address these issues to stabilize production and cocoa prices on the international markets for the betterment of their hardworking farmers. Anything short of this is tantamount to fiduciary negligence on the part of these two governments, and a weak attempt at scapegoating Western chocolatiers for the mistakes of the Ivorian and Ghanaian governments.
Policy reflexivity: The governments of these two nations have a lot of work to do if they win back the confidence of their citizens and that of the international community at large. Cheap gimmickry won't cut it; instead, it will only worsen the standard of living for the millions of hardworking citizens who rely on the cocoa sector both directly and indirectly.
Crop production optimization: Sector administrators have done an excellent job improving crop productivity which is clearly reflected in the record-high farm yield per hectare numbers. However, they have failed to control critical aspects such as bringing on board new farmlands (most illegally by destroying protected subequatorial forests). And this is the single biggest contributor too low cocoa price problem. At the same time, this overproduction issue also exacerbates the child labor problem. It is a domestic issue that needs to be dealt with domestically rather than blamed on the internal markets.
Exacerbation of the current oversupply problem: In its current format, the policy is rather likely to send the wrong signal to farmers that the price has improved and hence they should produce more in order to earn more money. In the end, this will rather worsen the glut in the market thereby crashing the price even further.
Disclosure: I/we have no positions in any stocks mentioned, and no plans to initiate any positions within the next 72 hours.