After analyzing the rate of Bitcoin for the last year, it becomes obvious that the value of the digital asset is stable enough for the cryptocurrency.
According to Buybitcoinworldwide.com, Bitcoin volatility has not exceeded 6% for more than a year, although this value varied between 10-14% years earlier. Such relative stability is not inherent in other cryptocurrencies: less than a month ago EOS rate increased by 20%, while the ETH value increased by more than 10% against a background of the upcoming hardfork. One way or another, one thing is obvious: judging by the chronology of bitcoin volatility, this cryptocurrency has become more stable than ever.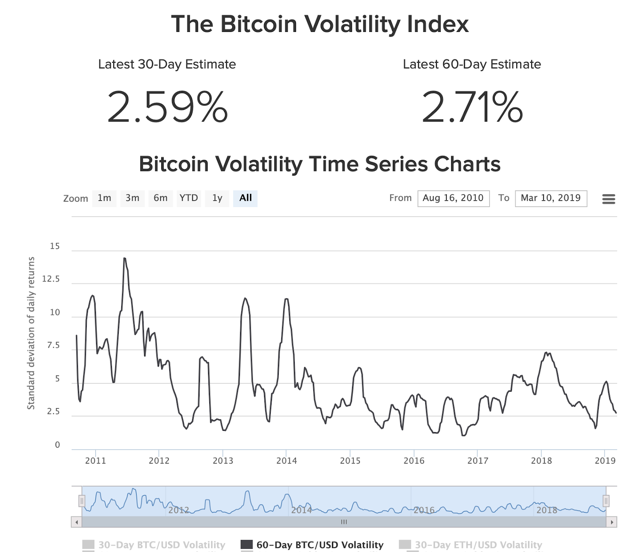 Despite the fact that interest in cryptocurrency fell to the values ​​of the beginning of 2017, many experts are optimistic and believe in a significant increase in the Bitcoin rate. This is also evidenced by the growth in trading activity on cryptocurrency exchanges that has been fixed recently. Bitcoin has already managed to partially compensate for the rate collapse, which has been occurring since the beginning of 2018.
In general, the rate dynamics depends on the comments of large investors. The trend of Bitcoin price growth may be related to the connection of professional traders to the process of promotion of cryptocurrencies. Many investors are convinced that bitcoin remains undervalued currency and predict a reversal of the trend.
For example, Anthony Pompliano, crypto expert, co-founder & partner at Morgan Creek Digital, said that Bitcoin is a sleeping giant who can wake up at any moment and surpass the figures of global transaction leaders. He noted the advantages of Bitcoin development as a payment system, capable in the near future to surpass the indicators of such leaders of transactional payment processors as Visa and Mastercard.
So Mike Novogratz, a former partner of Goldman Sachs and the founder of the Galaxy Digital Bank, cited $8,000 as a feasible medium-term price point of Bitcoin highlighting that it's unique among the rest of the cryptocurrencies with the ability to be used as a potential means of long-term investments:
"There are 118 elements on the periodic table, and only one gold [GC] […] Bitcoin is going to be digital gold, a place where you have sovereign money, it's not U.S. money, it's not Chinese money, it's sovereign. Sovereignty costs a lot, it should."
CoinSpeaker representative Daniel Harrison is more modest in his predictions. He reported that the Bitcoin price could rise to $30,000. Such positive changes can be associated with upcoming hardforks of some top altcoins. Many other investors consider investing in Bitcoin to be promising as well, so the cost of cryptocurrency in 2019 can increase significantly. One more reason for that may be legislative changes in China.
However, there are controversial statements. AngeloBTC, a widely known Bitcoin trader who has formed digital assets from thousands of BTC. At a certain point, against the background of the 2017 bull market run, they were valued at tens of millions. He showed that in their current form, cryptocurrencies are comparable to the tip of the iceberg. In his opinion, the market capitalization of $1 trillion still doesn't reflect the capabilities of BTC and digital assets in general. For this reason, he considered that Bitcoin would either succeed, rising at least several times in price, or fall dramatically.
What will happen with cryptocurrency in the foreseeable future and most importantly, is it possible to earn on cryptocurrency in 2019? There is no doubt that money can be earned.
Mining
Given the fact that the mining complexity of top coins continues to increase, at first glance it may seem that the benefit of mining decreases rapidly. Analytiсs Agency Fundstrat conducted its own research based on the latest mining trends. Experts believe that the increase in the cost per block mined will help reduce volatility. At the same time, the cryptocurrency rate is about to grow.
It's also interesting to note the following: according to the Diar research, in the falling market in 2018 Bitcoin miners received $5.8 billion in revenue. Compared to the leading traditional companies, the Bitcoin network holds a strong place in the TOP of the revenue list, despite the fact that the technology is still in the early stage of development.
Does it make sense for beginners to start mining now?
For those who are interested in short-term profits, it's not the best idea to get involved in mining. At the moment, mining is a great opportunity for cryptocurrency enthusiasts since those who believe that everything will become stable eventually will be engaged in cherry picking.
At the same time, it is still possible to see large investors who enter the niche right now expecting to make a profit later. In addition, thanks to the collapsed market, the complexity of mining has fallen in recent months. And this is another advantage for those who continue to mine coins. Over the past three months, the complexity of the Ethereum network has decreased by 10%, and Bitcoin by 18% due to the fact that a huge number of S7 ASIC miners were disabled due to unprofitability.
As for the choice of cryptocurrency for mining, it's worth focusing on the TOP 20 coins in the overall ranking which can be found on Coinmarketcap. Service Whattomine can be used to search altcoins, which seem more profitable, but it shouldn't be forgotten that, alas, there is no certainty in these altcoins and in a month the price can fall significantly.
Judging by the topics that will be discussed at many blockchain conferences this year, mining can become one of the key sources of income - 2019 promises to be a new era of mining. Today, this question remains open, but how exactly mining will be transformed and how to get the maximum benefit will be discussed at one of the largest forums with more than 3000 attendees - Blockchain Life which will be held on April 23-24 in Singapore: the best locations, equipment, optimization of business processes and insights from experienced miners from around the world in one place.
In addition to mining, the forum will discuss other promising areas of the cryptocurrency sector which can also become profitable: TOP coins that are worth paying attention to, the future of the stable of coins and STO, hundreds of funds, life hacks and tips for investors and startups and experts insights and forecasts regarding the cryptocurrency market.
A new era of STO. Does it make sense to invest in startups?
The main point is not to forget that as in the case of any other investment product, there is no confidence in any profit. If the offer sounds too good to be true, it's most likely a scam.
According to Ico.tokens-economy.com ICO projects for the first two months of 2019 collected 13 times fewer funds than for the same time a year ago. The fact is that 2018 ended with the crisis of the ICO industry. If in the first three months of 2018 projects profit amounted to more than $1 billion, then in December this figure was slightly higher than $74 million.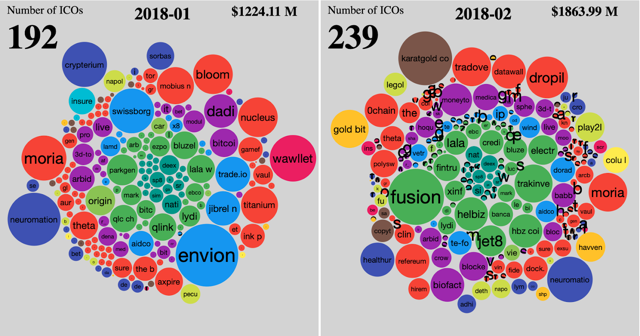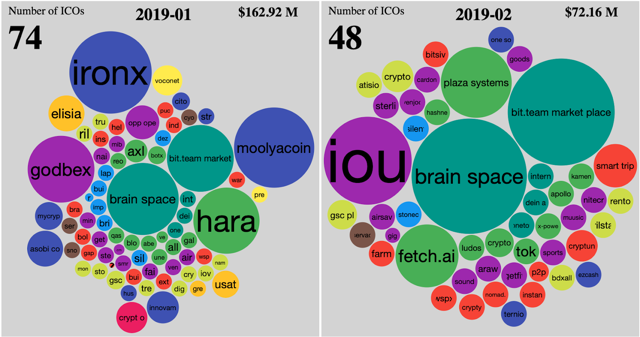 The ICO success rate in February decreased to 29% (compared to 32% in January). To date, there are 439 active ICO, and 48% of them don't have MVP. This means that more than 200 ICO that are currently raising funds don't have a working product to convince interested investors.
Here should begin a new era for ICO - a new model of fundraising called STO is supposed to be better and safer for retail investors than ICO. However, very few projects in the crypto space have followed this direction. Security tokens are considered by analysts as a tool for returning the popularity of the digital market. Probably, for this reason, the number of STO projects is growing in the world daily: according to the statistics of Autonomous Research, in 2017 there were only 2 STO, in 2018 — 25, and in 2019 at least 87 are predicted.
The best way to understand what is STO and dive deeper in other abbreviations of crypto market is to join the gathering of experts and speakers during one of the upcoming blockchain conferences: at least 34 conferences will be held in the next month around the world, but the greatest concentration of forums and summits is observed in Asia: Token2049 conference is taking place in Hong Kong during the Asia Crypto Week, Block Hedge 2019 - in Thailand, World Blockchain Summit - in Taiwan. The full list of conferences is available on Сointelligence.
An alternative to cryptocurrency conferences is a detailed study of crypto guru's tweets and blog posts and the use of the financial and investing tools necessary for a cryptocurrency user to replenish his wallet. About a number of such tools can be found on TheNextWeb.
And one more tip - it's always possible to make money on bug bounty and writing articles/posts as part of the promotion of the next blockchain project. The reward size, in this case, is rather small (unless you've found a zero-day vulnerability or work for the White hat hackers who have been awarded $878,000 in bug bounties last year) but it will improve your skills and expand your further opportunities.