EURUSD has broken 1.1250 support, which means it is going lower
How low can it go?
Lets see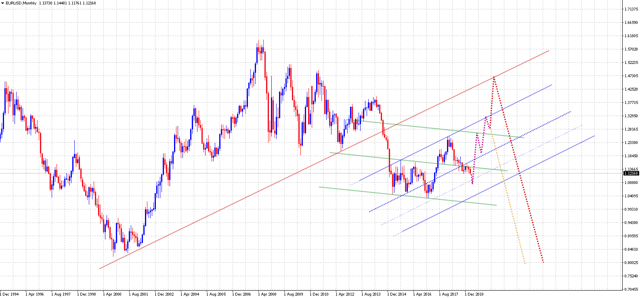 The blue channel is the current upwards channel. We can see that it is trading below its median line, which is not bullish, because usually market tests the other boundary of the channel before a significant bounce happens. But it might bounce of the median line of this half of the channel too. The reason I am not projecting the bounce to start from the other side of this channel is because uptrend would be broken. So, it must bounce from half distance to have expectation for a considerable move up.
The green channel is the current downwards channel. We can see that it is also trading below its median line (I should draw it in dotted style), which is not bullish also. And market also can bounce from half distance of this channel.
This is why we have to wait for the signal, I am expecting a candle with a sharp tail. Or a close with no tail followed by another candle with no tail. Some sort of volatility spike, or viceversa, very very low volatility on monthly basis.
EURUSD is not a short with this wave structure, market must shake before it takes direction, either up or down, but "up" is more favorable.
In pink color I am projecting the path for weak correction: low -> 1.2500 - > 1.1800 -> 1.3200 , and then down move in yellow
In red color I am projecting the path for strong correction: low -> 1.2500 -> 1.1800 -> 1.3200 -> 1.4700 , then down move in red
Can it REALLY go to 1.4700 ? Yes, it can go to 1.4700 if we make a low into 1.0400 from here, which is also possible btw, and I am not even considering this outlook in my chart!!! So, maybe this is exactly what is going to happen. If this is the case, it would mean the B wave was too deep, so the C wave would be the double of the wave A, and our wave A is the move from Dec 2016 (1.0352) to Jan 2018 (1.2537), which is 2,185 pips. So, wave C would be 4,370 pips (the double),  1.0352 + 4370 = 1.4722 , and 1.4722 is just an ideal pivot point! And it also under the trendline that EURUSD has broken, an ideal case for a retest of broken trendline, which didn't happen in 2014!!! Do you see how logically is everything tied up here? Amazing! Just imagine how much money can be made on such volatility, if this scenario takes place!
Now take a look at this chart (made by the "Zones" indicator in MetaTrader)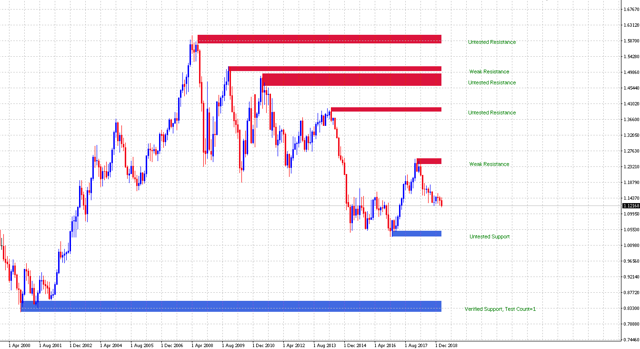 Do you see that 1.0400 is shown as "Untested support" ? That's another reason to make a long-tail (monthly) candlestick into it, so the bounce towards 1.4700 is totally justified.
But if we see the upper side of the chart, it is even mind-blowing, "Untested Resistance", "Untested Resistance"  , "Untested Resistance" all over the place!!! This market is definitely going up!! There is no way the downtrend will continue with such dirty technicals.
Very interesting stuff.
Have a nice trading everyone.
Disclosure: I/we have no positions in any stocks mentioned, and no plans to initiate any positions within the next 72 hours.