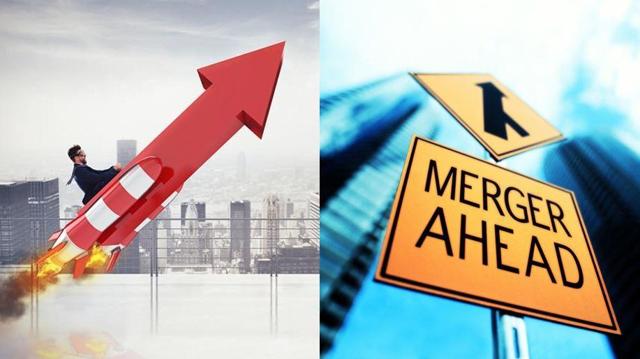 Miami, FL – April 24, 2019 (undergroundstocks.com Newswire) – UndergroundStocks.com, an elite wall street independent small cap media group with a history of bringing lucrative opportunities, Reports on Dana Resources (OTC:DANR).
Potential Merger
DANR is starting to get some eyes from the investment community due to a potential reverse merger. Currently the stock is a shell (A Shell Company is a company, other than an asset-backed issuer, with no or nominal operations and either 1) no or nominal assets; 2) assets consisting of cash and cash equivalents; or 3) assets consisting of any amount of cash and cash equivalents and nominal other assets, as defined by Securities Act Rule 405 and Exchange Act Rule 12b-2. SEC reporting companies designate their shell status in their periodic filings).
A company like DANR with only a 500M AS and clean is already attracting private companies seeking to go public through a reverse merger. Bitcoin and Cannabis are the hottest sectors now. Private Bitcoin company OKC Holdings Corp, is looking for a vehicle (A Shell) like DANRto go public to avoid going through the complexities and regulatory intricacies of an official IPO.
Reverse Merger Takeover
ISBG, a hot cannabis company with multiple CBD products, is currently public and trading under the ticker symbol ISBG. The company is working several issues with the OTC Markets at the moment but speculators are pitching the idea for ISBG to take its assets over DANR via a reverse takeover.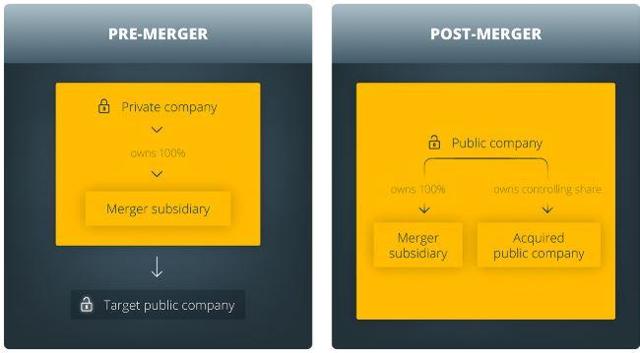 DANR Breaking-Out
This undervalued stock should be in everyone's watchlist. DANR current share structure is the following: AS 500,000,000 million, OS 435,144,980 million. The market cap at the time of writing was $261,087. The current share price is $0.0014.
DANR Chart
Today the stock saw a spike to .0014 breaking major resistance at .0009 and .0012. The stock is expected to continue its momentum, with an AS of 500M only the sky is the limit here. Our chart technicians are predicting a potential move to .0025-0050 area.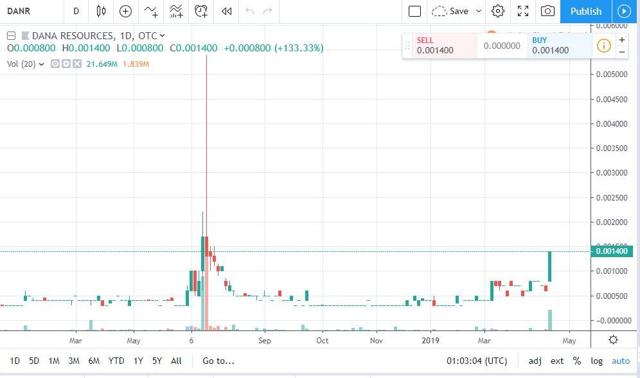 About UndergroundStocks.com
Undergroundstocks.com is an elite wall street independent small cap media group with a history of bringing lucrative opportunities. We are well known for discovering undervalued companies and bringing them to the attention of the investment community. UnderGroundStocks did not receive any compensation for this piece.
All information contained herein as well as on the Undergroundstocks.com website is obtained from sources believed to be reliable but not guaranteed to be accurate or all-inclusive. All material is for informational purposes only, is only the opinion of Undergroundstocks.com and should not be construed as an offer or solicitation to buy or sell securities. The information may include certain forward-looking statements, which may be affected by unforeseen circumstances and/or certain risks. Undergroundstocks.com and its associates may have a position either long or short in any company mentioned herein. Please consult an investment professional before investing in anything viewed within this article or any other portion of Undergroundstocks.com.
Social Media:
Follow us on twitter UnderGroundStocks (@USPicks2014) | Twitter
Follow us on Facebook UndergroundStocks
Follow us on Instagram UndergroundStocks (@undergroundstocks1) * Instagram photos and videos
Follow us on YouTube Underground Stocks
Contact:
UnderGroundStocks