Opera, an almost all-in-one investment. Opera Software ASA (Opera) assembles emerging markets-, tech-, mobile-, small cap- and growth-investments, all in one share.
About Opera
Opera, a pioneer in mobile browsing, was founded in 1995 by Jon Stephenson von Tetzchner and Geir Ivarsoey, two staff-members of the Norwegian telecommunications company Telenor. Opera Software ASA went public in early 2004 and since then it is listed on the Oslo Stock Exchange (ticker OPERA) and headquartered in Oslo, Norway. In the USA, the American Depository Receipts (ADR) are traded over the counter with the ticker symbol OTCPK:OPESY (ISIN US68371J060).

The Opera group nowadays contains several technology corporations, such as AdMarvel Inc, an ad-serving and mediation platform, Mobile Theory, a premium mobile ad network in the United States, 4th Screen Advertising Ltd., a premium ad network in the United Kingdom, FastMail.FM, an email provider and Skyfire, the browser developer and network and video optimizer. The first three units, mentioned above, are combined as Opera Mediaworks.
Small Cap
With total assets of $402 million and a market capitalisation of $1.3 billion you may consider Opera as a true small cap, even if it is a global player in terms of mobile browsing. Currently, Opera counts 125,802,816 shares (fully diluted) or about 62.901.404 ADRs. The Opera ADR is not listed on a US exchange, but trades in the over-the-counter market, at which each ADR is equivalent to two shares. Most of the market capitalisation can be considered as free float.
Growth
In the latest presentation, Opera says they enable more than 400 million internet consumer to connect and discover the world wide web. And the number is growing. Alone the number of its mobile users has grown more than 20% during the last 12 months, from 210 million to more than 260 million active monthly mobile users. Especially the completely renewed Opera Browser for Androidsmart phones and tablets was a huge success. The number of active monthly Android users grew more than 100% from 25 to 65 milllion in July 2013. Globally, Opera was the leading mobile browser brand until the summer of 2012. Nowadays Opera takes the third position, just behind Android and Apple, which are both showing a falling tendency, while Opera`s mobile market share seems to be gaining slightly again.
Another growth story during the past few years is written in Opera´s balance sheet. Revenue climbed 35%, from $160 million in 2011 to $216 million in 2012, and is expected to be above $280 million in 2013, while the shareholder equity rose from $117.5 million in 2011 to $143.8 million in 2012. In the current year, Opera reported equity of $173.5 million for the third quarter 2013.
Emerging Markets | Global
Opera is one of the leading mobile browsers of choice in Emerging Markets, such as China, Indonesia, Russia, South Africa or Vietnam. In addition, Opera is member of Internet.org, a "global partnership between technology leaders to bring the internet to the rest of the world's population", initiated by facebook (FB). According to Opera`s "State of the Mobile Web" report , the top 20 countries with the highest rates of Opera Mini usage are: Indonesia, Russia, India, China, Ukraine, South Africa, the US, Vietnam, the UK, Kenya, Kazakhstan, Poland, Nigeria, Malaysia, Belarus, the Philippines, Egypt, Germany, Brazil and Bangladesh - most of them are in the Emerging Markets.
Technologies | Products | Services
After geographical markets, let us have a look at the technical offerings of Opera.
Opera Mini and Mobile: The main difference between Opera Mini and Mobile is the use of a proxy server for the Mini version, which scales back the website for mobile use, thereby decreasing download volume for mobile users, which in turn saves money. In general, the Opera Browser for mobile devices is best-of-breed. It is fast, comfortable and easy to use. And Opera can proudly look back to a time when the expression "smartphone" was not even born. I used my first mobile Opera browser on a Psion Series 5 mx pro (a PDA) with EPOC Release 5 OS towards the turn of the century. Today, the Opera Mini and Mobile are available for almost every feature phone or smartphone, be it a Symbian/Nokia (NOK) device, a Windowsphone, an iPhone, BlackBerry or an Android handset.
In addition to the mobile browsing experience, Opera also offers the Opera Mobile Store and Opera Mini Smart Page . The Opera Mobile Store is a special offer for cell providers who want to take part in the amazing app business with co-branded shops as well as their own offerings. And of course, Opera runs their own mobile store, too. The Opera Mobile Store lures about 2.6 million visitors daily and offers more than 55,000 apps. With the Opera Mini Smart Page, the user can individualize his mobile start screen by including the latest news from his social networks, such as twitter or facebook, and automatically get the latest headlines from his favorite news sources on the start screen of the mobile web browser.
Skyfire and Coast: In 2013, Opera bought Skyfire, which is a leader in the field of network and video optimization, monetization tools for mobile providers and mobile browsing. The Skyfire browser was among the leading browsers for Android, iPhone and iPad. There was even a Skyfire version for Nokia`s Symbian devices, but that is now history.
Also in 2013 Opera introduced a Chromium based Android- and desktop drowser. For the global iPad community, Opera introduced Coast , a snappy browser which turns the iPad into a surf board for urban professionals. As Opera reported proudly: Just after release,"Coast has been on the top of the lists in Germany, Norway, Poland and a whole bunch of other countries - as well as number five in the U.S. App Store list."
Opera Web Pass: With Opera Web Pass, mobile internet users will be able to make use of an affordable and simple pay-as-you-go service for their mobile phones. A user just needs to start Opera Mini on any mobile phone, click "Opera Web Pass" in the Speed Dial start page and choose from a list of web pass subscriptions, allowing mobile customers to purchase from a range of user-centric packages to suit their internet access needs.
Opera Desk Top Browser: The market share of Opera Browser for PC and Mac is, and always has been, tiny. And as far as I know it is even declining, despite recent innovations, such as private surfing, tab surfing, speed dial bookmarks on the start screen and so on.
Opera Mediaworks: As given in the intruduction above, Opera Mediaworks contains the three subsidaries AdMarvel Inc, an ad-serving and mediation platform, Mobile Theory, a premium mobile ad network in the United States, and 4th Screen Advertising Ltd., a premium ad network in the United Kingdom. In its own words: Opera Mediaworks is the world's largest mobile advertising platform.
While all the world is still watching the mobile wars, Opera already is one step ahead to conquer our smart TV screens.
Opera for Smart TV: Opera also offers web browsers for Smart TVs and other connected devices. The offering for smart TVs is accompanied by Opera TV Store, a service where one can download TV-Apps right to the TV screen, and Opera TV Snap, a groundbreaking Smart TV app-developing tool.
Valuation & Market
Last quarters revenue is up 40% compared with the last year and the share has already increased by more than 130% in 2013. But that doesn't seem to be the end of the journey. Recently we see the end of a consolidation in the share price, which could still lead to lower prices before the rally starts and continues to new highs of around the NOK 100 mark. Goldman Sachs has a target of NOK 90, while I believe in round numbers a price slightly above the NOK 100 mark.
Even an offering of up to 8 million new shares could not seriously hurt the share price. The chart still looks on track. In early November, Opera Software ASA increased its capital by about eight million new shares, or 6.5% of the existing share capital. The subscription price of the new shares was NOK 68.50 per share. The current price on the Oslo Stock Exchange is in the mid seventies. The "Gross proceeds from the Offering amount to NOK 548 million", as Opera reported. And Opera continued to say:"The net proceeds will be used to increase the Company´s capital base for current and future strategic acquisition activities and obligations." Due to the new share issue, Opera's share capital will increase to NOK 2,629,050.64 or 131,452,532 shares with a nominal value of NOK 0.02 per share.
Compared to Google's (GOOG) market size of $ 355.17 billion Opera is a dwarf with its current valuation of $ 1.45 billion, but a glimpse at the chart shows which one is a real growth stock. While Google showed a breathtaking increase of 220% in a five year term, Opera's share price went through the roof by soaring a neck breaking 400% during the same period.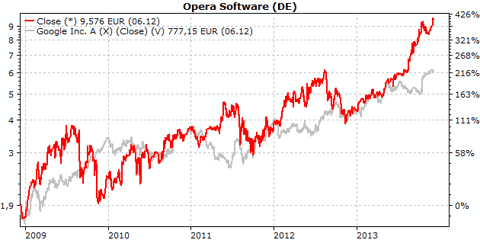 Opera vs Goole in EUR | Chart: Market Maker
In all, despite the fact that Opera wants to strengthen the shareholder equity, the company feels financially strong enough to pay a small dividend. Nevertheless, Opera is no dividend-stock by definition. The share price gets its support rather from the high equity ratio and equity growth rate. But also the earning site looks bright. For the current year, I expect an earning per share of $0.25 in 2013, compared with $0.47 for 2014, while the consensus expectations are even higher with $0.30 and $0.50 respectively, which clearly shows that there is still some room to grow.
Further fuel for higher shrare prices comes with occasional rumors, such as of the take-over interest by facebook early 2012. I myself could rather imagine a tighter relationship or cooperation with Apple (AAPL) , because both offer sophisticated products and have a strong interest in smart TV and mobile life. Especially the first one offers a perfect fit, because Apple makes the hardware and Opera the software for smart TVs. And in terms of mobile - there are reasons why Opera´s Coast is one of the leading downloads in Apples App-Store. Even without such big names, however, Opera will continue to grow.
Disclosure: I am long OTCPK:OPESY.