Last week, ROKU reported strong 2Q19 results, including total revenues of $250.1MM up 59% YoY with platform revenues of $167.7MM up 86% YoY and represented 67% of sales. Gross profit was only $114.2MM, or 45% of sales, indicative of a Company that is reselling technology, aggregating content and inserting advertising for other Companies. EBITDA was neutral as the Company is spending all monies on growth. Investors and analysts cheered the results driving the stock up 35% or $4BN in market cap. in three trading sessions since the report.
The Company is hitting on all cylinders with 30.5MM active accounts up 1.5MM sequentially driving a whopping 9.5BN hours of viewing up 0.5BN sequentially with monetized video ads up 100% YoY. However, these metrics are for endpoints simply accessing the ROKU platform, not for customers paying the Company a monthly fee or that are under any contracts. None of the boxes ROKU sells are its own technology, nor is any of the content served on the ROKU system created by ROKU.
The Company guided for a flat third quarter including revenues of $252.5MM, 47% gross margins and a slight EBITDA loss of $8MM. These numbers indicate that the growth rate of ROKU is slowing which will likely disappoint investors mightily later this year. We think some of this top line slowing may be due to the law of large numbers and activation commissions and residuals - off monthly ARPU of $21 - decreasing and/or being pressured by ROKU partners.
All this said, the valuation has become absurd at roughly $16BN, or over 15x 2019E mid-point revenues of $1.0825BN and 12x 2020E revenues of $1.3BN. We think investors may be relying on inaccurate data supplied by financial platforms such as Yahoo!, which list shares O/S at 85MM whereas the existence of 31MM Series B shares and stock options boosts diluted shares to over 120MM. This anomaly alone if properly reflected by the investment system should cut ROKU shares down by 30% from current levels.
Given ROKU is an aggregator of customer traffic assembling a basket of streaming and content providers who pay the Company commissions for customer referrals and advertisers who insert ads into ROKU's system, and since there is nothing proprietary about the ROKU network except time to market, we peg fair value for the stock well below current ranges. Using 4x – 6x multiples on 2020E revenues of $1.3BN = $5.2BN - $7.8BN. Adding in just under $400MM cash and based on 120MM diluted shares generates a fair value for ROKU today of $5.6 - $8.2BN, or $47 - $68 per diluted share.
Given the stock has run from about $30 one year ago, since the company has diluted shareholders on the way up with an At The Market (ATM) offering of equity, and given we expect ROKU to imminently dilute shareholders again by taking down an offering from a shelf registration filed a few months ago, we see downside risk to last night's close of $135.
While we like ROKU's product and positioning and see continued growth it just can't come at any price. The Company lacks any moat around its business while it competes with titans such as Google, Amazon and Microsoft. Against this backdrop, we initiate ROKU with a STRONG SELL recommendation. We think it is irresponsible that a well-known analyst in her ROKU upgrade yesterday morning indicated a preference for ROKU over branded, global streaming providers such as Netflix and used a similar valuation multiple for ROKU as currently being applied to that bellwether. There is nothing more to ROKU than excellent distribution of a commodity appliance and operation of an ecosystem that has limited barriers to entry other than the claim to fame that it has spent hundreds of millions of dollars over many years to create an ecosystem. Such a promotional analysis is reckless and a potential violation of FINRA rules requiring a reasonable basis for securities recommendations.
Though we see downside to the double-digit stock prices, our near-term ROKU price target is $100, or an enterprise value of $11.6BN and roughly the level of the Company's 2Q19 earnings release and still up 250% - 300% YoY. Longer term, as the haze clears around ROKU's model of reselling and aggregating other technology, content and services, we predict the stock will suffer a severe valuation setback the likes of which has not been seen since the browser wars of 20 years ago (Netscape Navigator - Netscape Navigator) which would bring the valuation down by over 50% from last night's euphoric close.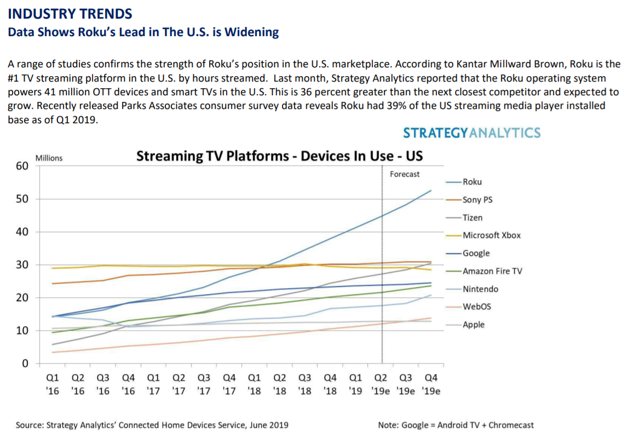 Disclosure: I am/we are short roku.
Additional disclosure: We intend to provide follow-up commentary in our continuing coverage of ROKU.