Why NIO is due for a reversal?
Nio is a popular speculative stock since it's inception to the market last year. It has a disastrous earning last quarter. Due to speculative nature of this stock, price took a deep for almost one month. NIO's stock price lose half of it's value before the earning during month long sell off. Which is, in my view , way oversold situation. As it is a speculative stock, I am not going to do any fundamental analysis for this one. Rather, I will rely on technical analysis for short term investment before next earning.
Technical Analysis :
During it's short trading history NIO's RSI(14) never touched 30 until recently for two days at the end of March 2019. Now the RSI value is at 36.46. Nio never had sharp fall below 50 during uptrend RSI(14)  In addition, NIO's MACD had a bullish crossover last week. This two indicates safer technical odd to buy this stock.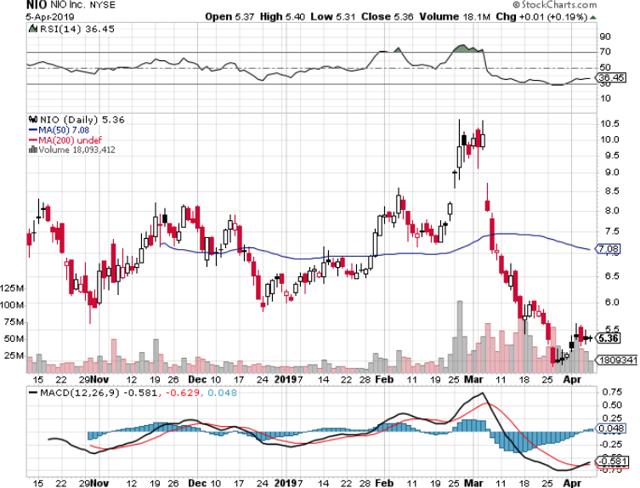 Follow the smart money:
NIO was already a popular stock before the earning. About 62K people owned that stock before the earning on a popular trading platform. I have the plot of how popularity of this stock jumped from 62K to almost 76K during the sharp fall of this stock for one month. That clearly indicates sell off doesn't scare away smart investors, rather smart people knows at this price this stock is a bargain. Citigroup upgraded this stock from neutral to buy and Bank of America upgraded it under perform to neutral on April 04, 2019.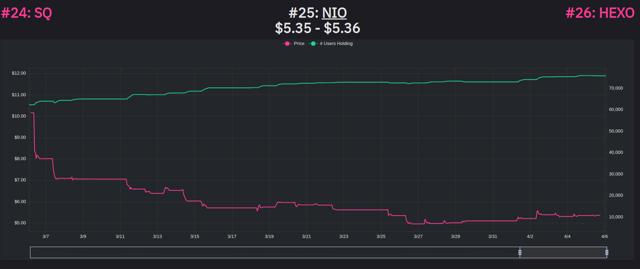 Normal Distribution Analysis:
Stock price is often normally distributed(more precisely log normally distributed). There is always a tendency of stock price moving to a it's mean value after sell off is over . The next plot depicts the Normal distribution for each trading day closing price.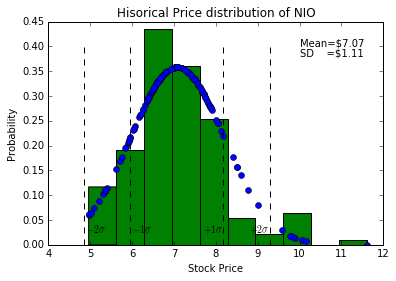 The mean value of the stock until last week was $7.07. There is good probability that the price move back close to or beyond it's  mean value before the next earning. The historical low of this stock was $4.9. In normal distribution, 68% of the values fall within one SD, and 95% values fall within two SD. Below $4.85 the stock price would have been at 2.5% south of the price distribution, which indicates $4.9 is the bottom for now, and NIO was a steal at that price. At current price $5.36 NIO is strong buy until next Earning
Sources: Yahoo finance, StockChart.com, Robintrack.net
Disclosure: I am/we are long NIO.
Additional disclosure: I am an independent investor and I have a small position of this stock below the current price of this stock.