Many established biotechs may outperform
Figure 1 shows dozens of stocks with double-digit price gain prospects in coming weeks and months. The better ones have experienced smaller worst-case price drawdowns than several of the "high-quality" DJ-30 stocks.
Figure 1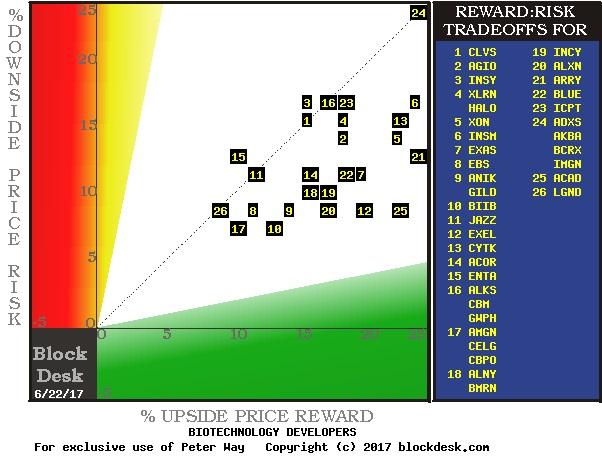 (used with permission)
Upside price rewards are from the behavioral analysis (of what to do right, not wrong) by Market-Makers [MMs] protecting themselves from possible damaging future price moves. Their forecasts are measured on the green horizontal scale. The risk dimension is of actual prior price drawdowns at their most extreme point while being held in the pursuit of upside rewards similar to the ones currently being seen. Those are measured on the vertical red scale.
Both scales are of percent change, ranging from zero to 25%. Any stock whose present risk exposure exceeds its reward prospect will be above the dotted diagonal line.
The more competitive current securities are Biogen, Inc. (NASDAQ:BIIB) at [10], Acadia Pharmaceuticals (NASDAQ:ACAD) at [25], Exelixis, Inc. (NASDAQ:EXEL) at [12], and Alexion Pharmaceuticals (NASDAQ:ALXN) at [20]. They each "dominate" all other choices of returns to the left of them with higher (on the risk scale) upwards locations.
Conclusion
The competitive buy candidates each have other defining dimensions - like odds of recovery from price drawdown risks, typical holding periods to reach upside price targets, and other considerations - which may justify different choices in the mind of any investor. But Risk and Reward tradeoffs ought to be a good starting point for further due diligence analysis.
The presence of renewed interest by big-money clients is a wealth-building plus for the group as a whole at this point in time.
Additional disclosure: Peter Way and generations of the Way Family are long-term providers of perspective information, earlier helping professional investors and now individual investors, discriminate between wealth-building opportunities in individual stocks and ETFs. We do not manage money for others outside of the family but do provide pro bono consulting for a limited number of not-for-profit organizations.
We firmly believe investors need to maintain skin in their game by actively initiating commitment choices of capital and time investments in their personal portfolios. So our information presents for D-I-Y investor guidance what the arguably best-informed professional investors are thinking. Their insights, revealed through their own self-protective hedging actions, tell what they believe is most likely to happen to the prices of specific issues in coming weeks and months. Evidences of how such prior forecasts have worked out are routinely provided. Our website, blockdesk.com has further information.
Disclosure: I/we have no positions in any stocks mentioned, and no plans to initiate any positions within the next 72 hours.
I wrote this article myself, and it expresses my own opinions. I am not receiving compensation for it (other than from Seeking Alpha). I have no business relationship with any company whose stock is mentioned in this article.