Most of the times we major broader market risk with S&P 500, but Dow has been leading indices. For instance, Dow broke 200 week moving average earlier than S&P 500. Of course IWM is way above 200 week moving average, but IWM is always overshooting or undershooting. Also, it has some junkie names. 

I assume that S&P has many financial names as opposed to DOW, and that's why it's sort of acting heavier than DOW. Now there is some interesting development. Dow 13 day moving average is coming down. The 30 day moving average has been the darling of dip buyers. Not just 13 days, short term day moving averages are flattening. Let's take a look at the chart. As opposed to the flash crash in the late April it has nicely bounced at 50 dma. However, it is somewhat stuck between 20 dma and 50 dman, at the same time 13 dma is coming down. My guess is that eventually it will break 50 dma, or we should overcome 20 dma.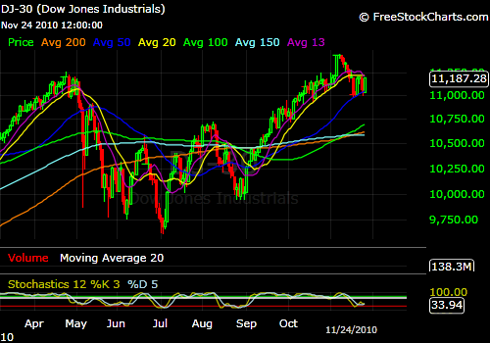 If my assumption is correct, the S&P should follow the suit. At this moment, it looks like it will. 13 dma has come down to 20 dma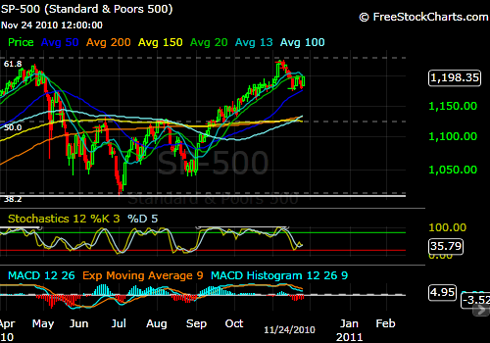 After the holidays, we will see one way or another.
Disclosure:
Short DOW, SPY