Viceroy Research recently released a report containing even flimsier accusations than the report released by Aurelius Value 2 weeks ago. Like Aurelius Value, Viceroy sought to attack Pareteum's management, the quality of Pareteum's customers and backlog, and the viability of revenues, with the laughable addition of the accusation that Pareteum is in violation of US sanctions on Iran. The accusations are largely baseless, but like the Aurelius Value report a few weeks ago (which I also rebutted), Viceroy's report was picked up by mainstream outlets and caused retail investors to panic. As this article will demonstrate, Viceroy's accusations hold even less merit than Aurelius Value's did, if that is even possible. In the same vein as their report on AMD, which Viceroy claimed was headed for bankruptcy (AMD stock has since risen over 100%), Viceroy's claims are frivolous in the extreme. In several cases, Viceroy's stated assumptions have no basis in reality and expose either their lack of due diligence or willful omission on several points.
Iran Sanctions
Viceroy Research alleges that Pareteum is in violation of US sanctions on Iran. This allegation is either a deliberate and malicious lie, or a failure to understand US policy. In either case, if Viceroy's report was meant to be "educational," as the disclaimer states, then they should never have made an accusation as serious as this.
Viceroy uses Pareteum's agreement with Amin SMC as the foundation of their allegation due to the fact that a sanctioned individual (Hamid Reza Amirinia) was chairman of the board of directors for Amin SMC as of September 2018. There are two reasons why the allegations of sanction violation fall flat:
First, US Treasury guidelines provide a blanket license for providing telecoms services in Iran. Specifically, it states:
"(1)Fee-based services. The exportation or reexportation, directly or indirectly, from the United States or by a U.S. person, wherever located, to Iran of fee-based services incident to the exchange of personal communications over the Intemet, such as instant messaging, chat and email, social networking, sharing of photos and movies, web browsing, and blogging

(2) Fee-based software, (I) Software subject to the EAR. The exportation, reexportation, or provision, directly or indirectly, to Iran of fee-based software subject to the Export Administration Regulations, 15 C.F.R. parts 730 through 774 (the "EAR"), that is necessary to enable services incident to the exchange of personal communications over the Internet, such as instant messaging, chat and email, social networking, sharing of photos and movies, web browsing, and blogging, provided that such software is designated EAR99 or classified by the U.S. Department of Commerce on the Commerce Control List, 15 C.F.R. part 774, supplement No. 1 ("CCL"), under export control classification number ("ECCN") 5D992.C"
Of course, Viceroy would argue that this general license does not cover Pareteum's association with Amin SMC because of Hamid Reza Amirinia's status as chairman of the board of directors at Amin. But the Treasury Department specifically states that SDNs such as Amirinia would have to have a 50% stake in Amin SMC for Pareteum to be in violation of sanctions. Unless Viceroy could prove that this was the case, there is no basis for their accusation that Pareteum has violated sanctions.
Further, the Treasury Department specifically states that one of its goals is to facilitate internet freedom in Iran, which would naturally require internet access. Contrary to Viceroy's report, it would seem that Pareteum's activities are not only compliant with US foreign policy with regards to Iranian sanctions, but in fact are helping to further US foreign policy with regards to internet freedom in Iran.
Management Concerns
While Viceroy chose mostly to attack Pareteum's management on the same grounds Aurelius Value did (and which I addressed in my rebuttal to Aurelius), they have as of today included an additional employee in their attacks – David John Fondots. While it's true that Fondots was arrested on June 7th of this year for embezzlement at his previous company, there is no reason to believe that Pareteum would have been aware of this investigation. Even if Pareteum did somehow have an inkling that Fondots had done something untoward at his previous company, there would have been no way to confirm it as ongoing investigations are held very close to the chest by the Department of Justice. Per the DOJ's confidentiality policies, the DOJ will not comment on the existence or status of ongoing investigations in which charges have not yet been brought.
That aside, it is true that Fondots was arrested for pandering obscenity in 2016. However, further research indicates that he was never convicted for this crime. As a simple search by anyone can confirm, David J Fondots does not appear in the national sex offender registry under either of the names David John or David Fondots. Had John/Fondots been convicted, he would have been required to register. The apparent lack of a conviction based on his absence from sex offender registries also means that the charge would not show up on a federal background check, which Pareteum likely conducted before hiring him. Nor would the embezzlement charges, which had not even been brought against Fondots at the time Pareteum hired him.
Given these facts, it's easy to see why Pareteum thought Fondots was such a great hire. Fondots' LinkedIn profile boasts 30 years of telecoms and cloud management experience as well as a military background and over 91 references from high profile individuals attesting to his expertise. For Viceroy to attempt to fault Pareteum for hiring Fondots when the embezzlement charges were only made public a year after hiring him is disingenuous at best.
Speculation on As-Yet-Undisclosed Customers
In addition to attacks on named customers' viability (several of which I addressed in my rebuttal of Aurelius Value's report), Viceroy claims that Pareteum's cloud domain reveals several unnamed customers which are currently nonfunctional or incapable of paying their debts to Pareteum. Upon further research, it is obvious that the cloud domains which Viceroy found were not meant to act as a company's primary website, as several of the supposedly "non-functional" websites do in fact indicate customers which are absolutely functional and more than capable of paying their bills.
These customers include entities such as Grafana and Apeiron. Grafana is a data analytics company which currently has over 150,000 connections. The inclusion of Grafana in Pareteum's customer list is actually excellent news for Pareteum's revenue and backlog health. Their website can be found here: Grafana - The open platform for analytics and monitoring . It's clear that Grafana is an established company and, depending on billing terms with Pareteum, could account for many millions of dollars of revenue in the coming years. Yet Viceroy would have investors believe that, based on Pareteum's cloud domain website, this company is defunct and incapable of paying its bills.
Meanwhile, Apeiron was a startup telecoms provider prior to February 2019 when it was acquired by KonaTel. At the time of purchase, Apeiron had approximately 3M in yearly revenues and no debt. Apeiron is an example of one of Pareteum's smaller startup customers which turned out to be rather successful. It's likely that, absent being acquired by KonaTel, Apeiron would have continued to experience further growth, likely in part due to Pareteum's involvement. Yet Viceroy Research chose to include Apeiron in their list of "inactive" websites, falsely suggesting that whatever portion of Accounts Receivable may have been attributed to Apeiron would never be paid. This is also not to say that Pareteum is not still doing business with Apeiron as the company continues as a subsidiary of KonaTel, but that information is not available at this time.
The failure to investigate these supposedly non-functional URLs further is all one needs to know in order to understand how shallow Viceroy's due diligence actually was in assessing the quality of backlog. Which brings us to the next topic:
Backlog Concerns
A related and similarly under-researched assertion on Viceroy's part is that Pareteum's backlog conversion falls well below estimates. However, the assumptions Viceroy uses to project Pareteum's backlog are wildly inaccurate, showing just how laughable the "due diligence" conducted by Viceroy really is.
Viceroy's fallacious assumptions are as follows:
The net change in backlog is equal to the value of new contracts signed in that period. Note that customers dropping off contracts is irrelevant as we use net change in backlog for our calculations.
While Pareteum does disclose the new contract backlog added in the quarter in some disclosures, this is not consistent enough to build a useful picture of the backlog conversion.
Contracts signed within the quarter are treated as being effective as of the last day of the quarter. For example, the change in backlog between Q3 & Q4 2016 would start to generate revenue in Q1 2017.
Backlog is evenly billed throughout the year. For example, if 15% of contract value is converted in a year then 3.75% of that contract revenue would be recognized each quarter.
These assumptions are hilariously off the mark for several reasons. For starters, Pareteum management has repeatedly stated in earnings calls that the time between contract agreement and deployment is up to 180 days, with intervening enablement billings that account for a "minimal" portion of a contract's value. Viceroy would have investors believe that billing begins almost immediately after contracts are signed, but the stated 180-day installation period would indicate that contracts do not immediately begin to generate 15% of their yearly value starting at the end of the quarter, as Viceroy foolishly (and perhaps even stupidly) suggests.
Management has repeatedly stated that the reason for the ramp-up in conversion percentage each year is that revenues are expected to increase as subscriptions increase. This would indicate that Pareteum does not expect or experience an immediate increase in revenues from 0% to 3.75% of a contract's value in the first quarter after installment. Rather, Pareteum's backlog conversion projections revolve around the expectation that customers will continue to add subscribers over time, which would indicate that the first quarter after a customer deployment goes live yields significantly smaller amounts of revenue in comparison to the subsequent quarters. Therefore, even if Viceroy were to push out their backlog conversion estimates by 180 days, their assumption of a flat quarterly rate would mean that their projections were still wildly, hilariously inaccurate.
Perhaps the most telling of Viceroy's due diligence failures is that a much more accurate projection of backlog is available for free online, posted by Stocktwits user Mrebs. His continuously updated spreadsheet has predicted backlog conversion extremely accurately on a quarterly basis. The following spreadsheet was posted in March, well before Pareteum reported Q1 earnings: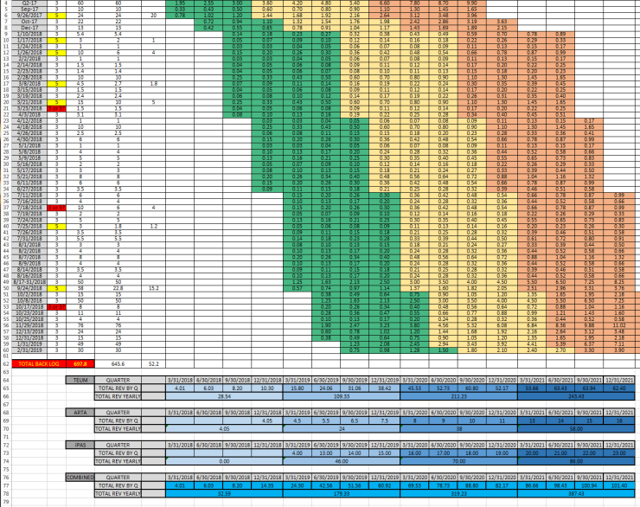 You may notice that Mrebs' projection of $24M for Q1 revenues was only $1M above Pareteum's actual reported Q1 revenues of $23M, with the discrepancy mostly due to contributions from Artillium and iPass coming in at lower than Mrebs' expectations. His more recent spreadsheets have adjusted to reflect this change in expected revenue contribution: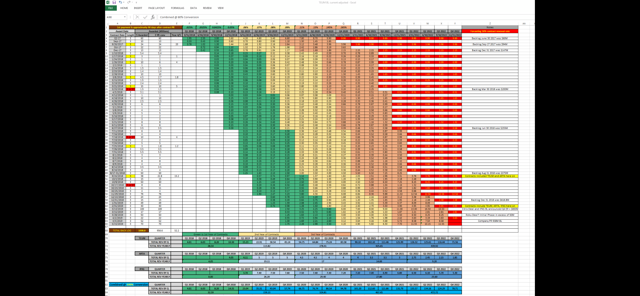 All told, the fact that Viceroy's "research" on Pareteum's backlog was outdone months ago by a retail investor is all readers need to know about the quality of Viceroy's work.
Accounts Receivable
Viceroy uses their false claims regarding significant backlog overstatement and supposedly defunct customers to bolster their argument concerning "uncollectable" accounts receivable. Like Aurelius Value did in their report, Viceroy claims that the inflation of accounts receivable compared to revenues is an indicator that Pareteum's customers are unable to pay their bills.
In my rebuttal to Aurelius Value, I stated that a large portion of Pareteum's accounts receivable are possibly the result of enablement billings, which could reasonably be assumed to have a longer-than-normal payment schedule, especially considering the former status of these receivables as deferred revenues prior to the adoption of ASC topic 606. A fellow investor has since informed me that disaggregated revenues from monthly billing and enablement fees are actually available in Pareteum's earnings reports. Though enablement fees represent a smaller portion of revenues than I had thought, they potentially still account for a significant portion – possibly even up to 20% - of Pareteum's Accounts receivable, depending on the payment schedule for this particular category of billings.
Interestingly enough, Viceroy's own article contains a section which provides even more context for Pareteum's accounts receivable and actually bolsters the argument that the vast majority of Pareteum's receivables can be expected to convert to cash. Viceroy states that at the time they were acquired by Pareteum, Artillium had approximately 77 receivable days outstanding and iPass had approximately 78 receivable days outstanding. This is corroborated in iPass and Artillium earnings reports. iPass in particular was recognizing nearly 90% of revenues as accounts receivable each quarter, but it's obvious that their receivables were converting to cash in the intervening period between reports, given that receivables never exceeded revenues.
This delay in receivables conversion is a growing trend in recent years and is not indicative of uncollectable receivables on the part of Pareteum. In fact, articles by the Wall Street Journal and New York Times provide further context on just how common the practice of delaying payments to suppliers has become:
Delaying Payments to Suppliers Helps Companies Unlock Cash
Big Companies Pay Later, Squeezing Their Suppliers
Based on these articles, it's clear that Viceroy's assertion that "typical" billings consist of a 30 day credit period has no merit in today's economy. It is therefore not unreasonable to assume that Pareteum's customers are behaving in similar fashion. It is probably reasonable to expect that (with exception perhaps for approximately $4.5M in trailing twelve months receivables due to enablement costs as of Q1 2019) all or nearly all of Pareteum's outstanding Accounts Receivable at the end of Q1 will convert to cash prior to the end of Q2, at which point accounts receivable will reflect monthly billings from Q2 plus some amount of enablement costs. Provided that this is the case, Pareteum's cash position is under no imminent threat.
Despite these facts, Viceroy sought to paint a different picture around Pareteum's receivables by claiming that Vodafone, who likely was the customer that accounted for 20% of Pareteum's revenues in Q1 2019, pays its bills within 30 days. Curiously, in a report littered with dozens of screenshots supposedly supporting their claims, Viceroy provides no evidence for this assertion.
According to an article published at pymnts.com, it's possible that Vodafone is not paying its bills to Pareteum until 48 days or more after a bill is received. This would indicate that, at best, only the first month of Vodafone receivables converts to cash in the same quarter, and even then, only if Pareteum has opted into Vodafone's supply chain funding program.
Per the article:
"Vodafone Group has invested in a fund that makes money by paying suppliers late.

The company invested €1 billion ($1.1 billion USD) into the €2.4 billion GAM-Greensill Supply Chain Fund, run by GAM Holding and Greensill Capital. The fund already holds invoices from many of Vodafone's 15,000 vendors, which must wait 48 days to be paid by the British phone company, compared to the 36-day global average."
If Vodafone was paying its bills to suppliers that did not opt-in to its SCF in under 48 days, there would be no incentive for any suppliers to opt in to the program, which Vodafone has stated is indeed optional and which results in companies only receiving 98.5% of the invoiced cash. There is no reason to believe that Pareteum has opted into Vodafone's supply chain financing, nor is there reason to believe that Vodafone pays its invoices within 30 days as Viceroy assumes. In fact, all available evidence points to the contrary. Viceroy's assumptions here are therefore not just simply misguided – they are completely fictitious!
Conclusion
Viceroy Research's "report" is either the product of malicious intent or extreme ignorance to the point of laughability. In several cases, such as their assumptions regarding backlog conversion and payment schedules, they have engaged in writing pure fiction to support their claims. Therefore, their "report" is not suitable for "education" as their disclaimer suggests. On the contrary, their accusations have little to no basis in reality and their reports are suitable for little other than entertainment. Viceroy's findings and conclusions have no place in an investor's due diligence on the company.
Disclosure: I am/we are long TEUM.