The Australian dollar dropped in the range as Australian inflation missed expectations. What's next? Australia's trade balance and retail sales stand out. Here are the highlights of the week and an updated technical analysis for AUD/USD.
Australia's quarterly inflation report showed an increase of only 0.4%, below expectations. This will keep the RBA sitting on its hands for some time. In the US, GDP was the highest in four years but below the overhyped expectations. The easing of trade tensions helped the Aussie stabilize.
AUD/USD daily graph with support and resistance lines on it. Click to enlarge: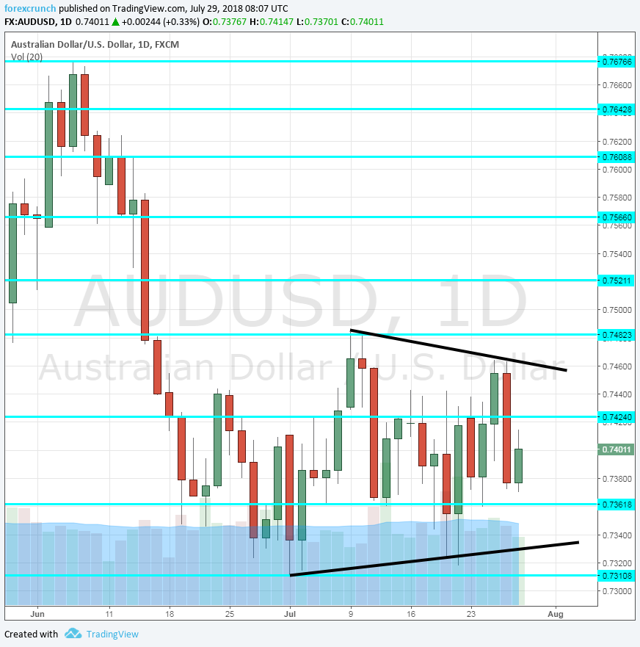 Building Approvals: Tuesday, 1:30. The official measure of building consents is somewhat volatile but provides an idea of the trend. After two consecutive months of drops, approvals are projected to rise by 1.1% in June.
Private Sector Credit: Tuesday, 1:30. Expanding credit indicates increased economic activity down the road. After a rise of 0.2% in May, a quicker pace of expansion is expected for June: 0.3%.
AIG Manufacturing Index: Tuesday, 22:30. The Australia Industry Group's forward-looking gauge for the manufacturing sector has been quite upbeat in June, with a score of 57.4, well above the 50-point threshold separating contraction from expansion. A similar figure is likely now.
Commodity Prices: Wednesday, 6:30. As an exporter of metals and other commodities, this gauge is of importance to the Aussie. The past two months have seen y/y increases, with 6.6% in June. Another yearly rise is likely but recent wobbles in prices may complicate the picture moving forward.
Trade Balance: Thursday, 1:30. Australia enjoyed a trade surplus in the past five months, but the positive number dropped below 1 billion in May with 0.83 billion. A marginally better number is on the cards now: 0.91 billion.
AIG Services Index: Thursday, 22:30. AIG's second PMI for the week is for the services sector which enjoys a fast clip of growth according to the 200-strong survey. The score stood at 63 points last in June and may slide from this peak now.
Retail Sales: Friday, 1:30. In the past two months, the volume of sales beat expectations, rising by 0.4% in May and 0.5% in April. Expectations for June are more modest: 0.3%. Australia is trying to reduce its dependency on the mining sector.
*All times are GMT
AUD/USD Technical Analysis
Aussie/USD started the week by finding support at the 0.7360 level (mentioned previously). It then managed to gain a bit more ground.
Technical lines from top to bottom:
0.7640 was a stubborn cushion in March and April. The fall below this line proved its strength. 0.7610 was the peak of an upwards move in late May.
0.7560 is the next level to watch after it was the recovery level in early May. 0.7520 was a swing low in late May.
0.7480 capped the pair in mid-July and defends the round 0.75 level. 0.7420 capped the pair twice in mid-July. 0.7360 was a low point in mid-July.
0.7310 is the low of July 2018. 0.7250 served as a pivotal line in early 2017 and the last line to watch is 0.7160 that was the swing low back then.
Narrowing Wedge
As the chart shows, the pair is trading within a narrowing wedge, or triangle. This implies a significant break when the pair reaches the limits.
I am bullish on AUD/USD
The current truce in the trade wars is favorable for the Australian dollar, a risk currency.
Our latest podcast is titled Festive Fed, Dovish Draghi, and a global trade war
Follow us on Sticher or iTunes
Further reading:
Disclosure: I/we have no positions in any stocks mentioned, and no plans to initiate any positions within the next 72 hours.